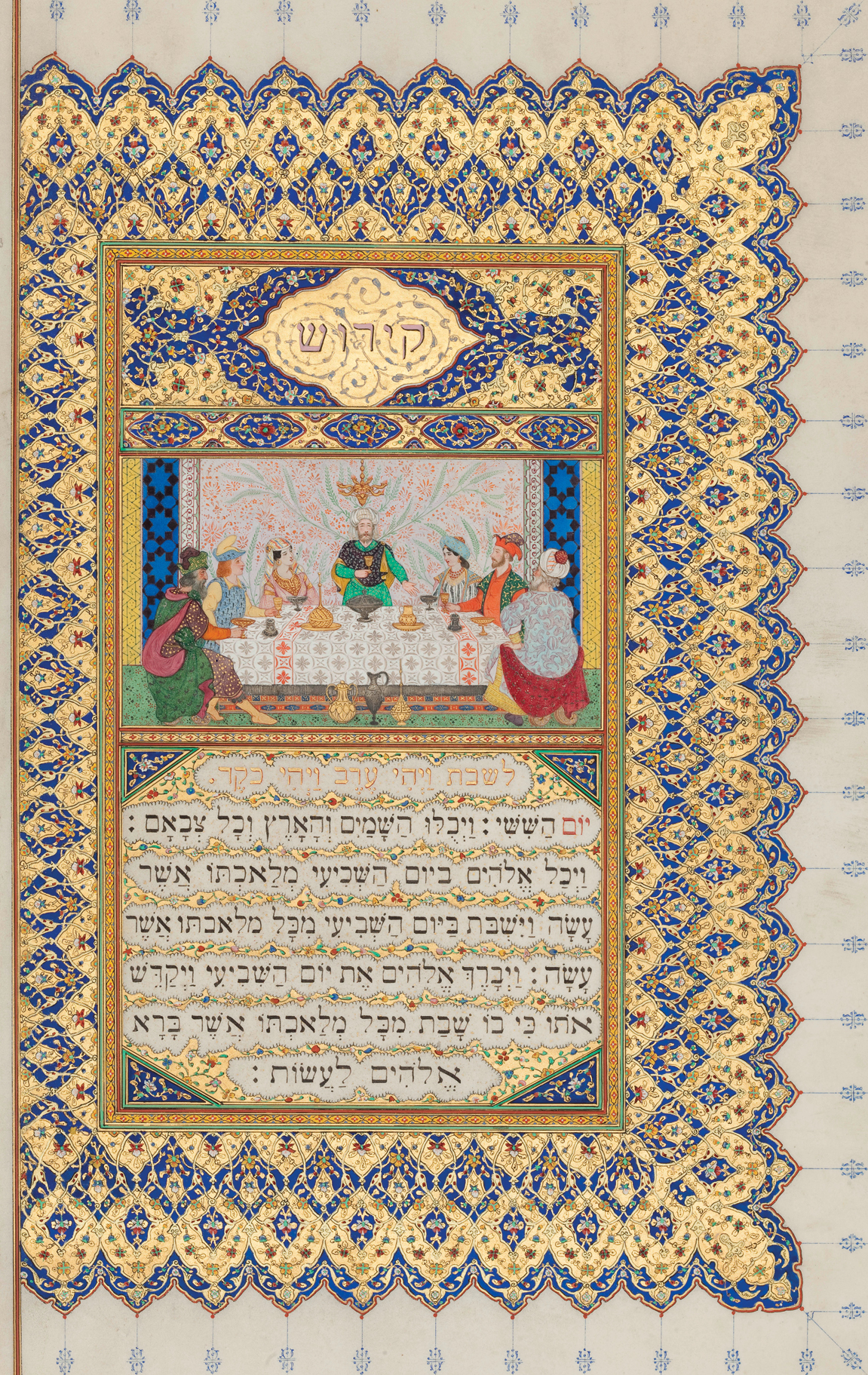 Braginsky Collection 315 (Photograph by Ardon Bar-Hama)
Well, the legal part of my question is easily answered: This Haggadah manuscript is owned by René Braginsky, a Swiss collector, and belongs to his outstanding collection of Hebrew manuscripts and printed books.  All pages can be seen on the website which accompanies A Journey through Jewish Worlds, an exhibition of his treasures that between 2009 and 2012 traveled from Amsterdam to New York City, Jerusalem, and Zurich.
Unfortunately I missed the exhibition when it was on view in the Yeshiva University Museum in the spring of 2010.  But on April 19, 2012, Emile Schrijver, the curator of the Bibliotheca Rosenthaliana at the University of Amsterdam (Netherlands), showed a picture of the Bouton Haggadah during his talk at the Book History Colloquium at Columbia University.  Dr. Schrijver also serves as the curator of the Braginsky collection, and was one of the exhibition curators.
On the website of the Braginsky collection, one finds the following details about the Passover Haggadah:
The undated parchment manuscript of 33 leaves (35.5 x 23.5 cm) was written and decorated by Victor M. Bouton (b. 1819).  It is dated to the second half of the 19th century (ca. 1870?), and includes ritual instructions in French.  The textblock is protected by a burgundy-red velvet binding with metal clasps on leather straps.  The manuscript was sold by Sotheby's New York in 2007, lot 197.
After his talk on "Defining a Field: Jewish Books in the Age of Print," I emailed Dr. Schrijver whether it be possible that the lavishly illuminated margins, whose design changes every few pages, were chromolithographed and then finished by hand.  The idea presented itself since Dr. Schrijver had quite forcefully questioned the strict separation between manuscripts and printed books by showing eighteenth-century examples of prayer books that combined printed frames with hand-written texts.  In his catalog note (as available on the internet), Schrijver mentioned that Bouton was mostly known as a heraldic painter.  Bouton's achievements as a scribe and illustrator of Hebrew manuscripts had been overlooked until Sharon Mintz linked his Haggadah to a similarly decorated, though a bit smaller Seder Hatefilot (parchment, 26.8 x 17.5 cm) from 1876, inscribed by Edmond James de Rothschild (1845-1934) to his mother Bronita (1805-1886) and today owned by the  Musée d'art et d'histoire du Judaïsme (MAHJ inv. D.99.04.001.CP) in Paris.  A search in OCLC/WorldCat revealed that more information about Bouton's work may be gleaned from the files of the publishing house Firmin-Didot (OCLC/WorldCat 32257680) which are nowadays owned by by the Newberry Library in Chicago.  I find the possible but not yet confirmed connection with Firmin-Didot noteworthy as the company is famous for its production of deluxe editions of prints and books.
In his talk Dr. Schrijver had argued that in Europe the production of Jewish books since the early modern period need be contextualized as Jews lived cheek by jowl with non-Jews.  For me, as a historian of Islamic books, the Haggadah shows that in the second half of the nineteenth century Jewish patrons, wherever they lived in Europe, shared the taste of mainstream society for artifacts with Islamic design.  Like other wealthy families, the Rothschilds collected Islamic art, and in 1922 the Louvre's Islamic holdings were significantly increased by a large bequest from the Rothschild family.  Luxury objects with an Islamic design such as rugs, textiles, ceramics, metalwork or illustrated manuscripts have circulated in Christian Europe since the Middle Ages, while scholars were searching for Middle Eastern books to learn about the Quran, Islam, and Middle Eastern history.  In the course of the nineteenth century the increased interest in all matter Muslim and Oriental preceded the emergence of art history as an academic discipline and the acknowledgment of non-Western art as an art in its own right.  But despite the sustained interest in the study of European Orientalism since the early 1980s, European books with an Islamic design have not yet received any sustained attention; at least I am not aware of any published research on Islamic books printed in Europe.  Most of the printed books with a chromolithographed Islamic design that I have found during the last years are works of Islamic literature in Arabic script, often accompanied by translations or commentaries in French, German or Latin, and the printers were primarily working in Paris or Vienna.  At this point of my research it seems that from the 1840s onward publishing houses that had taken up chromolithography experimented with books whose decoration drew on elements of Islamic design.
In 2012 when Jewish-Muslim and Israeli-Palestinian relations are so fraught and difficult, I find it inspiring that the Bouton Haggadah presents a Hebrew-French guide to the celebration of Passover in the style of an illustrated Islamic manuscript.  It is so much easier to acknowledge complexity and depth in beautiful objects, and this Hebrew-French-Islamic Haggadah demonstrates that something as seemingly simple as the classification of objects can be as intricate as the identities of the men and women who made and used them.
Corrected, 17 May 2012
PS – In March 2015 a digital surrogate of the Bouton Haggadah was made available Open-Access via e-codices at: http://dx.doi.org/10.5076/e-codices-bc-b-0315
Updated, 28 March 2016