Making our cities more resilient, our elections more (lower-case) democratic, our music more global, our decisions more informed—Columbians don't quit. Check out these Picks and take a break at one of the free Pop-Up Concerts at Miller Theatre, where you can sit on stage and enjoy a free drink!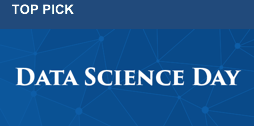 March 28
9 a.m. – 5 p.m.
Data Science Institute
Data Science Day
Join President Bollinger; Jeannette M. Wing, Avanessians Director of the Data Science Institute; Diane Greene, Google Cloud CEO; and others for a day-long celebration of data science at Columbia. Topics include "Machine Learning: The Good, The Bad, and The Law." Lerner Hall, Roone Arledge Auditorium. RSVP and purchase tickets here. (Data and Society)
REMINDER
March 27: Book Talk and Discussion: Taming the Sun by Dr. Varun Sivaram
March 29: American Voter Project: Hacking Digital Elections
March 29: Stalinist Terror and Today's Russia: Masha Gessen & photographer Misha Friedman in conversation with Nicholas Lemann
April 5 – 6: StartupColumbia Festival
PICKS

March 27
6 p.m.
GSAPP | Earth Institute's Climate Adaptation Initiative
Toward Resilient Cities and Landscapes
A launch event for GSAPP's Center for Resilient Cities and Landscapes, includes a panel discussion with Sam Carter, director of the Resilience Accelerator at 100 Resilient Cities; Radley Horton, Lamont researcher and co-chair of the Climate Adaptation Initiative; Upmanu Lall, director of the Columbia Water Center; Kate Orff, director of the Center for Resilient Cities and Landscapes; and others. Faculty House, 2nd floor. (Climate Response)
6:15 – 9 p.m.
The Earth Institute's National Center for Disaster Preparedness
Disaster Philanthropy: Challenges and Solutions in Rebuilding After Disasters
A screening of Disaster Capitalism followed by a panel discussion about disaster response, the role of relief agencies, and challenges facing the international aid industry. Includes Thor Neureiter, director of Disaster Capitalism; Jeff Schlegelmilch, deputy director of the National Center for Disaster Preparedness (NCDP); and others. Moderated by Jonathan Sury, project director of communications and field operations at NCDP. Pulitzer Hall, Jamail Lecture Hall, Room 300. (Just Societies)
March 28
4 – 6 p.m.
Mailman
Demographic Problems and Opportunities in Environmental Health
For the 26th Granville H. Sewell Distinguished Lecture in Environmental Health Sciences, Joel E. Cohen, head of the laboratory of populations, will discuss seven major demographic trends and give examples of their interactions with environmental health, and more broadly with the environment, economics, and culture. Allan Rosenfield Building, Auditorium, 8th floor. (Global Solutions)

March 29
4 – 8 p.m.
Advanced Consortium on Cooperation, Conflict, and Complexity Earth Institute
Sustaining Peace Forum 2018
The United Nations has designated 2018 as the Year of Sustaining Peace. This year's forum will explore the global implications and meanings of such a designation. Kicking off with a writing workshop focused on women, peace and security, led by Aja Monet, poet and activist. Followed by two consecutive panels and then a networking reception. RSVP and program details here. SIPA, Kellogg Center, 15th floor. (Global Solutions)

March 30
7 – 10 p.m.
Center for Jazz Studies
Afro-Travel: The Music of Yosvany Terry Quintet
A free concert featuring Yosvany Terry, an internationally acclaimed composer, saxophonist, percussionist, bandleader, educator and cultural bearer of the Afro-Cuban tradition. RSVP required by email at [email protected]. Miller Theatre. (Arts and Ideas)

April 2
6 – 7 p.m.
Research Program on Sustainability Policy and Management | MS in Sustainability Science | MS in Sustainability Management | MPA in Environmental Science and Policy
Speaking Science to Power: The Importance of Facts in Decision-Making
How is science integrated into the decision-making processes? How are science and data used most effectively? A panel discussion featuring Art Lerner-Lam, deputy director of Lamont-Doherty Earth Observatory; Richard Moss, former chairman of the Federal Advisory Committee for the National Climate Assessment; and moderated by Steve Cohen, executive director of the Earth institute. Low Library, Rotunda. (Climate Response, Data and Society)

April 3
6:30 p.m.
School of the Arts | Creative Writing Program | International Students | Scholars Office at Columbia
The Global Poets Series with M. NourbeSe Philip and Tracy K. Smith
Tobago-born Canadian poet M. NourbeSe Philip reads with US Poet Laureate Tracy K. Smith '97SOA. RSVP here. Lenfest Center for the Arts, Katharina Otto-Bernstein Screening Room. (Arts and Ideas)

April 5
5 – 7 p.m.
The Eric H. Holder Initiative
American Voter Project: One Person, One Vote in the US Today
A panel discussion on key issues that influence American voting today. Featuring Eric H. Holder Jr. '73CC '76LAW, 82nd Attorney General of the United States; Heather Gerken, dean and the Sol and Lillian Goldman Professor of Law at Yale Law School; and Adam Liptak, Supreme Court correspondent of The New York Times. Student reception from 5 –6 p.m., followed by the panel discussion at 6 p.m. Low Library, Rotunda. (Just Societies)
April 6
1 – 5:30 p.m.
Graduate School of Journalism | The George T. Delacorte Center for Magazine Journalism
Magazines and Politics, 2018
A half-day conference on Russia, race, verticals, #MeToo, democracy, and more. Speakers include Jelani Cobb, The New Yorker; Adrian Chen, The New Yorker; Liza Featherstone, The Nation; Molly Fischer, New York Magazine/The Cut; and others. Moderated by Keith Gessen, director of the George T. Delacorte Center for Magazine Journalism. Jamail Lecture Hall, Pulitzer Hall, 3rd floor. RSVP required here. (Just Societies)
For RSVP, ticket availability, and other details, follow the links. We always appreciate hearing from you about future events.