Ending incarceration, engineering human tissues, redistricting, migrant health…are these #DisruptiveThinking? Find out through this week's Picks.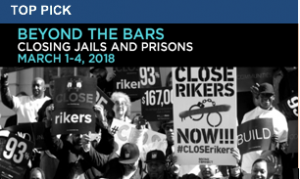 March 1 – 4
Institute for Research in African-American Studies | The Center for Justice | Social Work
The 8th Annual Beyond the Bars Conference: Closing Jails and Prisons
This year's conference topics include Ending the Incarceration of Women and Girls, Building the Movement: Conversations with Patrisse Khan-Cullors, Closing Jails and Prisons, and Building the Grassroots. Speakers from various fields will be in discussion. RSVP here. The Center for Justice, Room 828. (Just Societies)
REMINDERS
March 1: Politics of the Present: Rhetoric and Evidence in a Polarized Society
March 5: Evidence and Theory in Neuroscience AND The Founding of a Nation Through the Eyes of the Enslaved
March 7: Narrative Medicine Rounds: Children's Fiction and Narrative Pediatrics
March 8: The Plundering of Iraq's Oil Wealth with Erin Banco '15SIPA
PICKS
March 7
4 – 5:30
Mailman
Forced Migration and Justice
A Dean's Grand Rounds with Terry McGovern, Harriet and Robert H. Heilbrunn Professor and chair of population and family health; Michael Wessells, professor of population and family health; Monette Zard, senior associate for the Human Rights Initiative at the Center for Strategic and International Studies; and Sonia Rastogi '14MPH, information management specialist at the Gender-Based Violence Guidelines in UNICEF. Join the conversation by using #DisruptiveThinking on Twitter. Allan Rosenfield Building, 8th Floor, Auditorium. (Just Societies)
March 8
6 – 7:30 p.m.
Oral History and the Arts
How to Listen
Daniel Alarcón, host of Radio Ambulante, an award-winning Spanish-language podcast distributed by NPR, will discuss the relationship between journalism, literature, and oral history. Alarcón will show how interviews and lived experience can serve as the building blocks for different types of storytelling. Knox Hall, Room 509. (Arts and Ideas)
March 13
4:30 –  5:30 p.m.
Physicians & Surgeons
Engineering Human Tissues
The Dean's Distinguished Lecture in the Basic Sciences with Gordana Vunjak-Novakovic,
University Professor and director of the Laboratory for Stem Cells and Tissue Engineering. She is considered a world expert in engineering of human tissues for regenerative medicine and modeling of disease. P&S, William Black Medical Research Building, Alumni Auditorium. Reception to follow in the Faculty Club.
March 15
7 p.m.
Nevis Science Center
We Have No Idea: A Guide to the Unknown Universe
What is the Universe made of? How did the Universe begin? How will it end? PHD Comics creator Jorge Cham and particle physicist Daniel Whiteson will discuss their book We Have No Idea: A Guide to the Unknown Universe (which will be available for purchase). Book signing to follow after the talk. RSVP here. Science Center at Nevis Laboratories, Irvington, New York, 136 S. Broadway. (Arts and Ideas)
March 19
6 –  7:30 p.m.
Center on Global Energy Policy
Where Next on Climate? Responses from America's Corporate Board Rooms
How strongly committed is America's corporate sector to taking steps to reduce climate change? Can corporate actions on climate support rather than detract from market growth and profitability? These and other questions will be explored on a panel that includes Geoffrey Heal, Bernstein Faculty Leader at the Center for Leadership and Ethics; John MacWilliams, fellow at the Center on Global Energy Policy; and others. RSVP required here. Pulitzer Hall, World Room. The event will be live-streamed here. (Climate Response)
March 22
5 – 7 p.m.
The Eric H. Holder Initiative
American Voter Project: Census 2020 and Redistricting
This series of events will bring together scholars, politicians, journalists, activists, artists, students, and community members to discuss key issues that influence American voting today.
John H. Thompson, former director of the U.S. Census Bureau, and Natasha Korgaonkar '04GSAS '07LAW '18BUS, former assistant counsel at NAACP Legal Defense and Educational Fund,  will discuss the upcoming Census 2020 and redistricting. Followed by a reception. RSVP here. Low Library, Rotunda. (Just Societies)
For RSVP, ticket availability, and other details, follow the links. We always appreciate hearing from you about future events.