What's new in innovation? From entrepreneurship to neuroscience, the musical heritage of Japan to the threatened natural heritage of Bears Ears National Monument, labor activism to nation-building, Columbians start up and take notice!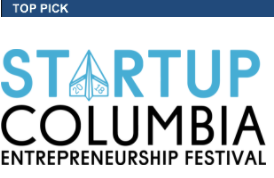 April 5 – 6, 2018
9:00 a.m. – 4:30 p.m.
Columbia Entrepreneurship
StartupColumbia Festival
Join Columbia's Fifth Annual StartupColumbia Festival, a two-day celebration of Columbia's culture of entrepreneurship and innovation. Day one is the Columbia Venture Competition; more than 200 Columbia startups compete for $200,000 in cash. Winners are announced on day two, the StartupColumbia Conference, with discussions on Blockchain, the NewSpace startups, data ethics, and women inventors. RSVP and purchase tickets here. Miller Theatre. (Data and Society)
REMINDERS
March 28: Data Science Day
March 29: American Voter Project: Hacking Digital Elections
March 29: Stalinist Terror and Today's Russia: Masha Gessen and Photographer Misha Friedman in conversation with Nicholas Lemann
PICKS
March 23
6:00 – 8:00 p.m.
School of the Arts, Wallach Art Gallery
Opening Reception: Visual Arts First Year MFA Exhibition 2018
Join the opening of the Visual Arts First Year MFA Exhibition 2018, curated by Natalie Bell. The exhibit is from March 24 to April 8, 2018. Over 20 first-year Columbia MFA students will be featured. Wallach Art Gallery, Lenfest Center for the Arts. (Arts and Ideas)
March 26
6:00 – 8:00 p.m.
Center for the Study of Social Difference, Center for the Study of Ethnicity and Race, Heyman Center for the Humanities, Society of Fellows, Barnard College
We Are All Fast Food Workers Now: The Global Uprising Against Poverty Wages
Just a day after the anniversary of the 1911 Triangle Shirtwaist Factory Fire, a roundtable discussion on labor, activism, and gender with Author Annelise Orleck, Barnard Professor of History Premilla Nadesen, and other activists, moderated by Alice Kessler-Harris. 523 Butler Library. (Just Societies)
March 27
6:00 – 7:30 p.m.
Maison Française, Department of Sociology, Department of Political Science, Committee on Global Thought, et al.
Nation Building: Why Some Countries Come Together While Others Fall Apart
Why do some diverse countries have national unity while others are destabilized by inequality between ethnic groups or even separatism and ethnic war? From early nineteenth-century Europe, Asia, and Africa, from the turn of the twenty-first century to today, Andreas Wimmer delves into the forces that encourage political alliances and build national unity across ethnic divides in his new book, Nation Building: Why Some Countries Come Together While Others Fall Apart. Maison Française East Gallery, Buell Hall. RSVP here. (Global Solutions)
March 27
9:30 a.m. – 5:00 p.m.
Italian Academy
Threatened Heritage: Bears Ears, Chaco, and Beyond
Trump's recent decision to reduce Bears Ears—and continuing threats to Chaco Culture National Historical Park—endangers indigenous heritage and history in the United States. This symposium is intended to protest the scale of the potential for damage to these natural landmarks. The Italian Academy, 1161 Amsterdam Avenue. RSVP here. (Just Societies)
March 29
4:00 – 6:30 p.m.
Mailman
Unrest Film Screening
Jennifer Brea's Sundance award-winning documentary, Unrest, is a personal journey from patient to advocate to storyteller. Jennifer is twenty-eight years-old, working on her PhD at Harvard, and months away from marrying the love of her life when a mysterious fever leaves her bedridden. When doctors tell her it's "all in her head," she picks up her camera as an act of defiance and brings us into a hidden world of millions that medicine abandoned. Allan Rosenfield Building, 8th Floor Auditorium. RSVP here. (Arts and Ideas)
March 31
4:00 p.m.
Miller Theatre
Glories of the Japanese Music Heritage Annual Concert
The 13th Annual Concert of Japanese Heritage Instrumental Music will mark the 50th anniversary of Columbia sponsoring Japanese Cultural Heritage Initiatives. Renowned featured performers include Mayumi Miyata (shō), Hitomi Nakamura (hichiriki), Takeshi Sasamoto (ryūteki), Yumi Kurosawa (bass koto), and Hidejiro Honjoh (shamisen). The Columbia University Gagaku Instrumental Ensemble will play the classical work Etenraku. Miller Theatre. RSVP here. (Arts and Ideas)
April 10
6:30 – 8:00 p.m.
Zuckerman Institute
Finding the right medicine one patient at a time
One of the most promising avenues for identifying the underlying causes of disease in individual patients lies in the field of genetics and precision medicine. In this lecture, Dr. David Goldstein will share his progress and recent successes in developing targeted treatments that have improved the lives of patients with devastating diseases. Graduate School of Journalism. Lecture Hall, 3rd Floor. RSVP here. (Precision Medicine, Future of Neuroscience)
For RSVP, ticket availability, and other details, follow the links. We always appreciate hearing from you about future events.