All right, really look at this month. Which Picks will you attend with alumni and donor friends? From voting rights to the shapes of cities, attacks on democracy and thought to threats to coral reefs and sea life, #MeToo to women's leadership, and arts and music at Miller and Lenfest, February is replete with ways of knowing. See you there.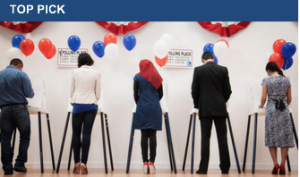 February 19
6 – 7 p.m.
The Eric Holder Initiative for Civil and Political Rights
American Voter Project: The Problem of Voter Suppression
This series of events will bring together scholars, politicians, journalists, activists, artists, students, and community members to discuss key issues that influence American voting today. Discussion includes Eric Holder '73CC '76LAW, 82nd Attorney General of the United States; Patricia Ferguson-Bohnee '01LAW, clinical professor of law at the College of Law at ASU; and Sherrilyn Ifill, president and director-council of NAACP-LDF. RSVP required here. Low Library, Rotunda. (Just Societies)
REMINDERS
February 8: Where Next on Climate? Energy Access, Development, and Climate Change: Implications for Policy AND Gravity: A Status Report
February 13: Being the First: The Pulitzer Prize Edition
February 15: Just Societies Speaker Series: Cathy Cohen
PICKS
February 9
9:30 a.m.
GSAPP | The Center for Spatial Research
Conference: Ways of Knowing Cities
Panelists will discuss the role that technologies have played in changing how urban spaces and social life are structured and understood—both historically and in the present moment. Keynote by Wendy Hui Kyong Chun, professor of modern culture and media at Brown University, and Trevor Paglen, American artist, geographer, and author. See full speaker list here. Pre-registration is now closed, but non-registered attendees will be seated after pre-registered guests and Columbia GSAPP students are seated. Avery Hall, Wood Auditorium. The conference will be live streamed to Ware Lounge and online at arch.columbia.edu. (Data and Society)
February 10
1 – 3 p.m.
Wallach Art Gallery
Wallach Family Afternoon
An afternoon of interactive storytelling, art-making, and movement for families to enjoy together in celebration of the exhibition, Arthur Mitchell: Harlem's Ballet Trailblazer. Lenfest Center for the Arts, The Lantern Room. (Arts and Ideas)
February 14
4:30 –  6 p.m.
Columbia Law School
#MeToo: Building a Movement
What does it mean to build a movement? And what is the role of litigation and lawyering in organizing and movement-building? These and other issues will be discussed by Katherine Franke, director of the Center for Gender and Sexuality Law; Kendall Thomas, director of the Center for the Study of Law and Culture; Olatunde Johnson, Jerome B. Sherman Professor of Law; and Melissa Murray, faculty director of the Center on Reproductive Rights and Justice at Berkeley Law School and visiting scholar at the Law school. RSVP here. Jerome Greene Hall, Room 104. (Just Societies)

February 22
2 – 5:30 p.m.
Center for Sustainable Development
The Hacking of the American Mind: The Science Behind the Corporate Takeover of Our Bodies and Brains
Book discussion and presentation by Robert H. Lustig, professor emeritus of pediatrics at the division of endocrinology at the University of California, San Francisco. Followed by an open discussion led by Jeffrey Sachs, director of the Center for Sustainable Development. Light snacks will be served. RSVP here. Buell Hall, East Gallery.

6:30 – 8:30 p.m.
SoA | The  Earth Institute
Chasing Coral: Screening and Conversation
Chasing Coral taps into the collective will and wisdom of an ad man, a self-proclaimed coral nerd, top-notch camera designers, and renowned marine biologists as they invent the first time-lapse camera to record bleaching events as they happen. Film screening followed by a conversation with Larissa Rhodes '14SoA producer, and Maureen A. Ryan, associate professor of professional practice of film in the Faculty of the Arts. RSVP here. Lenfest Center for the Arts, Katharina Otto-Bernstein Screening Room. (Arts and Ideas)
February 22 – 25
Barnard | Athena Center for Leadership Studies | Women and Hollywood
Athena Film Festival 2018
A weekend of feature films, documentaries, and shorts that highlight women's leadership both in real life and the fictional world. Includes panel discussions with directors and workshops. View the full program schedule here and venue locations here. Purchase tickets here. (Arts and Ideas)

February 27
6 –7:30 p.m.    
Maison Française | Center for Contemporary Critical Thought | Society of Fellows and Heyman Center for the Humanities
The Counterrevolution: How our Government Went to War Against its Own Citizen
A discussion celebrating recent work by Bernard Harcourt, director of the Columbia Center for Contemporary Critical Thought. RSVP here. Buell Hall, East Gallery. (Just Societies)
ONGOING: Miller Theatre Jazz Series
For RSVP, ticket availability, and other details, follow the links. We always appreciate hearing from you about future events.