Explore genomes, Russia intrigue, narrative medicine, Arthur Mitchell and other great leaps in our first Picks of 2018.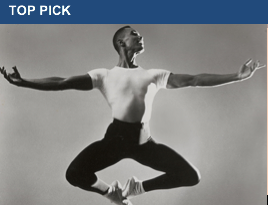 January 27
1 – 1:30 p.m.
Wallach Art Gallery
About the Arthur Mitchell Archive
Learn more about Harlem's ballet trailblazer Arthur Mitchell and his personal archive, which he donated to Columbia's Rare Book and Manuscript Library in 2014. The talk includes Lynn Garafola, exhibition curator and Professor Emerita of Dance at Barnard College. Lenfest Center for the Arts, Wallach Art Gallery lobby, 6th floor. (Arts and Ideas)
PICKS
January 22
4 – 6 p.m.
Precision Medicine and Society | Center for the Study of Social Difference
The Genomic Revolution, Genetic Counselors, and "Doing Ethics"
A lecture with Susan Markens, deputy chair of the department of sociology at Lehman College.
Schermerhorn Extension, Room 754. (Precision Medicine)
January 23
6 –  8 p.m.
Harriman Institute | Columbia Journalism School
When Are Journalists Foreign Agents?
In November 2017, the US forced RT, a Russian-financed international news outlet, to register as a foreign agent. Within weeks, Russia responded by labeling US-funded Voice of America and Radio Free Europe/Radio Liberty foreign agents. A discussion with Chris Hedges, host of RT America's 'On Contact' interview show; Trevor Timm, executive director of Freedom of the Press Foundation; Jeffrey Trimble, deputy director of the US Broadcasting Board of Governors; and moderated by Steve Coll, dean of Columbia Journalism School. Pulitzer Hall, World Room. (Just Societies)

6 – 8:30 p.m.
Columbia Libraries
Sixties Underground Press and the Rise of Alternative Media in America
John McMillian, associate professor of history at Georgia State University, examines the role of the underground press in the 1960s, with a focus on coverage of the Columbia student protests of 1968. Butler Library, Room 203.
February 1
4:30 – 5:30 p.m.
College of Physicians and Surgeons
Building a Better Biotech: The Story of Regeneron
An Innovation in Biological and Medical Sciences Distinguished Lecture with George Yancopoulos, president and chief scientific officer of Regeneron. Roy and Diana Vagelos Education Center, Room 201. Reception to follow. (Precision Medicine)

February 7
5 – 7 p.m.
School of Professional Studies
Narrative Medicine Rounds: Optimistic Perspectives on Alzheimer's Disease
Gayatri Devi, director of the New York Memory and Healthy Aging Services, a neurologist and graduate of the Narrative Medicine program, will speak about her book The Spectrum of Hope: An Optimistic and New Approach to Alzheimer's Disease and Other Dementias. Faculty Club of CUMC, Physicians & Surgeons Building, 4th Floor. (The Future of Neuroscience)
February 7
6:30 pm
Zuckerman Institute
How the Brain Decides, Thinks, and Creates
With Michael N. Shadlen, professor of neuroscience and principal investigator at the Zuckerman Institute. Morningside Faculty House, Presidential Ballroom, 3rd Floor. (Future of Neuroscience)
February 8
6:30 p.m.
School of the Arts
Art as Transformation: Using Photography for Social Change
LaToya Ruby Frazier, artist and professor of photography at the School of the Art Institute of Chicago, will discuss how she has used photography to fight injustice—poverty, healthcare and gender inequality, environmental contamination, racism and more—and create a more representative self-portrait. Frazier's solo exhibition is on display now through February 25 at Gavin Brown's Enterprise. RSVP here. Lenfest Center for the Arts, The Katharina Otto-Bernstein. Screening Room. (Arts and Ideas, Just Societies)
February 10
1 p.m.
Zuckerman Institute
Saturday Science: From Disease to Discovery
Students, families, and community groups are invited to explore the workings of the brain through hands-on activities and demonstrations with scientists. RSVP here. 605 West 129th Street, Greene Science Center. (Future of Neuroscience)
For RSVP, ticket availability, and other details, follow the links. We always appreciate hearing from you about future events.