Was Einstein wrong? Was Baldwin right? How do we make our cities more just, and our futures more sustainable? Find out the answers at this week's Picks. If you prefer, view on the Picks blog here.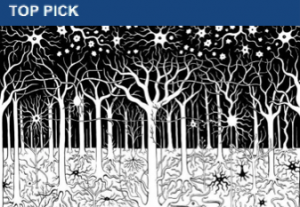 February 12
4:15 – 7:30 p.m.
Zuckerman Institute | Presidential Scholars in Society and Neuroscience
Presidential Scholars Research Symposium
Presidential Scholars and their mentors demonstrate what interdisciplinary research looks like in practice.hey will discuss their current cross-disciplinary research and findings. The symposium includes neuroscientist-graphic novelist Matteo Farinella (see Columbia News feature here) and other Presidential Scholars. Moderated by Pamela Smith, Seth Low Professor of History and director of the Center for Science and Society. Jerome L. Greene Science Center, 9th floor, Lecture Hall. (Future of Neuroscience)
REMINDERS
February 1: Building a Better Biotech: The Story of Regeneron
February 7: Narrative Medicine Rounds: Optimistic Perspectives on Alzheimer's Disease AND How the Brain Decides, Thinks, and Creates
February 8: Art as Transformation: Using Photography for Social Change
February 10: Saturday Science: From Disease to Discovery
PICKS
January 30
6:30 p.m.
Schomburg Center for Research in Black Culture
Baldwin, Miles, and Me: Quincy Troupe in Conversation with Farah Jasmine Griffin
Live From the Archive is a series of conversations with scholars, artists, and community activists whose work is at the intersection of the archive. Quincy Troupe is an awarding-winning poet, editor, biographer, journalist, performance artist, and professor emeritus. He will discuss his vast archive reflective of his close friendships with luminary figures. Troupe will be joined in  conversation by Farah Jasmine Griffin, William B. Ransford Professor of English and Comparative Literature and African-American Studies. 515 Malcolm X Boulevard, 135th St and Malcolm X Blvd. (Arts and Ideas, Just Societies)
February 8
6 – 7:30 p.m.
Center on Global Energy Policy
Where Next on Climate? Energy Access, Development and Climate Change: Implications for Policy
A panel discussion on climate, energy, and development including Morgan Bazilian, executive director of the Payne Institute and research professor of public policy at the Colorado School of Mines; Ellen Morris, adjunct professor of international and public affairs; Kathleen Auth, deputy energy office director of Power Africa at USAID; and Philippe Benoit, senior associate for the Energy and National Security Program at the Center for Strategic and International Studies. registration is required here. Livestream available here and a podcast on the website (more information here). Morningside Faculty House, Presidential Room 2. (Climate Response)                  
7 p.m.
Nevis Laboratories
Gravity: A Status Report
The unexpected discovery of the accelerating expansion of the universe has compelled us to question our current theory of gravity—Einstein's general relativity. In this talk, physicist Rachel Rosen will review the basic principles behind general relativity and discuss modifications of these principles that could alter the evolution of our universe. RSVP here.
February 12
6 – 9 p.m.
SIPA Entrepreneurship and Policy Initiative | Sidewalk Labs | Civic Hall
How Do Cities Spur Civic Tech?
To what extent can technology empower every-day citizens to have more power in their governance? How can city governments use technology to make them more responsive to constituents? These and other questions will be explored by Shaina Doar, head of city operations at Sidewalk Labs; Bruce Lincoln, co-founder of Silicon Harlem; José Serrano-McClain, NYC Office of Technology and Innovation; and moderated by Hollie Russon-Gilman, lecturer and post-doctoral fellow in Technology and Policy. RSVP here. International Affairs Building, Room 1512. (Data and Society)

February 13
6:30 – 8 p.m.
Barnard College
Being the First: The Pulitzer Prize Edition
Dana Canedy is the first woman, the first person of color, and the youngest person to lead the Pulitzer Prizes. Canedy discusses her career in journalism, her new appointment, gender, diversity, and the future of journalism with Julie Zeilinger '15BC, founder of the FBomb, an online platform for teenage feminists. Barnard Hall, Sulzberger Parlor, 3rd Floor. (Just Societies)
 
February 15
4 – 5:30 p.m.
The Office of the Division of Social Science
Just Societies Speaker Series: Cathy Cohen
The series is a new initiative of Fredrick Harris, dean of Social Sciences in the Faculty of Arts & Sciences, to spotlight the work of peers—here at Columbia and from institutions around the world—who are working in a range of important areas, specifically wealth inequality, criminal justice, immigration, LGBTQ rights, and climate change. Cathy Cohen, professor of political science at the University of Chicago, will give the inaugural lecture on the politics of minority youth in the US. Journalism School, World Room. RSVP here. (Just Societies)
For RSVP, ticket availability, and other details, follow the links. We always appreciate hearing from you about future events.