What do a first-year PhD student in a social psychology lab, a former Philadelphia mayor, and  Columbia's 1968 protesters all have in common? A spot in this week's Picks along with other great Columbia happenings!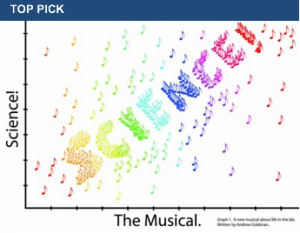 February 23 – 25
The Center for Science and Society
Science! The Musical
A new musical about life in the lab written by Presidential Scholar Andrew Goldman and directed by Jenna Hoffman. Follow the story of Janice, a first-year PhD student, who has just had her first paper accepted to an academic conference. The only problem is, she hasn't written the paper yet. In the few short weeks before the conference, Janice must learn to do interdisciplinary science. Purchase tickets here. Fayerweather Hall, Room 513. (The Future of Neuroscience)
REMINDERS
February 8: Where Next on Climate? Energy Access, Development, and Climate Change: Implications for Policy AND Gravity: A Status Report
February 13: Being the First: The Pulitzer Prize Edition
February 15: Just Societies Speaker Series: Cathy Cohen
February 19: American Voter Project: The Problem of Voter Suppression
February 22: The Hacking of the American Mind: A Discussion with Dr. Robert Lustig  AND  Chasing Coral: Screening and Conversation
PICKS
February 15
12:15 – 1:30 p.m.
Institute for the Study of Human Rights | European Institute | The Harriman Institute | SIPA Forced Migrations Working Group | Mailman Program on Forced Migration
The Politics of Search and Rescue Operations: A View from the Mediterranean
A talk with Craig Spencer, director of global health in emergency medicine at New York-Presbyterian/CUMC. Spencer has worked as a field epidemiologist on numerous projects examining access to medical care and human rights. Most recently, he led a medical team on a Doctors Without Borders search and rescue boat in the Mediterranean. International Affairs Building, Room 1219. (Just Societies)
6:15 p.m.
The Institute for Comparative Literature and Society
Preserving the World's Languages and Cultures
What is the process to make languages available on mobile devices and computers, and how many scripts used to write languages are "missing"?  Why is this important, and how does emoji play into the work? A discussion with Debbie Anderson, researcher in the department of linguistics at UC Berkeley. Followed by a Q&A. The Heyman Center, Second Floor, Common Room. (Data and Society)
6:15 – 8 p.m.
CUMC | Precision Medicine and Society | Center for the Study of Social Difference
Consumers, Citizens, and Crowds in the Age of Precision Medicine
A discussion with Cinnamon Bloss, associate professor at the University of California, San Diego, as part of the Precision Medicine Initiative's All of Us Research Program to showcase a series of empirical studies to both inform ethical questions raised by biomedical citizen science, as well as suggest areas for future research. 754 Schermerhorn Extension. (Precision Medicine)
February 19
6 – 7 p.m.
SIPA
Book Talk: Mayor: The Best Job in Politics
Michael A. Nutter, former Philadelphia mayor and David N. Dinkins Professor of Professional Practice in Urban and Public Affairs at SIPA, will discuss his new book. Moderated by Ester R. Fuchs, director of the Urban and Social Policy Program. Followed by a Q&A and book signing. Books will be available for sale at the event. Registration required here. International Affairs Building, Room 1501. (Just Societies)  
February 28
2:10 – 4 p.m.
The European Institute | The Harriman Institute | The History Department
The Sound of Diplomacy: "Truth", News, and Radio
As part of Victoria Phillips' course Cold War Power: Culture as a Weapon, a lecture by A. Ross Johnson, history and public policy fellow at the Woodrow Wilson Center and former director of Radio Free Europe. RSVP here. International Affairs Building, Room 1201. (Just Societies)
March 7
6 – 9 p.m.
Rare Book & Manuscript Library | University Seminar on the History | Columbia University Press
A Time to Stir: Columbia '68
A conversation with participants of the Columbia University protests of 1968. Features Ray Brown, Karla Spurlock-Evans, Carolyn Eisenberg, and Mark Rudd. Moderated by the book editor Paul Cronin. RSVP here. Faculty House, Presidential Room 2. (Just Societies)
For RSVP, ticket availability, and other details, follow the links. We always appreciate hearing from you about future events.