From art and the brain to prison abolition and human immunity to how we talk about successful women and market health, Columbians and guests look at how we construct, and improve, reality.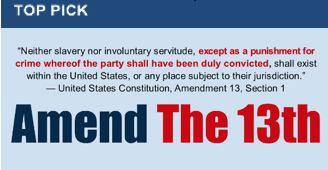 February 22
1 – 3 p.m.
The Center for Justice
Amend the 13th: A Conversation about Ending Legalized Slavery in the United States and Abolishing the Prison System As We Know It
A panel discussion about abolishing the prison system with Sheena Wright, president and CEO of United Way of New York City; Kendall Thomas, Nash Professor of Law and the Director of the Center for the Study of Law and Culture; Mika'il DeVeaux, founder of Citizens Against Recidivism; and moderated by Flores A. Forbes, associate vice president of Strategic Policy and Program Implementation in the Office of Government & Community Affairs. RSVP here. The Forum, Auditorium. (Just Societies)
SNEAK PEAK
April 3
9 a.m. – 5 p.m.
Data Science Institute
Data Science Day
Join innovators in academia, industry, and government for a day of demos and lightning talks by Columbia researchers presenting their latest work in data science. Keynote by Brad Smith, President of Microsoft. Admissions fees and RSVP here. Roone Arledge Auditorium, Lerner Hall (Data and Society)
REMINDERS
February 13 – 16: Directing Thesis: The Woman / The Man: An Evening of Two One-Act Plays
February 14: Sophisticated Giant: The Life and Legacy of Dexter Gordon
February 20: Book Talk: Author Steve Luxenberg in Conversation with Professor Jelani Cobb and Escaping the Energy Poverty Trap
PICKS
February 18
6:15 p.m.
Arts and Sciences, Columbia Justice Lab and Multiple Sponsors
A discussion of Homeward: Life in the Year After Prison with the author, sociologist Bruce Western, joined by Adam Reich, Ronald B. Mincy, DeAnna Hoskins, and Shamus Khan. Presented by the New Books in the Arts & Sciences & Justice Forum. Columbia School of Social Work. Room 311/312. (Just Societies) 
February 19
12:10 – 1:10 p.m.
Columbia Center on Sustainable Investment
Is Liberalism Making the World Less Fair?
Heading into the 2020 political cycle, what role do (or could) US institutions play in aggravating or lessening economic liberalism's downsides? Three authors discuss their books, including Samuel Moyn, professor of law and history at Yale University and author of Not Enough: Human Rights in an Unequal World; Todd N. Tucker, political scientist and fellow at the Roosevelt Institute and author of Judge Knot: Politics and Development in International Investment Law; and Tonya Putnam, associate professor of political science and author of Courts without Borders: Laws, Politics, and U.S. Extraterritoriality. Jerome Greene Hall, Room 105. (Just Societies, Global Solutions)
February 20
4:30 p.m.
Vagelos College of Physicians and Surgeons
Human Immunity in Space and Time
The Dean's Distinguished Lecture with Donna Farber, George H. Humphreys, II Professor of Surgical Sciences and professor of microbiology and immunology. Reception to follow in the Schaefer Awards Gallery. 650 West 168th Street, First Floor, Alumni Auditorium.
February 22
7 p.m.
Lenfest Center for the Arts
Woman in Language: Defining Success
Ten Columbia MFA Theatre students will pose questions that will explore how we use language to describe women and success. The conversation will be moderated by Leslie Ayvazian, adjunct associate professor in the Theatre program. RSVP here. Lenfest Center for the Arts, Katharina Otto-Bernstein Screening Room. (Arts and Ideas)
February 28
12 – 1 p.m.
World Leaders Forum
European Parliament President, Antonio Tajani
An address by Antonio Tajani, followed by a Q&A with the audience. Registration will open here on February 21. Italian Academy, Teatro. (Global Solutions)
6:30 – 8:00 p.m.
Zuckerman Mind Brain Behavior Institute
Richard Axel and Sarah Sze: Neuroscience, Art, and the Construction of Reality
Artist Sarah Sze and neuroscientist Richard Axel discuss the construction of reality in the first of a new series of conversations between artists and neuroscientists on the Manhattanville campus. Moderated by Carol Becker, dean of Faculty and Professor of the Arts, and Rui Costa, professor of Neuroscience. RSVP here. Lenfest Center for the Arts, Katharina Otto-Bernstein Screening Room. (Future of Neuroscience, Arts and Ideas)
6:30 – 8:30 p.m.
School of Professional Studies
In Aroused: The Science and Ethics of Marketing Wellness, Chelsea Clinton, MPH, and Journalism School adjunct professor Randi Hutter Epstein, MD, will discuss how patient activism, contemporary attitudes of bioethics, and medical marketing have shaped scientific research, therapies, and public perceptions of the health industry. Space is limited; livestream option available. RSVP here. Pulitzer Hall. (Just Societies)