From film noir to water rights, the Education Center in Manhattanville to droughts in California, more Picks to make brains more aware!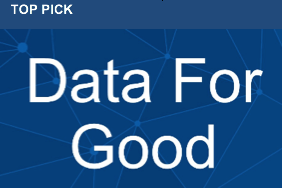 March 9
12 – 1:30 p.m.
Data Science Institute  
Data for Good: Vulnerabilities in a Sociotechnical Society
A conversation with Danah Boyd, principal researcher at Microsoft Research and the founder of the Data & Society research institute. Boyd will discuss cultural challenges presented by big data and machine learning. RSVP required here. Register for the webinar here. Read related Q&A article on Data for Good with Jeannette M. Wing. Schapiro CEPSR, Room 750, Costa Engineering Commons. (Data and Society)
REMINDERS
March 7: Forced Migration and Justice
March 8: How to Listen
March 10: Saturday Science: Your Changing Brain
March 13: Engineering Human Tissues
PICKS
March 6
6:30 – 8 p.m.
SIPA
Editor's Night at Claudia Dreifus' Class: Covering Global Science for the International Media
Top journalists and editors discuss their experiences covering health, science, and the environment. Panelist include Yaffa Fredrick, opinion editor at CNN; Susan Matthews, science editor at Slate; Kate Phillips, senior science editor at The New York Times; Thomas Lin, editor in chief and founder of Quanta Magazine; and others. Moderated by Claudia Dreifus, adjunct professor of International and Public Affairs. Discussion followed by a Q&A. To RSVP, please e-mail professor Dreifus at [email protected]. Fairchild Life Sciences Building, Room 601. (Arts and Ideas)
March 12
3:30 – 6 p.m.
Zuckerman Institute
Brain Awareness Week at BioBase Harlem
Students, families, and community groups are invited to explore the workings of the brain through hands-on science. Explore the five senses and discover how other animals perceive their environment. Children with parents are welcome. RSVP here. Jerome L. Greene Science Center, Education Lab. (The Future of Neuroscience)
March 23
8 – 11:30 a.m.
Columbia Water Center
America's Water  – The Changing Landscape of Risk, Competing Demands, and Climate
A discussion with the lead researchers from CWC's signature initiative, The America's Water, which takes a comprehensive look at the past, present, and future of water. Introduction by Upmanu Lall, director of the Columbia Water Center. RSVP here. Schapiro CEPSR, Davis Auditorium, Room 412, 4th Floor. (Climate Response, Data and Society)
8:30 a.m. – 5:15 p.m.
Columbia Law Review | Center for Constitutional Governance | The Knight First Amendment Institute
A First Amendment for All? Free Expression in an Age of Inequality
This symposium explores questions about the First Amendment's meaning and function in areas such as Internet law, media law, labor law, anti-discrimination law, campaign finance law, and commercial speech. Panelist include Tim Wu, Isidor and Seville Sulzbacher Professor of Law; Jameel Jaffer, executive director of The Knight Institute; Olatunde Johnson, vice dean and Jerome B. Sherman Professor of Law; among others. RSVP here. Jerome Greene Hall, Room 101. (Just Societies)
March 24
5 p.m.
Lenfest Center for the Arts
Paul Schrader in Conversation with Annette Insdorf
In 1972, the young screenwriter and soon-to-be-director Paul Schrader published "Notes on Film Noir" in Film Comment magazine. Schrader's piece helped establish noir on the agenda of American film scholarship and criticism. In conversation with Film and Media Studies professor Annette Insdorf, Schrader will consider noir's relevance to the New Hollywood of the 1970s and its continued legacy into the present. Lenfest Center for the Arts, The Lantern. (Arts and Ideas)
March 27
6 – 7:30 p.m.
Maison Française
Nation Building: Why Some Countries Come Together While Others Fall Apart
Why is national integration achieved in some diverse countries, while others are destabilized by political inequality between ethnic groups, contentious politics, or even separatism and ethnic war? Andreas Wimmer, Lieber Professor of Sociology and Political Philosophy, will discuss his book Waves of War and Ethnic Boundary Making. Wimmer will be joined in conversation by other speakers, including Jack Snyder, Robert and Renee Belfer Professor of International Relations. East Gallery, Buell Hall. (Just Societies)
For RSVP, ticket availability, and other details, follow the links. We always appreciate hearing from you about future events.