From the census to the senses, spanning boardrooms and comedy clubs, check out this week's Picks—and remember to get your Data Science Day ticket.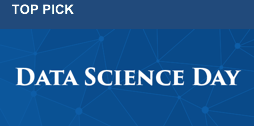 March 28, 2018
9 a.m. – 5 p.m.
Data Science Institute
Data Science Day
Join President Bollinger; Jeannette M. Wing, Avanessians Director of the Data Science Institute; Diane Greene, Google Cloud CEO; and others for a day-long celebration of data science at Columbia. Topics include "Machine Learning: The Good, The Bad, and The Law." Lerner Hall, Roone Arledge Auditorium. RSVP and purchase tickets here. (Data and Society)

REMINDERS
March 15: We Have No Idea: A Guide to the Unknown Universe
March 19: Where Next on Climate? Responses from America's Corporate Board Rooms
March 22: American Voter Project: Census 2020 and Redistricting
PICKS
March 14
6:30 – 8 p.m.
Zuckerman Institute
The Science of Vision: Is Perception Really Reality?
How do our memory and expectations influence our visual perception? Tiago Siebert Altavini, a neuroscientist working in the Laboratory of Neurobiology at The Rockefeller University, will discuss as part of a Know Science Public Talk. RSVP here. Education Lab, Jerome L. Greene Science Center. (The Future of Neuroscience)
March 19
6 – 7:30 p.m.
Center on Global Energy Policy
Where Next on Climate? Responses from America's Corporate Board Rooms
Is America's corporate sector taking steps to reduce climate change? Can corporate climate actions support rather than detract from market growth? What policies are favored? Explore these questions with Geoffrey Heal, Columbia Business School; Nancy Meyer, Center for Climate and Energy Solutions; and John MacWilliams, Center on Global Energy Policy. Pulitzer Hall, World Room. (Climate Response)     
March 20
6 – 8:30 p.m.
Office of the Vice Provost for Faculty Diversity and Inclusion
Seriously Funny: A Roundtable on Women, Comedy, and Politics
Featuring Frances Negrón-Muntaner, professor of English and Comparative Literature, filmmaker, and author of Not Funny: Latinos in Comedy; Kate Clinton, humor activist and author of I Told You So; Negin Farsad, author of How to Make White People Laugh and director and producer of The Muslims are Coming; Dulce Sloan, one of TimeOut LA's "Top Comics to Watch for 2017" and The Daily Show correspondent. RSVP here. Low Library. (Just Societies)
March 21
4 – 5:15 p.m.
Mailman
Technology and Public Health: Grand Rounds on the Future of Public Health
A Dean's Grand Rounds with Mary C. Boyce, Dean of the School of Engineering. During the Grand Rounds series, panels of faculty experts explore disruptive thinking—how innovatively framing a research question might offer new public health insights and approaches. Join the conversation by using #DisruptiveThinking on Twitter. Allan Rosenfield Building, 8th Floor, Auditorium.  
March 21
6 – 8 p.m.
Mailman, Incarceration and Public Health Action Network
Rikers: Innocence Lost
Join the Incarceration and Public Health Action Network (IPHAN) for a dinner, film screening of Rikers: Innocence Lost, and discussion on public health and incarceration in NYC. Hear from those with lived experience on Rikers and from leaders in mass incarceration reform. Panelists include the filmmaker and those interviewed in the film. RSVP here. Bard Hall, 50 Haven Avenue. (Just Societies)
March 27
6 – 7:30 p.m.
Center on Global Energy Policy
Book Talk and Discussion: Taming the Sun by Dr. Varun Sivaram
Solar energy has become the cheapest, fastest-growing power source on earth. Dr. Varun Sivaram, Philip D. Reed Fellow for Science and Technology at the Council on Foreign Relations and CGEP Adjunct Senior Research Scholar, discusses this and more in his new book Taming the Sun: Innovations to Harness Solar Energy and Save the Planet. Book signing to follow. View livestream here. RSVP here. Faculty House, Garden Room 2. (Climate Response)
March 29
5 – 7 p.m.
The Eric H. Holder Institute for Civil and Political Rights
American Voter Project: Hacking Digital Elections
Panelists include Malek Ben Salem '11SEAS, Cybersecurity Policy Fellow at New America
Matt Rhoades, Senior Fellow at Harvard's Belfer Center for Science and International Affairs.
RSVP here. Low Library, Rotunda. (Data and Society, Just Societies)
March 29
6 –7:30 p.m.
Columbia Global Reports
Stalinist Terror and Today's Russia: Masha Gessen & photographer Misha Friedman in conversation with Nicholas Lemann
2017 National Book Award winner Masha Gessen and renowned photographer Misha Friedman join Nicholas Lemann, dean emeritus of the Journalism School and director of Columbia Global Reports, for a discussion of the new book Never Remember: Searching for Stalin's Gulags in Putin's Russia. Journalism School, Jamail Lecture Hall, Room 301. (Global Solutions)
For RSVP, ticket availability, and other details, follow the links. We always appreciate hearing from you about future events.