Discover war's hidden casualties and untold reporting challenges. Explore the future of energy, public spaces, and Russian society.  Learn of W.E. B. Du Bois's visualizations of African American life, and scan the public health's horizon – in other words, pick your Pick!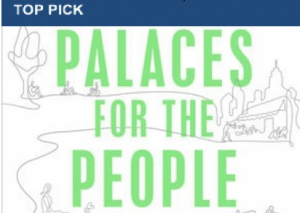 November 27
5:30 p.m.
See sponsors here
Palaces for the People
In Palaces for the People, Eric Klinenberg suggests that the future of democratic societies rests not simply on shared values but on shared spaces: the libraries, childcare centers, bookstores, churches, synagogues, and parks where crucial, sometimes life-saving, connections are formed. A talk by Klinenberg and Bruce Robbins, Old Dominion Foundation Professor in the Humanities; Shamus Khan, professor of Sociology; and Kate Orff, associate professor and director of the Urban Design Program. The Heyman Center, Second Floor, Common Room. (Just Societies)
SNEAK PEAK
November 30
8 a.m. – 5:30 p.m.
Columbia Business School
2018 Social Enterprise Conference: Capital for Good
The business community once questioned whether it could afford to prioritize social impact. Today, the consensus is clear—how can it afford not to? The conference brings together industry leaders, professionals, academics, students, and alumni to share best practices and engender new ideas surrounding the intersection of business and society. See program here and purchase tickets here. 490 Riverside Drive, Riverside Church. (Just Societies)
REMINDERS
November 13: Tim Wu: The Curse of Bigness
November 14: How Cities Spur Entrepreneurship and Innovation
November 15: The New York Times Magazine's Nikole Hannah-Jones in Conversation with NBC's Lester Holt AND  A talk by Carrie Mae Weems
PICKS
November 14
4 – 7 p.m.
Columbia University Irving Medical Center | Mailman School of Public Health
2018 Calderone Prize in Public Health Lecture
This year's prize will be awarded to Julio Frenk, president of the University of Miami and former Minister of Health of Mexico, who will also give a lecture on his work. RSVP here. The event will be live-streamed here. CUIMC, Roy and Diana Vagelos Education Center, Auditorium. (Just Societies)
November 15
10 a.m. – 11:30 a.m.
American Geographical Society | Earth Institute's Center for International Earth Science Information Network
Powering Our Future Planet
Energy will be one of the most important factors influencing geopolitics, environmental quality, transportation routes, military conflicts, standards of living, world economies, food production, technical innovation, and the mass movement of people. A discussion with Oscar Ankunda, energy specialist at USAID-Uganda; John Hofmeister, founder and CEO of Citizens for Affordable Energy; and others. Moderated by Robert Chen, director of the Center for International Earth Science Information Network. RSVP here. Lerner Hall, Broadway Room. (Climate Response)      
6 – 7:30 p.m.
Interdisciplinary Center for Innovative Theory and Empirics
The Uncounted: Inside America's War Against ISIS
Pulitzer Prize-nominated journalist and sociologist Anand Gopal, will present on the moral and legal implications of the war on terror. A discussion between Gopal and investigative reporter Azmat Khan, facilitated by sociologist and INCITE director Peter Bearman, will follow.
Registration is required here. Journalism School, Pulitzer Hall, World Room. (Just Societies)
November 27
6 – 7 p.m.
Columbia Journalism School Global |  Thought Leader Series
Reporting the World: Lindsey Hilsum in Conversation with Dean Steve Coll
Lindsey Hilsum, international editor for UK's Channel 4 News and the first CJS Global Visiting Fellow, will give a talk on war correspondence with Dean Steve Coll. Hilsum has reported from hot spots around the globe such as Syria, Ukraine, Mali, Iraq, Afghanistan, Kosovo, Rwanda and more. Pulitzer Hall, Joseph D. Jamail Lecture Hall, 3rd Floor. (Just Societies, Global Solutions)
6 p.m.
The Harriman Institute
Leonid Volkov, Russian politician of the Russia's Future Party
A conversation with Leonid Volkov, Russian politician, member of the Russia's Future Party,  and co-founder of the Internet Protection Society, an NGO focused on internet freedom and digital rights in Russia. Moderated by Timothy Frye, Marshall D. Shulman Professor of Post-Soviet Foreign Policy and chair of the department of political science. International Affairs Building, Marshall D. Shulman Seminar Room, 1219. (Data and Society, Global Solutions, Just Societies)
November 28
6 – 8 p.m.
Institute for Research in African-American Studies
Du Bois Data Portraits: Visualizing Black America
The colorful charts, graphs, and maps presented at the 1900 Paris Exposition's American Negro Exhibit by famed sociologist and black rights activist W. E. B. Du Bois offered a view into the lives of black Americans, conveying a literal and figurative representation of "the color line." Du Bois Data Graphics: Visualizing Black America co-editors Britt Rusert and Whitney Battle-Baptiste and contributor Mabel O. Wilson (GSAPP) will be in conversation with Saidiya Hartman (English and comparative literature) and Robert Gooding-Williams (Philosophy). Graduate School of Journalism, Jamail Green Lecture hall, 3rd floor. (Data and Society)
For RSVP, ticket availability, and other details, follow the links. We always appreciate hearing from you about future events.