Seasonal bounty, as we hear Rui Costa's informal story, Suzan-Lori Parks' take on race and health, and a whole range of deep and broad views, from K-pop to the roles of libraries. How do we make the world better? From the role of capital to how to power a sustainable future to protecting civilians in wartime, it's Columbia for good!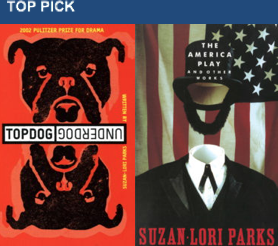 Nov 28
6 – 8 p.m.
Vagelos College of Physicians & Surgeons | Department of Medical Humanities and Ethics
Suzan-Lori Parks: On Social Justice, Race, and Health
The inaugural event of the Department of Medical Humanities and Ethics with a talk by Pulitzer Prize-winning playwright Suzan-Lori Parks. Parks is a a MacArthur "Genius" Award recipient and was the first African-American woman to receive the Pulitzer Prize in Drama, which was awarded for her Broadway hit Topdog/Underdog. Followed by a dramatization of scenes from her recent work and a talkback with the audience. P&S, Alumni Auditorium. (Just Societies)
REMINDERS
November 27: Palaces for the People AND Reporting the World: Lindsey Hilsum in Conversation with Dean Steve Coll AND Leonid Volkov, Russian politician of the Russia's Future Party
November 28: Du Bois Data Portraits: Visualizing Black America
PICKS
November 26
2:30 – 6:30 p.m.
SIPA | Mailman
License to Kill?: Can Civilians Targeted in Conflict be Protected?
Today, civilians are the targets of vicious campaigns combining murder, sexual violence, starvation, and forced displacement. What can be done? A panel featuring Elazar Barkan, director of the Human Rights and Humanitarian Policy Concentration at SIPA; Richard Dicker, director of International Justice Program at the Human Rights Watch; Dirk Salomons, director of the SIPA Human Rights and Humanitarian Policy Concentration; Fabien Dubuet, representative to the UN; and others. International Affairs Building, Room 1512. (Global Solutions, Just Societies)

6 – 8 p.m.
SPS
From Motown to K-Pop: Decoding the Cultural Secrets of Pop Music with Data
Can the music industry help answer compelling cultural questions? Zach Pentel, Global Director of Brand Strategy at Spotify, will show how one can use data to dissect the connection between pop music and the world around it. Reception to follow. RSVP here. Faculty House, Presidential Ballroom. (Arts and Ideas, Data and Society)
November 29
6 – 9 p.m.
Columbia's Rare Book & Manuscript Library
A Conversation About The Library Book
New Yorker staff writer and author Susan Orlean's latest work, The Library Book, is both an investigation of the 1986 Los Angeles Public Library fire and a meditation on the role of libraries in American public life. Orlean will be in conversation with Jim Neal, former president of the American Library Association and Columbia University librarian emeritus. RSVP required here. Butler Library, Room 203. (Arts and Ideas)
November 30
10:30 – 11:30 a.m.
The Earth Institute | Engineering
Smart, Secure, and Sustainable… Repowering – The Future Ain't What it Used to Be
This seminar features Terry Boston, former CEO and President of PJM, an electric utility serving nearly one-fifth of the US population. Boston's presentation will compare predictions about the year 2000 to what has occurred, and will highlight some of the cyber and physical threats we face today. RSVP here. Schapiro CEPSR, Davis Auditorium, Room 412. (Climate Response)
        
4 p.m.
The Zuckerman Institute
Growing up in Science: Rui Costa's Unofficial Story
Rui Costa, associate director and chief executive officer of the Zuckerman Institute, is an expert in movement and behavior in health and in disease. Costa will give a talk as part of the Growing Up in Science seminar series where speakers discuss the human side of becoming and being a scientist and share their successes, struggles, weaknesses, detours, and failures. Jerome L. Greene Science Center, L7-119. (Future of Neuroscience)

8 a.m. –  5:30 p.m.
Columbia Business School
2018 Social Enterprise Conference: Capital for Good
The business community once questioned whether it could afford to prioritize social impact. Today, the consensus is clear—how can it afford not to? This conference brings together industry leaders, professionals, academics, students, and alumni to share best practices and engender new ideas surrounding the intersection of business and society. See program here and purchase tickets here. 490 Riverside Drive, Riverside Church. (Just Societies)

For RSVP, ticket availability, and other details, follow the links. We always appreciate hearing from you about future events.