From the exoplanets to justice, the hunt for civilization continues.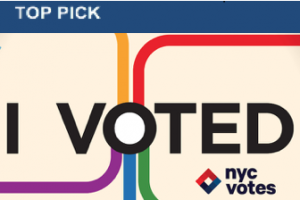 November 8
6 – 7:30 p.m.
The Holder Initiative
American Voter Project: Midterms Debrief – What Happened And What's Next?
As the final installment of the American Voter Project, a panel discussion examining the 2018 midterm elections, particularly as we look ahead to 2020. Panelists include Eric H. Holder Jr. '73CC '76LAW, 82nd attorney general of the United States; Karine Jean-Pierre '03SIPA, senior advisor and national spokesperson for MoveOn.org; and Nate Silver, founder and editor-in-chief of FiveThirtyEight. RSVP required here. Casa Italiana. (Just Societies)
REMINDER
November 2: The Land of Skype and the Digital Land
November 3: Wallach Gallery Talks: Posing Modernity: The Black Model from Manet and Matisse to Today
November 7: Steps to Liberty (Les Marches de la liberté)
November 15: Black Letters and the Law
FILM SERIES
November 7 – 16:  Blackness In French And Francophone Film
Organized by the Columbia Maison Française and co-sponsored by the School of the Arts. (Arts and Ideas, Just Societies)
November 8
6:30 – 8:30 p.m.
Maison Français | SOA
Black Girl (La Noire de…)
A film by Ousmane Sembène. Screening followed by a conversation with Souleymane Bachir Diagne, chair of the department of French and Romance Philology; Mamadou Diouf, director of the Institute for African Studies; and Maboula Soumahoro, French scholar. Sembène was one of the world's greatest and most groundbreaking filmmakers, as well as the most renowned African director of the twentieth century. RSVP here. East Gallery, Buell Hall. (Arts and Ideas, Just Societies)
PICKS
November 6
6 – 7 p.m.
Journalism School
Building Trust in an Era of Rising Doubt and Disinformation
Raney Aronson-Rath, executive producer of FRONTLINE, is this year's Hearst Digital Media Lecturer. Lecture followed by a reception. Joseph D. Jamail Lecture Hall, 3rd Floor. (Data and Society, Just Societies)

November 9
1:30 – 6 p.m.
Humanities and Neuroscience | Italian Academy
Community as Treatment: The Opioid Epidemic and the Therapeutic Community (TC) Model
The conference will explore the evidence supporting different treatment options for opioid use disorder around the world. Speakers include David Freedberg, director of the Italian Academy; Letizia Moratti, co-founder of the San Patrignano Foundation, a self-sustaining community and an example of an alternative rehabilitation system; John Mariani, associate professor of clinical psychiatry athe New York State Psychiatric Institute; and others. RSVP here. The Italian Academy. (Future of Neuroscience)
November 14
6 – 8 p.m.
Knight First Amendment Institute
Free Expression in an Age of Surveillance: Measuring the "Chilling Effect"
Does surveillance chill speech and dissent? How so? And can we measure the chilling effect?
A panel discussion with Alex Abdo, staff attorney at the Knight Institute; Thomas Kadri, Yale Law School Information Society Project; Jon Penney (Dalhousie University); and Elizabeth Stoycheff (Wayne State University). RSVP here. Reception to follow. Pulitzer Hall, Brown Institute. (Data and Society, Just Societies)
November 16
7 – 9 p.m.
Astronomy Department
Public Lecture & Stargazing: The Signatures of Other Civilizations
David Kipping, assistant professor of Astronomy and Cool Worlds Lab lead, will discuss what limits we have for tracing other civilizations and what the future holds in astronomy. Lecture includes a Q&A session, astrophotography slideshows, and stargazing with telescopes (weather permitting). Pupin Hall.
November 17
1 – 4 p.m.
Zuckerman Institute
Saturday Science: Decisions Decisions
Students, families, and community groups explore the workings of the brain through hands-on activities and demonstrations with scientists. RSVP here. 605 West 129th Street, Greene Science Center, Education Lab. (Future of Neuroscience)
November 19
6 – 7:30 p.m.
The Lipman Forum | Columbia Journalism
A Discussion with the Inaugural Lipman Fellows on Criminalization of Black Girls and Voter Disfranchisement
Jelani Cobb, Ira A. Lipman Professor of Journalism, presents the Lipman Inaugural Fellows in Journalism and Civil and Human Rights and will moderate. Featuring Monica Rhor, senior fellow, narrative writer, and national writer at USA Today, and  Kira Lerner, junior fellow and political reporter for ThinkProgress. Pulitzer Hall, World Room. (Just Societies)

For RSVP, ticket availability, and other details, follow the links. We always appreciate hearing from you about future events.