From HIV prevention to food justice, Gary Shteyngart's tangled characters to voter suppression, Columbia simply takes them on the complex. Remember–invite a prospect or an alum!  
(Please note: the Steve Miller Medical Education Day talk with Paul Farmer has been cancelled)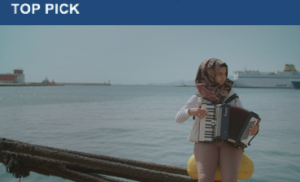 November 1
6:30 – 8:30 p.m.
School of the Arts | Journalism School | SIPA Urban and Social Policy Concentration
What is Democracy?
Coming at a moment of political and social crisis, the film What Is Democracy? reflects on a word we too often take for granted. Screening followed by a conversation with the director Astra Taylor; Chenjerai Kumanyika, professor of journalism and media at Rutgers University; and Nicholas Lemann, J-School dean emeritus and director of Columbia Global Reports. RSVP here. Lenfest Center for the Arts, The Katharina Otto-Bernstein Screening Room. (Just Societies, Global Solutions)
REMINDER
October 17: Why Policy Matters: Access, Equity, and Voting in the U.S. AND The Steven Z. Miller Lecture On Humanism In Medicine
October 18: Duke Ellington's Portraits and Self-Portraits
October 20: Saturday Science: Come to Your Senses
October 23: Crazy Rich Asians: Race, Representation, and Resistance?
PICKS
October 17
6 – 8 p.m.
Office of the Provost | SIPA Diversity Committee
Why Policy Matters: Access, Equity, and Voting in the US
Panelists will share four varying perspectives on why policy matters in the enhancement or suppression of voter engagement within their area of work, community, and constituents.
Speakers include Michael Nutter, mayor of Philadelphia and David N. Dinkins Professor of Professional Practice in Urban and Public Affairs; Jonathan Brater, counsel for Brennan Center's Democracy Program; and others. Reception to follow. International Affairs Building, Room 1501. (Just Societies)

October 23
6 – 8 p.m.
Wallach Art Gallery
Opening Exhibition Reception: Posing Modernity: The Black Model from Manet and Matisse to Today
An exhibition exploring the changing modes of representation of the black figure as central to the development of modern art. The models' interactions with and influences on painters, sculptors and photographers are highlighted through archival photographs, correspondence and films. The exhibition will run from October 23 through February 10, 2019. Curated by Denise Murrell '14GSAS, postdoctoral research scholar at the Wallach, and based on her 2013 dissertation. Lenfest Center for the Arts, Wallach Art Gallery, 6th Floor. (Arts and Ideas, Just Societies)
October 25
6 – 7:30 p.m.
Mailman
Food and Inequality
To connect the dots between the food system, public health, and health policy, Mark Bittman, former New York Times columnist and lecturer, hosts a weekly lecture series on the food justice movement. Featuring Tunde Wey, chef and writer.  (Just Societies)
7 – 9 p.m.
School of the Arts
Complex Issues: Gary Shteyngart's Lake Success
Author Gary Shteyngart (writing) will be in conversation with Bruce Robbins (english and comparative literature) about Shteyngart's latest book Lake Success. RSVP here. Lenfest Center for the Arts, The Lantern. (Arts and Ideas)
October 26
10 – 11:30 a.m.
CAA Arts Access
Art Properties Campus Sculpture Tour
Roberto C. Ferrari, curator of Art Properties, will lead a walking tour of the public outdoor sculptures at Columbia, discussing the history of these works, their materiality and fabrication, and ongoing conservation efforts for current and future generations. Space is limited and free to staff; RSVP required here. (Arts and Ideas)
October 29
4:15 – 6:15 p.m.
Center for Science and Society
Evaluating Chronic Pain in Neuroscience, Ethics, and Law
This seminar in Society and Neuroscience will bring together experts from different domains to discuss scientific, ethical, philosophical, and legal issues that relate to pain neuroimaging research. Speakers include Murat Aydede (philosophy, University of British Columbia), Amanda Pustilnik (law, University of Maryland), Tor Wager (psychology and neuroscience, University of Colorado Boulder), Federica Coppola (presidential scholar), and Lan Li (presidential scholar). RSVP required here.  Faculty House. (Future of Neuroscience)
6 – 9 p.m.
Mailman
Person Place Thing Live Taping with ICAP's Blanche Pitt
A live recording of Randy Cohen's acclaimed podcast with special guest
Blanche Pitt, country director for ICAP in South Africa and regional director for the ICAP-led Population-based HIV Impact Assessment project. The event is part of ICAP's year-long celebration of 15 years of empowering health around the world. RSVP here. Allan Rosenfield Building, Hess Commons. (Just Societies, Global Solutions)

For RSVP, ticket availability, and other details, follow the links. We always appreciate hearing from you about future events.