For 125 years Columbia University Press has been doing what the Picks do – sharing the work of Columbia faculty on issues of interest to the world. Check out CUP's title launch for A Time to Stir: Columbia '68 on March 7 and the amazing lineup of Picks below. From outer space to the inner brain, the history of slavery to the dream of democracy, Columbia explores.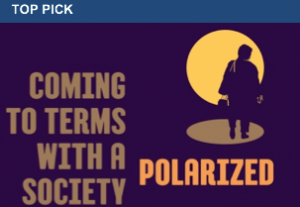 March 1
5 p.m.
The Heyman Center
Politics of the Present: Rhetoric and Evidence in a Polarized Society
Mario Luis Small, Grafstein Family Professor of Sociology at Harvard University, will discuss why the public discourse on poverty, inequality, and economic opportunity requires improving our qualitative, not just quantitative, literacy. Includes Robert Krulwich, science correspondent for NPR and co-host of Radiolab, and Nick Lemann, dean emeritus of the Journalism School and director of Columbia World Projects. RSVP here. Barnard Hall, James Room. (Just Societies)
REMINDERS
February 22: The Hacking of the American Mind: A Discussion with Dr. Robert Lustig AND  Chasing Coral: Screening and Conversation
February 22 – 25: Athena Film Festival 2018
February 27: The Counterrevolution: How our Government Went to War Against its Own Citizen
February 28: The Sound of Diplomacy: "Truth," News, and Radio
PICKS
February 22
6:30 – 8:30 p.m.
Engineering
Extreme Engineering: Astronaut Appearance
A talk with NASA astronaut Peggy A. Whitson, the first female commander of the International Space Station. With a total of 665 days in space, Whitson holds the U.S. record for most time spent in space. Schapiro CEPSR, Davis Auditorium, Room 412.
February 24
1 – 3 p.m.
Wallach Art Gallery
Dance Theatre of Harlem Dancers' Panel
An afternoon of conversation with longtime members of the Dance Theatre of Harlem. Includes Marcia Sells, Theara Ward, and Robert Garland. Hear about their experiences working with dance visionary Arthur Mitchell, the ballets they danced and the countries they toured, and how social justice infused the company's identity from the start. Lenfest Center for the Arts, The Lantern. (Arts and Ideas, Just Societies)

February 26
11:30 a.m. – 1 p.m.
Mailman
The Emerging Epidemic of Neurological Disease
A talk with Justin C. McArthur, director of the Department of Neurology at Johns Hopkins University School of Medicine, and Mitchell S. V. Elkind, professor of Epidemiology and Neurology and fellowships director at the department of neurology. Allan Rosenfield Building, Hess Commons. (The Future of Neuroscience)
March 5
4:15 p.m.
Zuckerman Institute
Evidence and Theory in Neuroscience
Speakers from a wide range of fields and disciplines including neurology, psychiatry, philosophy, and economics will explore the relationship between theory and evidence in the field of neuroscience. Includes Peter Bearman, Jonathan R. Cole Professor of the Social Sciences; Suzanne Goh, co-founder and chief medical officer at Cortica; and moderated by
Aniruddha Das, associate professor of neuroscience and principal investigator at the Zuckerman Institute. Faculty House. RSVP is required here. (The Future of Neuroscience) 6 – 7:30 p.m.
Institute for Research in African American Studies
The Founding of a Nation Through the Eyes of the Enslaved
A Zora Neale Hurston Lecture with Erica Armstrong Dunbar, Charles and Mary Beard Professor of History at Rutgers University and director of the program in African American history at the Library Company of Philadelphia. Books will be available for sale at the event. Faculty House, Skyline Ballroom. (Just Societies)
March 7
5 – 7 p.m.
School of Professional Studies | The Center for the Study of Ethnicity and Race
Narrative Medicine Rounds: Children's Fiction and Narrative Pediatrics
Sayantani DasGupta will speak about writing her novel, The Serpent's Secret. DasGupta, the daughter of Indian immigrants, wanted to share her love of books with her own kids but was saddened by the lack of heroes that looked like her family and neighbors. She decided to write her own stories. Faculty Club of CUMC, P&S Building, Fourth Floor. (Just Societies, Arts and Ideas)
March 8
6 – 7:30 p.m.
Columbia Global Reports
Erin Banco at SIPA
A discussion with Middle East investigative reporter Erin Banco '15SIPA, whose new book, Pipe Dreams: The Plundering of Iraq's Oil Wealth, reveals how the dream of an oil-financed, American-style democracy in Iraqi Kurdistan now looks like a completely unrealistic fantasy. International Affairs Building, Room 1410. (Global Solutions)
March 10
1 – 4 p.m.
Zuckerman Institute
Saturday Science: Your Changing Brain
Students, families, and community groups are invited to explore the workings of the brain through hands-on activities and demonstrations with scientists. RSVP here. 605 West 129th Street, Greene Science Center, Education Lab. (The Future of Neuroscience)
For RSVP, ticket availability, and other details, follow the links. We always appreciate hearing from you about future events.