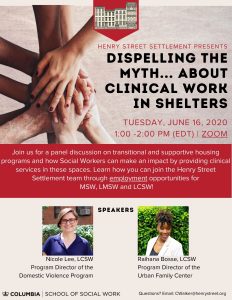 Join us for a panel discussion on transitional and supportive housing programs and how Social Workers can make an impact by providing clinical services in these spaces.
---
SPEAKERS' BIOS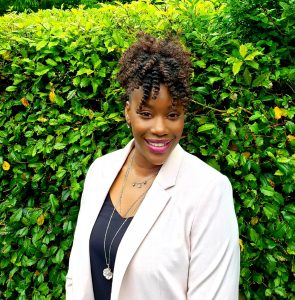 RAIHANA BOSSE, LCSW
Program Director of the Urban Family Center, Henry Street Settlement
Raihana began her career in social services working for the Administration for Children Services as a child protective specialist. That experience provided her with a glimpse into different family dynamics and the impact of generational traumas in those relationships. During this time she decided to work more intimately with individuals and obtaining an MSW was the key. After completing her degree from Stony Brook University Raihana set out on a journey to make a difference! She broadened her experience by working as an elementary school social worker and as a social worker at an inpatient substance abuse program. Raihana's professional journey continued in multiple social work avenues such as child welfare, pediatric palliative care with the Visiting Nurse Service of New York, clinical psychotherapy, and discharge planning for the mental health unit on Rikers Island. 
"My professional journey helped me realize that I wanted to affect change at a higher level and decided that I wanted to be in more of a leadership role, so I began working within the Henry Street shelter at the management level. This allows me the proximity to keep my finger to the pulse of the clinical needs of the individual and the families we serve, while also being able to influence the way we provide those services. It is the best of both worlds!"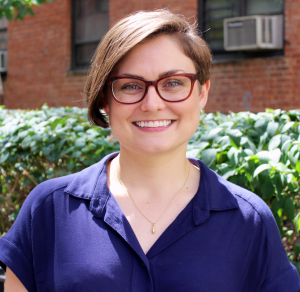 NICOLE LEE, LCSW
Director of the Domestic Violence Program, Henry Street Settlement 
Starting her director's post in August of 2018, Nicole continues to lead the Transitional and Supportive House division in providing emergency intervention to families at Henry Street Settlement.  Her previous roles at Henry Street Settlement include serving as Assistant Director of the  School-Based Mental Health Clinic (SBMHC) Program, where she started out as a therapist in 2014 upon joining the organization. Nicole's experience also includes inpatient and outpatient psychiatric services at Kings County Hospital Center.  After earning her bachelor's degree in anthropology from New York University (NYU), she matriculated into the Silver School of Social Work of NYU.  Nicole has earned a post-master's certificate in Advanced Clinical Practice from NYU, training in Trauma-Focused Cognitive Behavioral Therapy, and is a certified supervisor in-field instruction (SIFI).  Nicole is passionate about elevating the profession of social work as a vehicle toward social justice through the core applications of empathy and advocacy. She volunteers her free time at Open House New York and is a junior board member of HeartShare St. Vincent's Services.