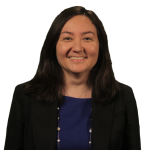 On Wednesday, April 24, Matthea Marquart '05, Director of Administration for the Online Campus, led a workshop on Accepting, Declining, and Negotiating Job Offers, a critical topic during this peak interviewing season.
Students not only learned how to effectively prepare for and engage in the negotiation process, they also learned how to confidently communicate their value as social work candidates from Columbia.
Thank you, Matthea, for this informative workshop!
If you missed the workshop or would like additional tips and insights on the job offer negotiation process, please refer to the Document Library in Career Connect.