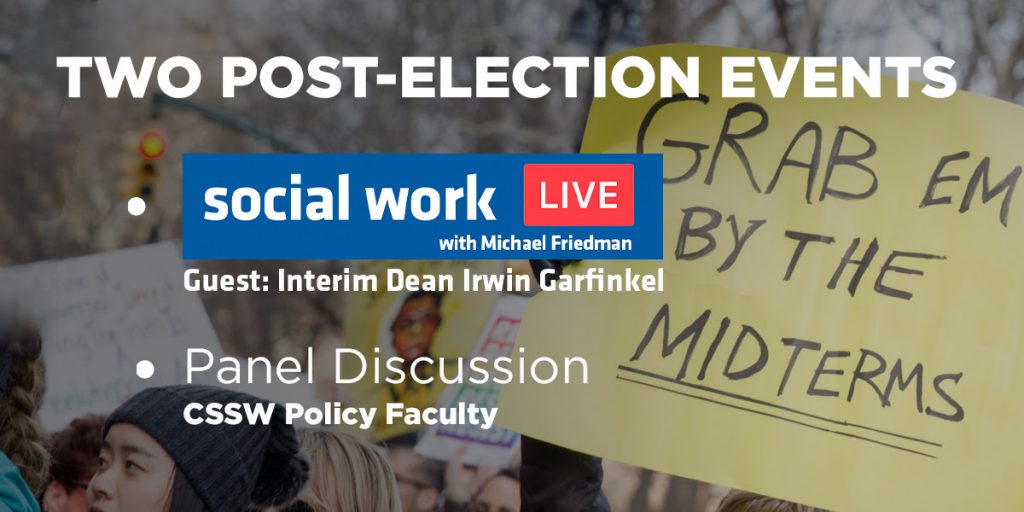 Join Dr. Irwin (Irv) Garfinkel and policy faculty for two separate events addressing the social policy implications of the midterm elections.
Facebook LIVE with Dr. Irwin (Irv) Garfinkel: 11:30 am – 12:00 pm


In this week's Social Work LIVE program, Michael Friedman interviews Dr. Irwin Garfinkel, CSSW's interim dean, on the 

social policy implications of the mid-term elections. Tune in remotely on Columbia School of Social Work's Facebook page. This is the third in a new weekly "Social Work LIVE" series hosted by Professor Michael Friedman. Tune in every Wednesday at noon for a lively conversation on a social work topic championed by one of our in-house experts.
Panel Discussion with CSSW Policy Faculty: 12:15 pm – 1:45 pm
Attend this panel (Social Work Building, Room C03; also live-streamed) to hear CSSW's policy faculty discuss the likely impact of the election results on the areas they cover.
About the Panel
The panel will be moderated by Professor Jane Waldfogel (bio). Interim Dean Irwin Garfinkel (bio) will offer closing thoughts and reflections.
Panelists and their topics:
Register for one or both events
Questions? Please contact [email protected].