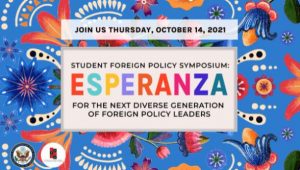 In recognition of National Hispanic Heritage Month (HHM), recognized from September 15 to October 15, the Bureau of Global Public Affairs (GPA) has partnered with the Hispanic Employee Council of Foreign Affairs Agencies (HECFAA) to host the Department's inaugural HHM Student Foreign Policy Symposium. 
When: Thursday, October 14, 2021, from 9:00 AM to 6:30 PM EDT | Zoom
If you are interested in international affairs, foreign policy, or a career as a diplomat this is the symposium for you! After the symposium, there will be an engaging  "After Hours Networking Event" with members of HECFAA, Recruiters, and other Diplomats from the agency from 5:30 p.m. until 6:30 p.m.