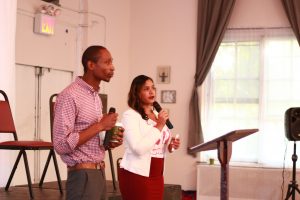 Thank you to everyone who joined us for the first annual justice conference for the From the Inside Out project. Hosted by Sue Fearless, founder of Fearless Women and Pastor Isaac Scott, the inaugural event explored linguistics and popular language that is used as a means of dehumanization. We appreciate you for spending the day with us, and to the many who tuned in via livestream.  
From the Inside Out is an action-research-based multidisciplinary project integrating research and strategic, artistic, public programming to advocate for humane treatment, humanizing language, and representative imagery and depictions of people in prison. The project aims to decrease punitive triggers in the criminal legal system as well as improve and preserve the social quality of people impacted by this system by changing negative narratives of the presently and formerly incarcerated. The primary goal of From the Inside Out is to collaboratively deconstruct degrading and inaccurate narratives by showcasing the true lived experiences of directly impacted people. By providing a platform for impacted individuals to express themselves, we hope to dispel misrepresentations and reframe the conversations surrounding people in prison and our present carceral state. If the public is better able to understand the malpractices of the prison system and view the incarcerated as people rather than criminals, these individuals will have an easier time reentering society and working towards personal development.
---
***Action-research and strategic, artistic engagement.
BELOW ARE VIDEOS AND PICTURES FROM THE CONFERENCE TO CHECK OUT!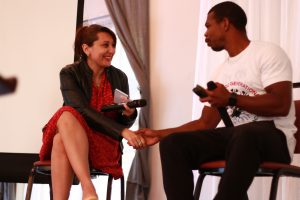 Panel Discussions: From the Inside Out's panel discussions brought together experts in various fields to discuss fundamental questions about language and dehumanization. The first panel discussion was led by Tabaitha Rodriguez; Cristiana Grigore, Cory Greene, and Christine Licata were contributors. The first panel raised the question, "How does the language we use shape the relationships we forge?" as a starting point. The second panel was led by Chijundu Giovanni Obiofuma, and was comprised of Federica Coppola, Adelya Urmanche, and James Dunlea, entitled "Labels to misperceptions to punitive policy: what are the links?" 
Click Here To Watch Full Panel Discussion 1: How does the language we use shape the relationships we forge?
Click Here To Watch Full Panel Discussion 2: Labels to misperceptions to punitive policy: what are the links?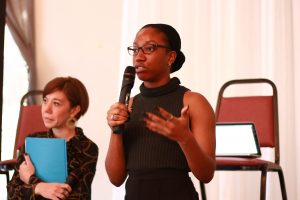 Research Presentations: Researchers from the Center for Justice at Columbia presented cutting-edge work that explores From the Inside Out's core mission:  discovering how labels in various settings affect perceptions of people in prison. Pastor Isaac Scott, Adelya Urmanche, and Abigail Everette presented on their Label Impact study, which demonstrates the effects of punitive language on perceptions of people in prison, and how stereotypes in media like crime shows skew these perceptions, respectively. Federica Coppola, Dara Huggins, and Oh Prema presented the results of their Language and Humanization study. The study compared the effects of empathizing language about people on trial to typical punitive language used in the court system. From the Inside Out places great emphasis on creating and expanding a body of foundational, buildable research about people in prison.
Click Here To Watch Full Research Presentations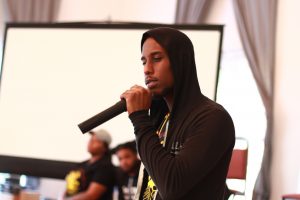 Performances: Alongside research, the conference engaged in strategic artistic outreach. Patricia Trusty of the Women's Prison Association performed several spoken-word pieces, focused on redefining common identities. H.O.L.L.A. (How Our Lives Link Altogether) performed part of their album The Report-Back, which is part of their larger Healing Justice Movement. The evening concluded with a moving Spoken Pen performance from Pastor Isaac Scott, Jarrell Williams, Tyler Campbell, Gregary Griffin, and Carlos Ivan Calaff. The performers used a text written in collaboration by Kenneth Williams, Justin Anderson, Kenneth Reams and LaTavious Johnson, currently incarcerated on death row. The arts are a fundamental part of From the Inside Out project, giving artists an opportunity to share their lived experiences, and provide humanizing counter-narratives about people in prison. 
Click Here to Hear Poetry From Patricia Trusty
Click Here to Watch the Spoken Pen Excerpt "Black Hand of Mine"
Click Here to See H.O.L.L.A.'s Live Performance of Music From the Healing Justice Movement Album: The Report-Back 
Click Here Watch Greg G's Live Performance
Click Here Watch Rozette McLean-Chapman's Live Performance
Click Here to Watch Q Williams Live Performance 
Breakout Sessions:
The conference hosted breakout sessions that facilitated empathetic, boundary-breaking discussion between attendees. With a diverse group of people from various walks of life in attendance, the breakout sessions provided a space for authentic and effective conversations to be had while reflecting on the information that was shared throughout the conference. The conversations allowed attendees to share information, personal stories and reflections that ultimately served to break stereotypes, and reframe the narratives surrounding individuals who have been affected by the criminal justice system. Session leaders asked participants to engage in the activities they offer to people in prison, including making art that explores how labels affect one's sense of identity, providing an artistic, discussion-based companion to research presented earlier in the day. Facilitators included Alison Cornyn from Incorrigibles, Briana Baker from Justice for Black Girls, Ebony Walcott from Artistic Noise, Mario De La Cruz from Sarah Lawrence College, Marissa Anne Gutierrez-Vicario from Arte Justice, Annabel Manning and Michael Kelly from Jail Arts Initiative, and Anne Rice from Hudson Link. 
More information on panelists, researchers, and performers is available in the digital conference program.