2017 June Jordan Fellowship Recipients ♦  Application Requirements ♦ Fellowship Staff and Sponsors ♦ Frequently Asked Questions  ♦ Press, Media, and Events   
**Thank you for your interest in the June Jordan Fellowship. The Fellowship is currently in transition. Please check back here for more updated information as it becomes available.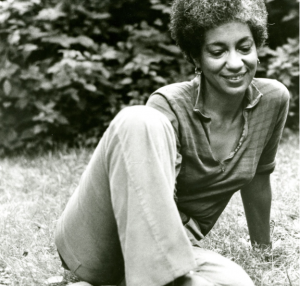 The Center for Justice at Columbia University announces the June Jordan Fellowship, named in honor of the renowned Harlem-born poet and activist. In each of the next two years, paid fellowships will be awarded to literary, visual, musical and performance artists who are committed to public engagement. June Jordan Fellows will work collaboratively with Columbia faculty and community partners to provide workshops that will be open to local community members – including junior and senior high school students – as well as members of Columbia's student body. One or more of the fellows each year will contribute to Columbia University's Rikers Education Program. This collaboration between the Center for Justice, and the Heyman Center for the Humanities partners Columbia faculty and students with artists in order to provide workshops in music, graphic design and coding. The fellowship will also sponsor summer internships for high school students selected to participate in the JustArts Summer Youth program for young people from Harlem and Washington Heights. June Jordan Fellows will have the opportunity to take classes at the university. Each Fellowship carries a stipend of $26,000.
---
About June Jordan:
June Jordan (1936-2002) was a poet, activist, journalist, essayist and teacher. Prolific and passionate, she was an influential voice who lived and wrote on the frontlines of American poetry, international political vision and human moral witness. Born in Harlem in 1936, Jordan was the child of West Indian immigrant parents, who raised her in the Bedford-Stuyvesant section of Brooklyn, where she began writing poetry at the age of seven. In her teens, she attended the Northfield School for Girls in Massachusetts, and in 1953 enrolled at Barnard College, where she would earn her B.A. In 1967, after running poetry workshops for children in Harlem, Jordan began her teaching career at the City College of New York. She taught at Yale University and Sarah Lawrence College, and became a professor of English at the State University of New York at Stony Brook, where she directed The Poetry Center. In 1988, she was appointed professor of African-American Studies at the University of California, Berkeley, where she founded the influential poetry program Poetry For the People.
Jordan was the author of more than twenty-five major works of poetry, fiction and essays, as well as numerous children's books. She wrote the librettos for the operas Bang Bang Uber Alles with music by Adrienne Torf, and I Was Looking at the Ceiling and Then I Saw the Sky, with music by John Adams; she wrote lyrics frequently for other musicians, as well as plays and musicals. Her journalism was published widely in magazines and newspapers around the world, and she was a regular columnist for The Progressive. Jordan earned numerous honors and awards, including a 1969-1970 Rockefeller grant for creative writing, a Yaddo residency (1979), a National Endowment for the Arts fellowship (1982) and the Achievement Award for International Reporting from the National Association of Black Journalists (1984). Jordan also won the Lila Wallace Reader's Digest Writers Award (1995-1998), the Ground Breakers-Dream Makers Award from The Woman's Foundation (1994), the Chancellor's Distinguished Lectureship from the University of California at Berkeley, the PEN Center USA West Freedom to Write Award (1991) and a congressional citation for her outstanding contributions to literature, the progressive movement and the civil rights movement.