The Beyond the Bars Fellowship offers students and community members an interdisciplinary leadership development program to develop and deepen their identity, analysis, skills and network towards ending mass incarceration and creating a more just and safe world. Through seminars, workshops and guest lectures Fellows explore their own experiences and identities as people working for social change; gain a theoretical and practical understanding of mass incarceration; and are introduced to various models of social change including community organizing, legislative advocacy, messaging and communications and more.  In addition Fellows work together with the Center for Justice and the Criminal Justice Caucus to organize the annual Beyond the Bars Conference on ending mass incarceration and realizing social justice. The Fellowship is made up of both Students and Community members and our aim is to work collaboratively with the University and Community towards social change.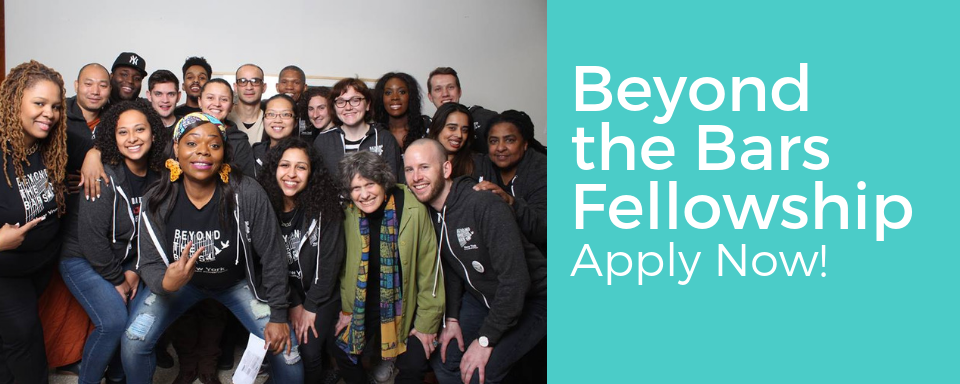 Is the Fellowship Right for me?
We aim to bring together Columbia University students with the larger NYC community to create a diverse and rich learning environment that can be mutually beneficial to all Fellows. We encourage people impacted (directly and indirectly) by mass incarceration to apply. Please note that extensive experience is not a requirement.
What will you gain?
Leadership Development: Participate in regular seminars, workshops and guest lectures and deepen your understanding of yourself as well as develop your understanding of justice issues and your capacity to enact change.

Organizing Experience: Work collaboratively to help organize the annual Beyond the Bars Conference

A Community of Mentors and Colleagues: The Fellowship is an intentional and experiential learning community that will support your growth as a social justice advocate.
All applicants should meet the following:
Have a desire to be a part of group learning environment

Demonstrated enthusiasm for social justice.

Commitment to fulfill all requirements of the Fellowship
Columbia Fellows should be Current Columbia student enrolled at least half-time in an undergraduate or graduate program.
Community Fellows are not enrolled at Columbia University. We encourage applicants who are not students or have not attended college to apply. Students from other colleges / universities are welcome to apply.
Deadlines
The priority application deadline is Monday August 19th.  After that we will be accepting applications on a rolling basis until Monday August 26th.
Application Materials
1 page cover letter including:

Why you are interested in becoming a Beyond the Bars Fellow

What you hope to gain from the Fellowship

An assessment of your strengths and challenges

Resume / CV
To Apply
Email your application materials to: [email protected]
Application Process  
July 17th: Application Period Opens

August 19th: Priority Application Deadline

August 26th: Application Period Closes

August 22nd- August 30th – Interviews

September 7th: Accepted Applicants are Notified

September 20th: Fellowship Starts
Tentative Fellowship Calendar
The Fellowship meets most Thursday nights from 6:15-8:30pm starting September 19th going through to early April 2nd. 
Fall Dates
September 19th

September 26th

Oct 4th – Oct 6th: 3 Day Opening Retreat

October 10th

October 17th

October 31st

November 7th

November 14th

November 21st

December 5th

December 12th
Spring Dates
Saturday January 11th – Day long Conference Planning Retreat

January 16th

January 23rd

January 30th

February 6th

February 13th

February 20st

February 27th

March 5th-8th:  Beyond the Bars Conference

March 12th

March 26th

April 2nd: Fellowship Graduation

April 10th-12th: 3 Day Closing Retreat