Just Futures, a collaboration with Restorative Justice for Oakland Youth, is a restorative justice education and leadership program for youth and young adults who are detained or incarcerated.
Just Futures works to support education, healing and leadership of youth and young adults incarcerated or detained through learning about restorative justice principles and practices, experiencing restorative practices including circles and wellness techniques, and developing recommendations on where and how restorative justice could be implemented inside and out of the criminal justice system.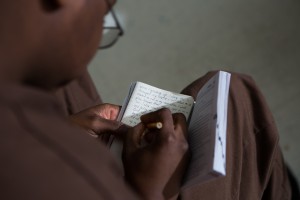 Over the last decade, the theory and practice of restorative justice has emerged as one of several alternatives to a more punitive model of justice. Currently practiced in diverse settings across the United States, restorative justice provides a framework that subtly shifts the processes of justice from a focus on blame and punishment, to a focus on harm and repair; and from looking at the past to preparing for the future. Restorative justice asks, what harm has been done, what is needed to repair that harm and whose obligation is it to repair the harm.
The Center for Justice works to advance alternative strategies to achieve safety, justice and accountability including the use of restorative justice. In our work at Rikers Island, our long term objective is to support the transformation and wellness of the youth and young adults in our programming and as a result, the communities from which they come and the systems that are tasked with supporting them. We believe that bringing restorative justice to those who are detained or incarcerated is one avenue through which to achieve this.
Our objectives for Just Futures are:
To support youth and young adult education through learning about the theory and varying practices of restorative justice including academic programming and experiential activities.
To educate youth and young adults about alternative approaches to conflict resolution, focusing on restoration and healing, instead of retribution and punishment
To support the social and emotional wellness of youth and young adults using restorative circle practices, and daily wellness techniques including meditation, journaling and creative expression.
To support youth leadership through participation in projects that will develop recommendations of where and how restorative justice could be implemented inside and out of the criminal justice system. It is our hope that these projects will be compiled into a document that can be shared with various stakeholders who are interested in the use of restorative justice.