Women Transcending (WT) is a Center for Justice initiative that focuses on the impact of the mass incarceration system on women and girls and the roles that women are playing in changing those systems. WT is committed to making a unique and necessary contribution through three interrelated projects focusing on women and incarceration and the growth of women's leadership in the movement to end mass incarceration.
Our radical hope is that WT—developed by and for formerly incarcerated and directly-impacted women—will shine a light on the unique factors that bring women into the criminal justice system, raise awareness of how the punishment paradigm impacts formerly incarcerated women, their families and communities, and re-shape the current narrative by empowering women to become leaders and agents of change in their own communities.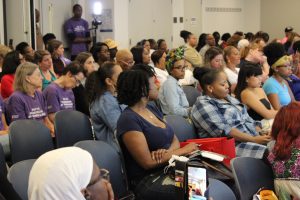 WT seeks to accomplish these goals in the following ways:
1) The Women Transcending Collective Leadership Institute (CLI) offers leadership development, movement history, community organizing, and skills development to an annual cohort of directly-impacted women. CLI will include intensive training in organizing, and will create a learning space for women to gain critical skills to strengthen their leadership in the movement to end mass incarceration. Directly responding to the request of women impacted by mass incarceration, the Institute's gender–specific learning opportunities are designed by and for impacted women to expand their capacity to contribute to the women's justice movement.
2) The Oral History Research Project will document the stories of successful organizing efforts by incarcerated women. This project will begin with an oral history of the successful organizing by the women incarcerated in Bedford Hills correctional facility to bring back college to prison following its elimination in the 1990s. The Project, led by a research collective comprised of formerly incarcerated women, university faculty, and students, will be a model that can be replicated to show the growth of women's leadership in the struggle to end mass incarceration.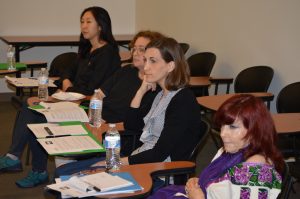 3) Comprehensive public programming will focus on transforming the narrative about women, incarceration and criminalization, including  through CfJ's annual Beyond the Bars Conference, where the 2019 theme is "Until She's Free." CfJ's thematic programming will increase the platforms by which women who are working on justice reform for directly impacted women and girls can elevate their work.
4) The Center for Justice is involved in numerous community advocacy and organizing coalitions and initiatives to change policy, practice and culture relating to ending the incarceration and criminalization of women and girls.
About NoVo Foundation
Thank you to NoVo Foundation for their generous partnership to support the Center for Justice's Women Transcending initiative. NoVo Foundation is dedicated to catalyzing a transformation in global society, moving from a culture of domination to one of equality and partnership. They support the development of capacities in people—individually and collectively—to help create a caring and balanced world. They envision a world that operates on the principles of mutual respect, collaboration, and civic participation, thereby reversing the old paradigm predicated on hierarchy, violence, and the subordination of girls and women.