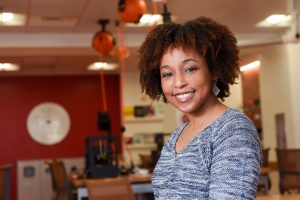 Meet Our Postdocs: Jami Jackson Mulgrave, Postdoctoral Research Fellow in Biomedical Informatics at Columbia University
---
Which department are you in at Columbia and what is your position?
I am a National Library of Medicine Postdoctoral Fellow in the Biomedical Informatics Department.
Where are you from and how long have you been in NYC?           
I am from Durham, NC. I graduated from Columbia University with a BA in psychology in 2007 and lived in NYC until 2012. I went to graduate school in NC from 2012 and moved back to NY in 2017.
Where did you go to school? Describe your path to your current position.          
I went to North Carolina State University for my MA and PhD in Statistics on a NSF graduate research fellowship. My graduate research involved using Bayesian methods to learn semiparametric graphical models.  I went to Columbia University for my BA in Psychology. I originally wanted to become a medical doctor, so I worked at Memorial Sloan-Kettering Cancer Center in clinical research for 5 years after graduating with my bachelor's degree. I ultimately decided medical school wasn't for me and I was more interested in statistics, machine learning, and data science.
What research question are you trying to figure out right now?
My work involves using data assimilation to estimate parameters related to Type 2 diabetes.
In a nutshell, what tools or approaches are you using to try and figure this out?
My main question is whether we can estimate parameters of a model of glucose and insulin dynamics to study differences in parameter patterns between patients with type 2 diabetes and patients without type 2 diabetes using the lab results of oral glucose tolerance tests found in an electronic health record.
We are using data assimilation tools to do the estimation.
What is the best part of your job?            
Working on a problem that has the potential to make an impact on patients in the future.
Why do you love science?
I love science because I love discovery and creativity. We don't know what answer we are going to get and we can be creative about how we get to the answer.
What advice would you give to people interested in a career in science?
Follow what interests you and your passions. Don't go into a science you think others would want you to be in, follow the science you love.
Tell us a bit about yourself or your projects that are not related to science.           
I am also a singer and songwriter.
What is your favorite thing about NYC?
The food!
When did you join CUPS and what is your current role, if any?        
I joined CUPS in 2018 and I am currently a liaison with the URPostdocs group.
URPostdocs is the Underrepresented Postdocs group at Columbia seeking to unite underrepresented postdocs (Women, Latinos, African-Americans, Native Americans, persons with disabilities, etc) into one group. The group is committed to advocate and find means to improve recruitment, retention, and mentoring of URPostdocs to aid in the development of successful careers both in academia and non-academic settings.
What do you like the most about CUPS? 
I like that it is led by passionate postdocs who want to make the postdoctoral experience better for all of us.
To follow Jami: