Talking about "art" and "SoHo" in one sentence to New Yorkers is always tricky.
Most New Yorker artists who lived in the city since 70s or 80s would purse their lips. If you are lucky to not get Miranda-Priestlied by them, you will hear stories about how artists who lived in those industrial lofts in flat iron buildings got priced out to lawyers, Wall Street analysts and management consultants.
And then COVID-19 happened. Lower Manhattan experienced three distinct phases of SoHo within six months. Right before the lockdown, the streets of SoHo were flooded by high-end boutiques, designer home improvement stores, with European tourists and Middle Eastern shoppers crowding in them. During the #BLM days, all these stores were broken into and looted. Hence, all the artistically curated windows, smashed or untouched, were boarded up by dull wooden planks. The local artists found the perfect canvas to peacefully express their voice about human suffering. They drew and painted on these wooden planks. These artworks were moved to selected galleries around the city when it re-opened.
After these three phases I walked into some of the art galleries in SoHo on a sunny Saturday morning without knowing what to expect!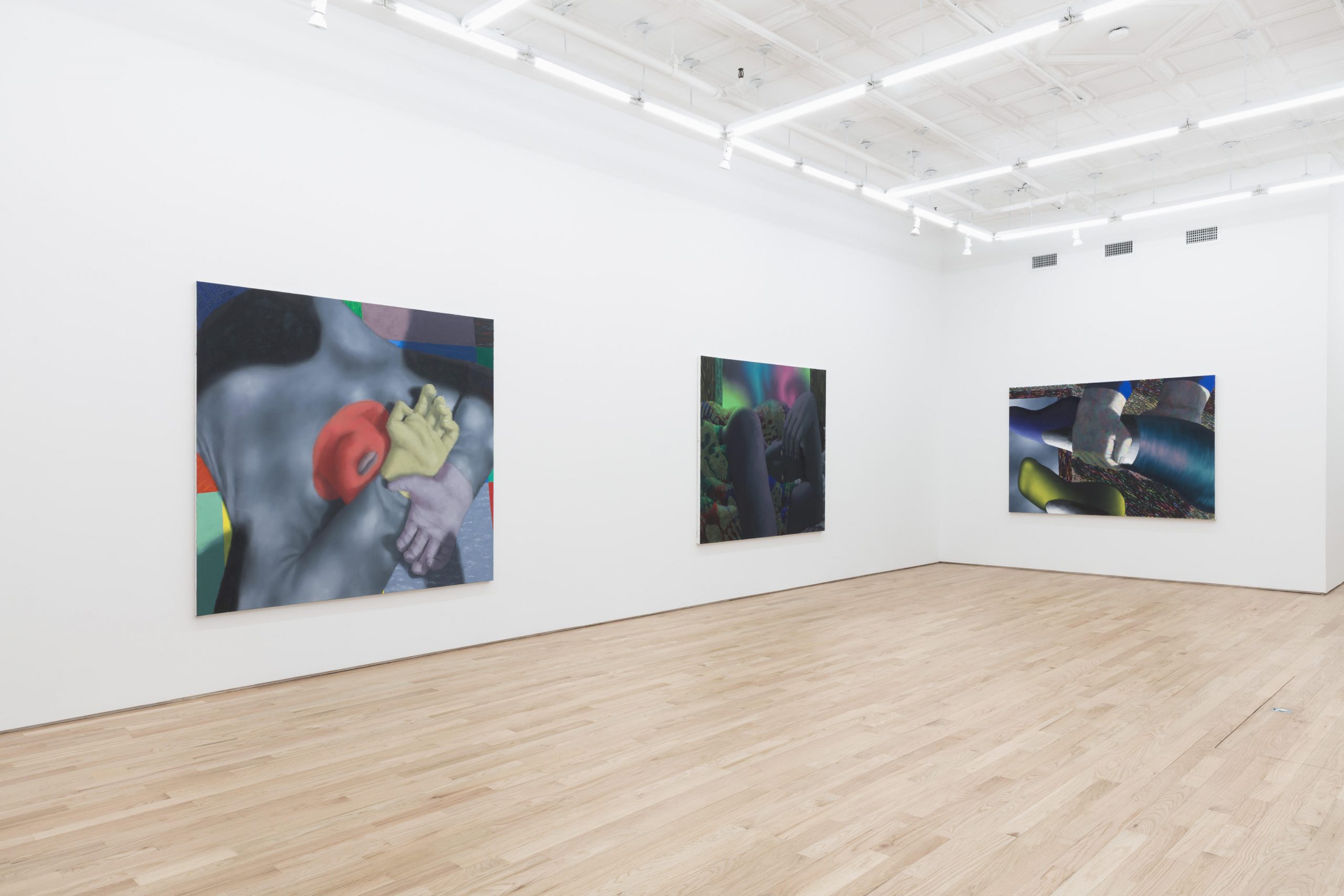 Hidden behind an ongoing construction site, Nicelle Beauchene Gallery at 7 Franklin Place has a sense of quintessential, lower Manhattan adventure to it. The current exhibit is named "The storm" by artist Jordan Kasey. The large scale paintings had colossal figures with snapshot of surreal moments.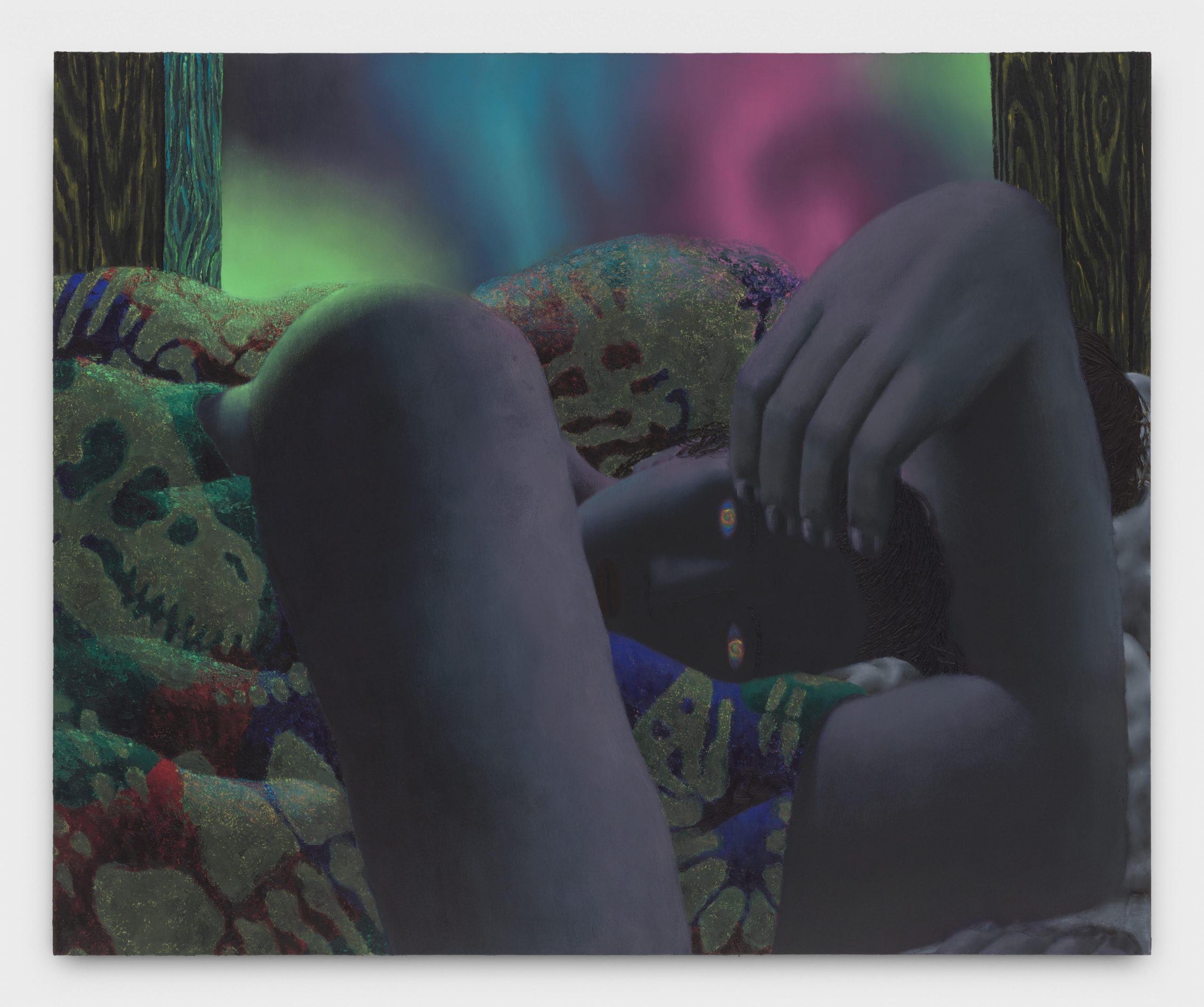 According to the press release, "Isolation—a feeling often explored by the artist—brims throughout The Storm perhaps more so than ever before." This overarching emotion of isolation is so strongly expressed through vibrant layers of colors and textures that other entities, such as, a ghostly shadow, a pair of helping hands, two figures embracing, and, even a car's bright headlights, fade in the background.
Within couple of meters of Franklin Place, Jane Lombard Gallery at 58 White Street had a NYPD car parked in front of it. I walked around it and suspiciously entered the current exhibit, "Impressions" by new media artist Kristin Mciver. If Jordan Kasey's work was about embracing our emotions and observing our reaction to the COVID-19 isolation, Kristin Mciver's video installations created a perfect transition for me into energy, vibrations and water.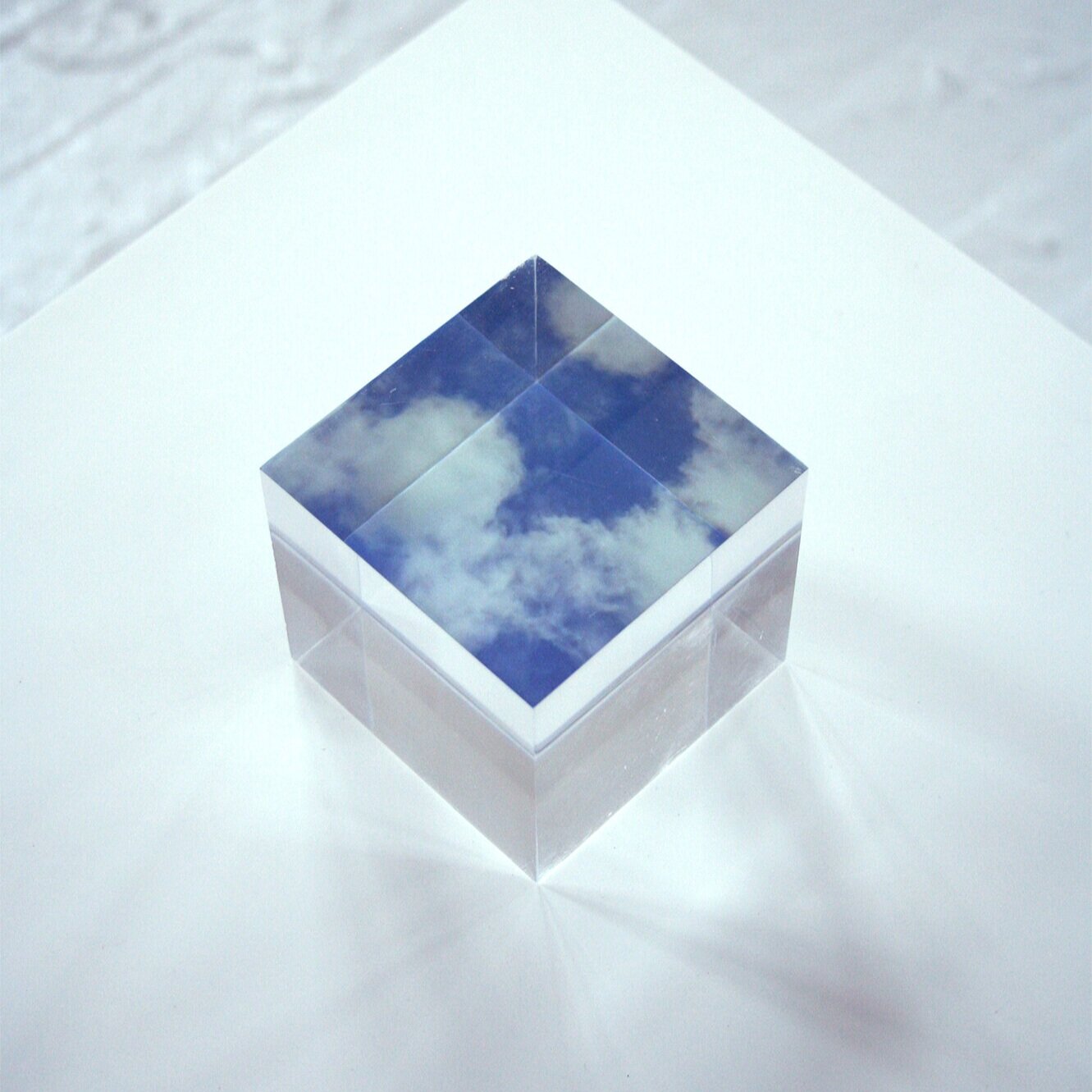 This is one of those immersive installations. No matter how carefully curated words I chose to describe it, you won't be able to experience it without visiting in person. The underlying message of this video installation connected to the rising sea levels in Eastern Seaboard as one of the scariest effect of climate change will crawl into your experience once you see the installations as a whole. The poems and word arts will help to situate the mind.
A short walk along Broadway, couple of blocks up North, got me to my next destination – PPOW gallery. Located on 392 Broadway, the gallery is currently showing "Seven ancestral stomachs" by Guadalupe Maravilla, who managed to combine sculptures, paintings and performative acts in this installation.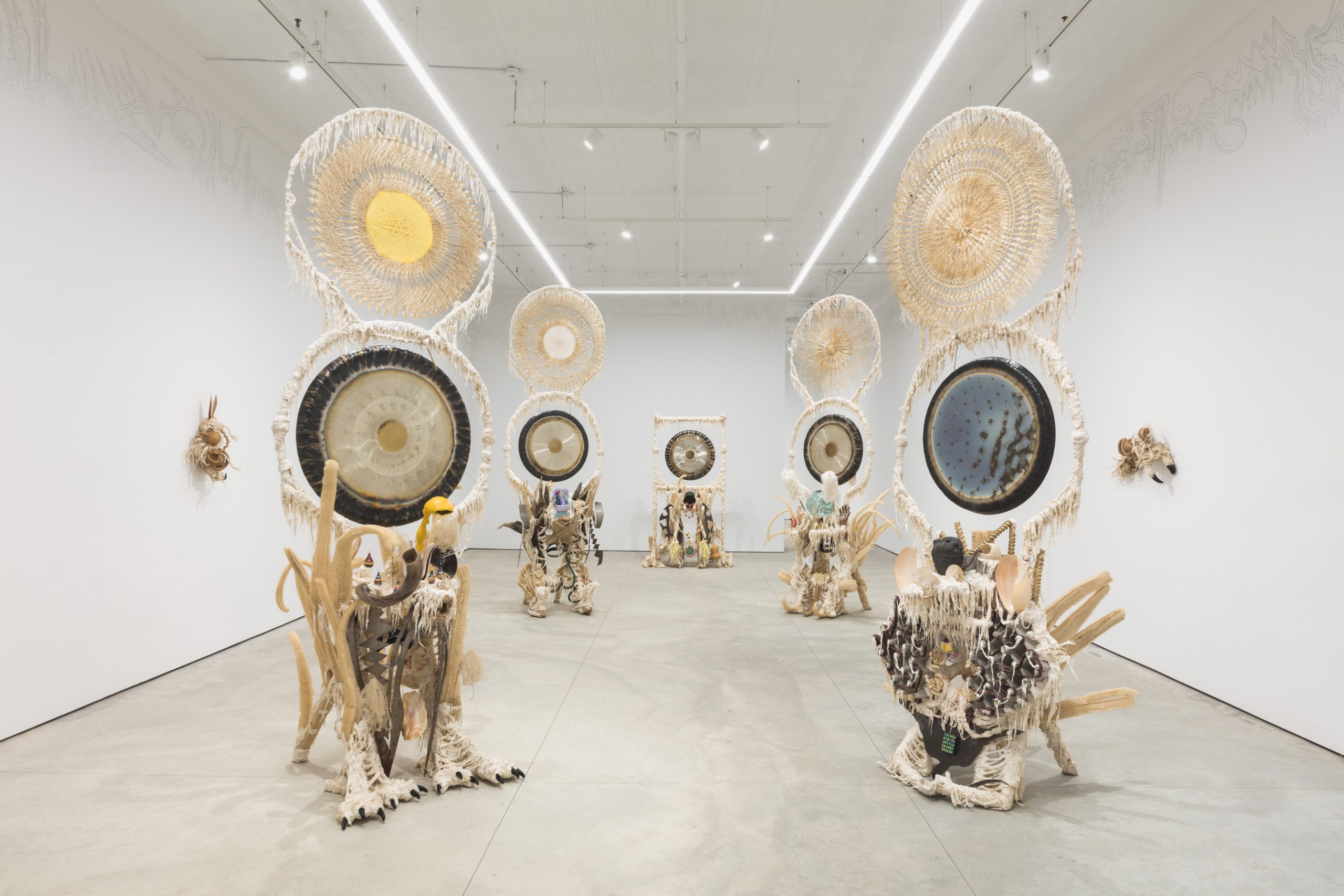 The artist's motivation comes from dealing with the experience of trauma manifested in human body. Sometime the trauma is connected to the experience of undocumented immigrants. Sometime it is rather personal – experience of dealing with colon cancer with the self and within family members. Built with materials collected from Central America, the large, vertical, free-standing sculptures, named "healing machines" by the artist, manifest the healing and renewal of human body.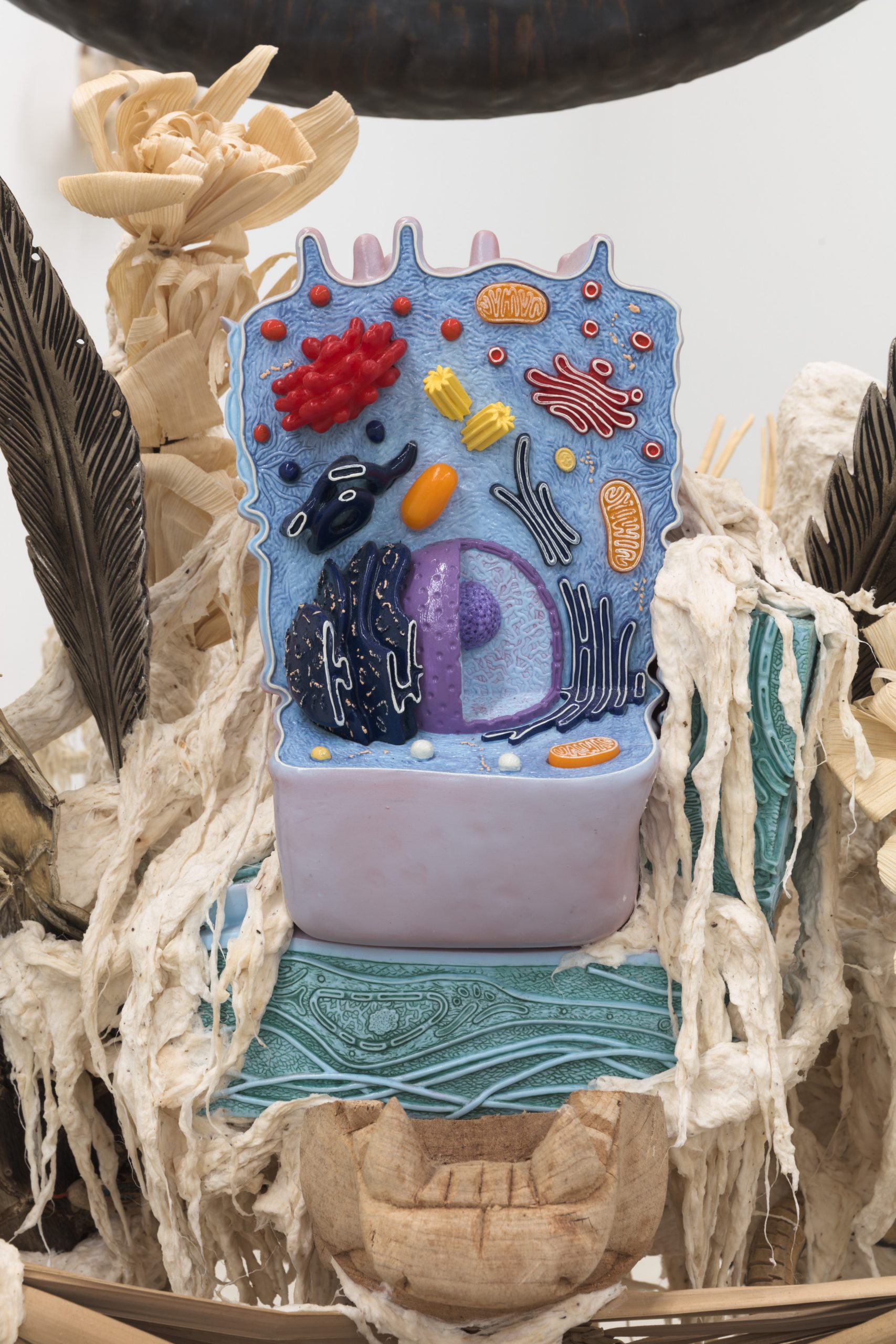 The moral of the story is – no matter which state of mind I'm in, Empire or otherwise, some of these galleries in lower Manhattan never fail to astonish me.
Featured galleries in this article:
Nicelle Beauchene Gallery, 7 Franklin Place, New York, NY 10013; Gallery hours: Tuesday – Saturday, 11 AM – 6 PM
Jane Lombard Gallery, 58 White Street, New York, NY 10013; Gallery hours: Tuesday – Friday, 10 AM – 6 PM, and, Saturday, 11 AM – 6 PM
PPOW Gallery, 392 Broadway, New York, NY 10013; Gallery hours: Tuesday – Saturday, 10 AM – 6 PM