UPDATE (7/13/20): If you missed the event, you can review the summary document with job opportunities and contact information here (UNI login required).
---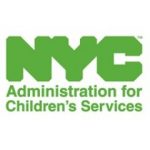 Please join the New York City Administration for Children's Services on July 7th, 8th, and 9th for a Virtual Recruiting Forum where 14 employers will talk about over 60 job opportunities across the city in Prevention Services Programs.
Prevention Services Programs are operated by a network of non-governmental organizations throughout New York City. They seek to strengthen and stabilize families by providing case management, building parenting skills, and offering therapeutic interventions. These services are aimed at keeping children safely at home and supporting families as they work towards their goals.
Openings include positions as case planners, therapists, supervisors and program directors. Positions are available for bachelor's level case planners, MSWs, and MHCs. Some roles require licensure (or the ability to obtain licensure in 3 to 6 months from hire). Prior experience in prevention services is welcomed but not required. Some agencies also offer clinical hours to their direct service staff.
During this digital forum, participants will learn about each agency's work, mission, and history; hear from agency staff about their open positions; and have the opportunity to ask panelists questions about their available positions. Following the forum, all participants will be provided with an information sheet of all attending panelists, including contact information and next steps to take if you would like to apply for an open position.
SEE DETAILS BELOW ABOUT HOW TO ATTEND THIS FORUM:
Attendees can join the events directly using the following links. Please note that each attendee will be muted upon entry to avoid background noise. They will utilize the chat feature during the Q&A portions.
The Forum will be hosted by New York City Administration for Children's Services.
Tuesday, July 7, 11am-12:30pm
Webex link to join: https://nycacs.webex.com/nycacs/onstage/g.php?MTID=e394847fe80d79391d6d9efa339596815
Call in number: +1-408-418-9388
Access code: 129 998 2100
Present Agencies: Arab American Family Support Center, CAMBA, Catholic Guardian Services, Good Shepherd Services, New Alternatives for Children
Wednesday, July 8, 1-2:30pm
Webex link to join: https://nycacs.webex.com/nycacs/onstage/g.php?MTID=ef7f6c1d6b8a9e35de099fa07f03247f3
Call in number: +1-408-418-9388
Access code: 129 043 7341
Present Agencies: Child Center of NY, Children's Aid Society, Forestdale Inc, OHEL Children's Home & Family Services
Thursday, July 9, 1-2:30pm
Webex link to join: https://nycacs.webex.com/nycacs/onstage/g.php?MTID=efdcab86194a116ab2bcd3b954d1cc1ab
Call in number: +1-408-418-9388
Access code: 129 222 9125
Present Agencies: Graham Windham, Jewish Child Care Association of New York, University Behavioral Associates, Safe Horizon (Staten Island), Sheltering Arms Children & Family Services