Hard stops force us to re-evaluate our thoughts. An immediate danger to our survival like COVID-19 pandemic creates a harder stop to our day-to-day lives than a slow destroyer like climate change. It makes us think – what have we done wrong? And, more importantly – what can we do differently from now on?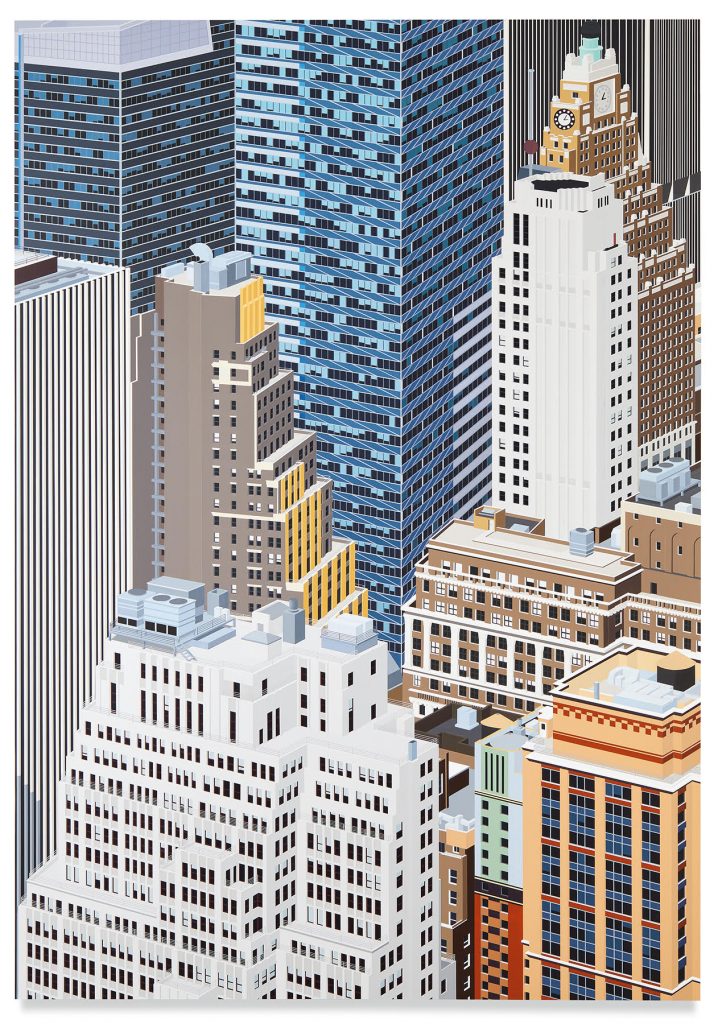 That was the state of my mind when I walked into the Miles McEnery Gallery in Chelsea. While the 21st St gallery showed architectural paintings of Daniel Rich, the newly expanded 22nd St space exhibited the natural world in landscapes and abstraction from a group of contemporary artists. Architecture invariably becomes our natural world living in Manhattan – from older Gothic and Art Deco to newly erected modern and post-modern buildings. But, we never miss a chance to take that ferry ride to the Far Rockaway beach, or, that Metro North ride upstate for a lazy weekend of hiking on the Mount Beacon.
The contrasting experiences of these two exhibits reminded me the artistic and design work of the "city gardeners" who try to incorporate plants, flowers, waterfalls as part of the large buildings, inside or out, to attract and nest squirrels, birds, butterflies and bees! Unlike COVID-19, climate change may not kill us in next 14 days, but it may do so in next 14 years if we fail to re-evaluate our actions! Exhibits like "Back to the future" and "Do you think it needs a cloud?" serve as constant reminders for us!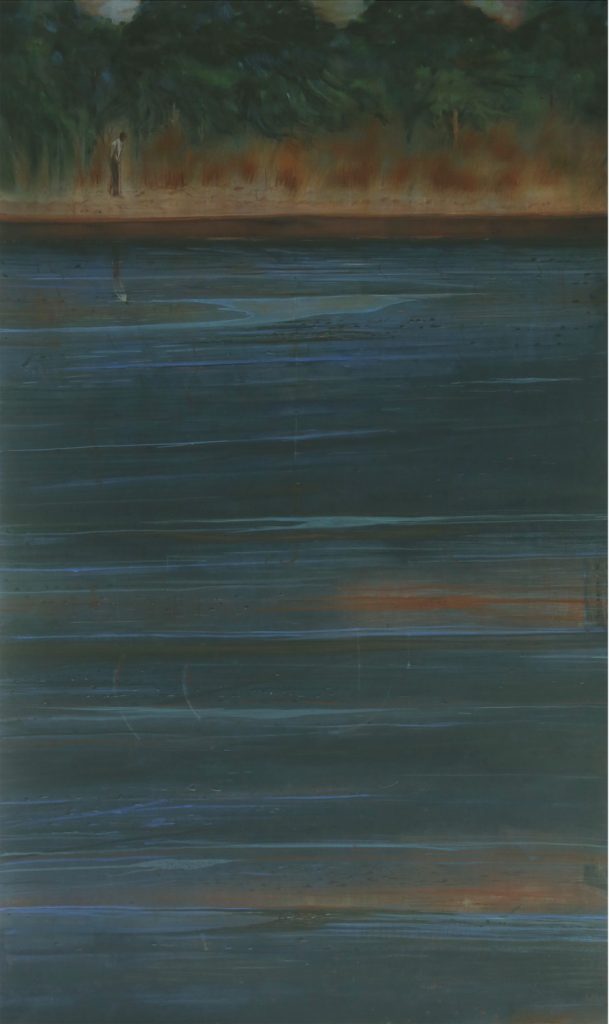 Natural disasters often remind us that no matter how much we divide ourselves by geographical, social, political and economic boundaries, we all share one planet. When I entered Aicon Contemporary, a gallery on the Great Jones and Bowery, showcasing works of South Asian artists, I was immediately drawn to Sujith S.N.'s watercolor piece depicting human experience on isolation in the midst of a storm! It brought back my recent memories of hurricane Isaias that uprooted a 5-storeys tall tree in our courtyard shaking the surrounding apartment buildings.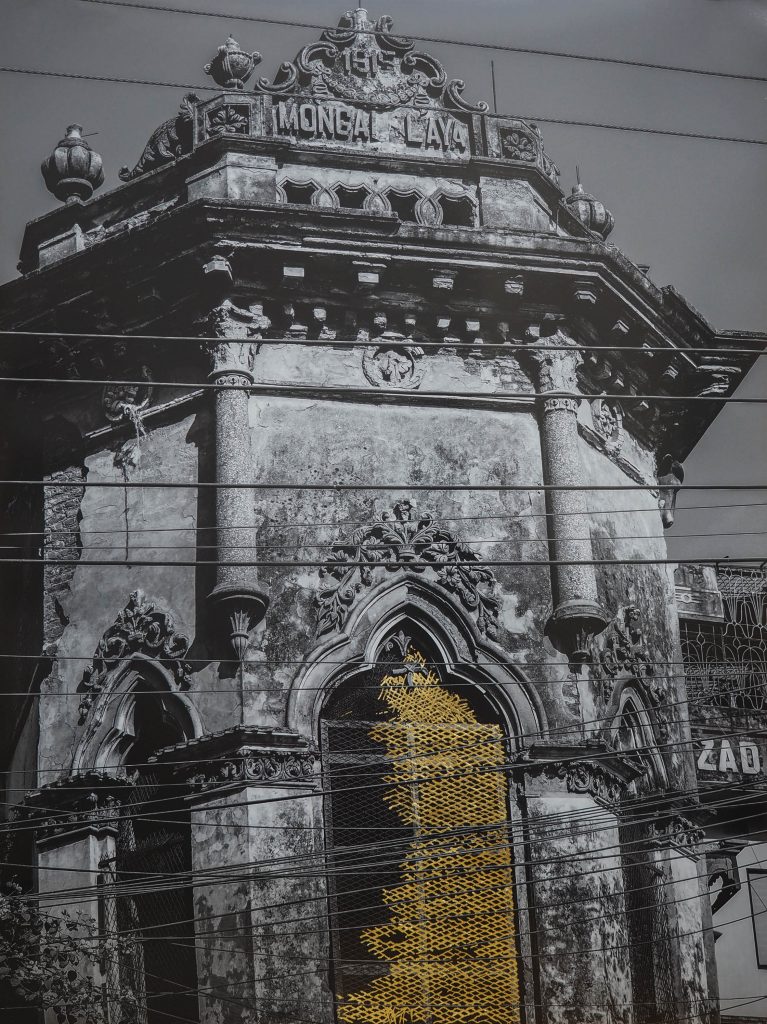 After the hurricane passed through New York, we started to evaluate our loss and measured what we could restore. Different cultures across the world and over centuries came up with unique restoration techniques. Najmun Nahar Keya drew motivation from Kintsugi technique of Japan. In the current exhibit, she artistically restored broken parts of architectural ruins from Dhaka, Bangladesh. Gluing gold leaves on black and white photographs of these ruins on archival paper, she created a collage of multi-layered meanings. The group show named "The wheels of time" is the first exhibition after the gallery reopened from COVID-19 lockdown.
With the thoughts on changed course of actions to tackle climate change, I was walking on Wooster St in SoHo. Suddenly I heard an unusual sound over the usual hustle and bustle. As I stopped and then entered NowHere NYC, I knew I was in for a big treat! Sound artist, Ray Kunimoto installed state-of-the-art sound systems in the gallery space to design a highly immersive and peaceful acoustic experience in his first solo show in Manhattan. Drawing motivations from Zen Buddhism, the exhibit features installations reverberating the sound of water and our own footsteps.
When I had the privilege to speak with Ray in person (maintaining safe, social distancing and wearing masks), I decided to inquire about his experience with this sound installation in a location with majority of visual art exhibits.
"I'm not afraid to experiment with new things. Initially, I conceptualized this acoustic experience to be isolated from the sound of the passing cars and the constructions in this area. But, I decided to keep the doors of the gallery open as the purpose of this exhibit is not to oppose what is already there" – Ray replied.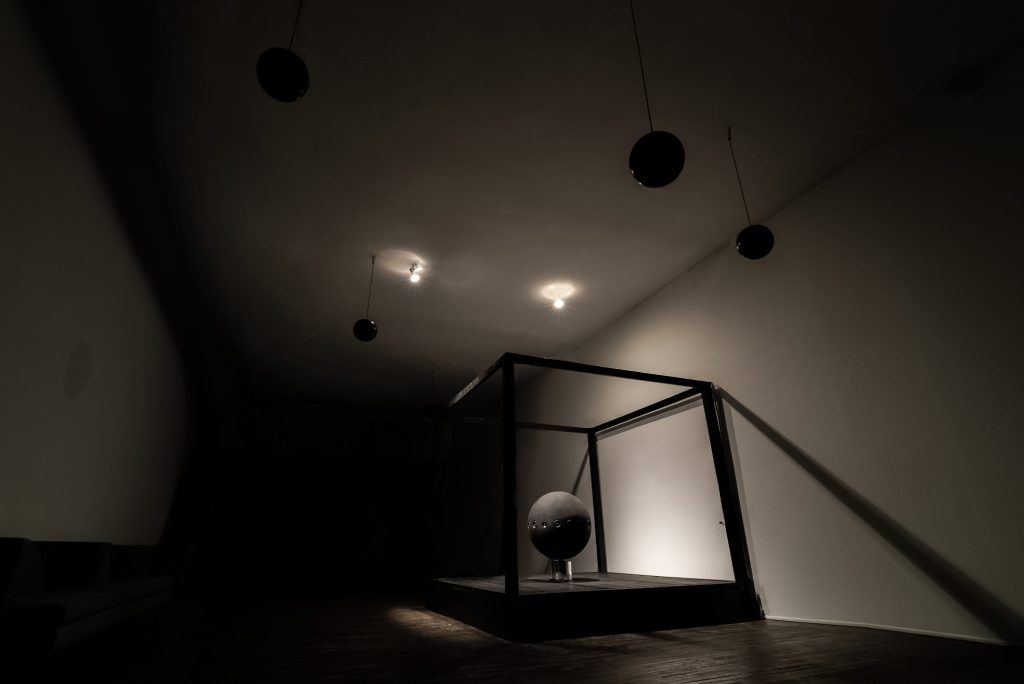 Often we are surrounded by so many types of noises, it is rather difficult to focus our mind to think about critical problems like COVID-19 or climate change! We try to block this noise with more noise. But that strategy does not work in the long run. Ray Kunimoto's exhibit is reminding us to accept the noise as an observer instead of opposing and reacting to it.
On my way back, I looked up at the giant Metronome clock at Union Square. Instead of showing the current time, it showed a countdown on how much time we have left before the climate of Earth reaches a tipping point given our current carbon emission. Beyond that point, extreme heat waves, level five hurricanes, scarcity of clean air or water will become part of our daily life. We have only 7 years!
Featured galleries in this article
Miles McEnery Gallery, 520 West 21st Street and 525 West 22nd Street, New York, NY 10011, Gallery Hours: Tuesday through Saturday, 10 a.m. – 6 p.m.
Aicon Contemporary, 35 Great Jones Street New York, NY 10012, Gallery Hours: Tuesday – Saturday, 10 a.m. – 6 p.m.
NowHere NYC, 40 Wooster Street, New York, NY 10013, Gallery Hours:: Wednesday through Sunday, 12:00 p.m. – 6:00 p.m.