You may remember Dolly, the sheep that became famous in the '90s as the first mammal to be cloned from an adult cell. Dolly was created through somatic cell nuclear transfer (SCNT), in which the nucleus from a somatic donor cell, i.e., a cell from the body other than a sperm or egg cell, is transferred into an enucleated egg cell. In this case, the donor cell was derived from a sheep's mammary glands, a medical term for the breasts. The scientists named the cloned sheep Dolly since they could not think of a more impressive pair of mammary glands than Dolly Parton's, or so the story goes. Aside from generating viable embryos in the laboratory, SCNT can be used to generate human stem cell lines for research and therapeutic purposes. However, this procedure is technically challenging and requires egg cells, which raises ethical concerns.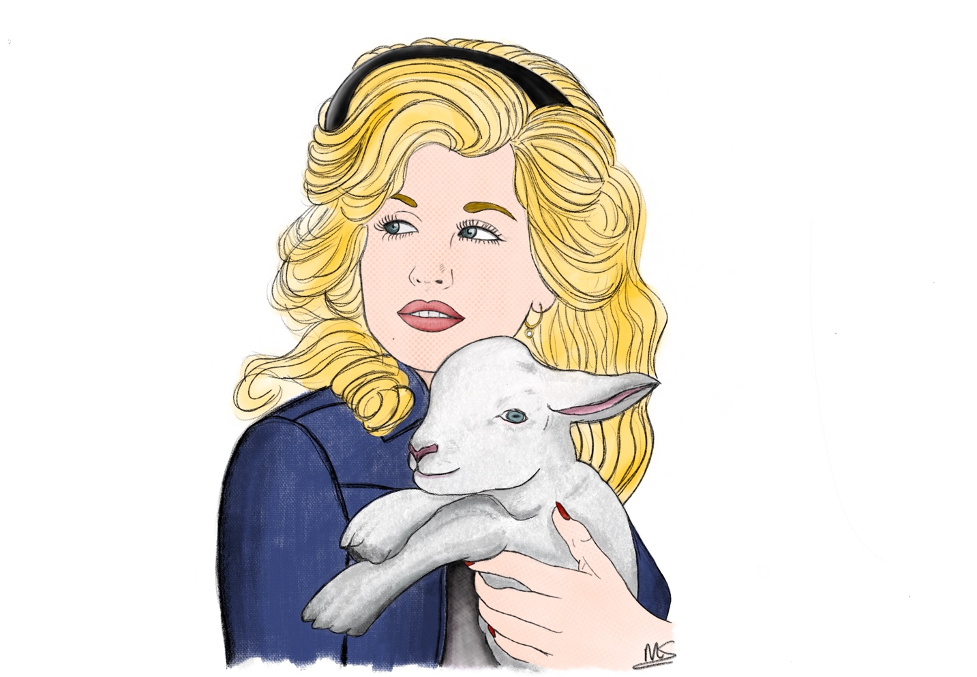 Artist's impression of Dolly Parton, the famous American country singer, holding the cloned sheep named after her.
© 2022, Maaike Schilperoort
In 2007, a lab in Kyoto, Japan, found another way of generating human stem cells. The group infected human skin cells with a virus that carried a set of genes known to be important for embryonic stem cells. This resulted in so-called "induced pluripotent stem cells", or iPSCs, that are functionally identical to embryonic stem cells. Although therapeutically promising, these iPSCs do not have the same potency as the cells generated through SCNT. SCNT generates cells that are totipotent at an early stage, meaning that they can form viable embryos as well as extraembryonic tissues such as the placenta and yolk sack. In contrast, iPSCs are pluripotent and are not able to give rise to extraembryonic tissues. They also have an inferior differentiation potential and lower proliferation rate as compared to totipotent cells.
Efforts have been made by scientists to make embryonic stem cells and iPSCs more totipotent by treating them with small molecule inhibitors, resulting in so-called expanded potential stem cells (EPSCs) that that can give rise to the embryo as well as placenta tissues and thus are more versatile as compared to their pluripotent counterparts. However, the developmental potential of EPSCs is still inferior to true totipotent cells or cells generated through SCNT. To gain insight into how the developmental potential of EPSCs can be improved, Columbia postdoc Vikas Malik and colleagues performed a deep analysis of pluripotent embryonic stem cells vs. the more totipotent EPSCs. They examined gene expression, DNA accessibility, and protein expression, and found some unique genes and proteins that are upregulated in EPSCs as compared to embryonic stem cells, such as Zscan4c, Rara, Zfp281, and UTF1. This pioneering work, published in Life Science Alliance, shows us which genes and proteins to target to generate authentic totipotent stem cells in a petri dish.
The work of Dr. Malik and colleagues has improved our understanding of how to generate totipotent cells outside of the human body without having to deal with the technical and ethical challenges of SCNT. These cells can further improve stem cell therapy through a greater ability to regenerate and repair tissues affected by damage or disease. In addition, totipotent cells are more suitable to study early development and problems of the reproductive system, and are optimal for gene therapy to correct genetic defects that cause disease. As the word indicates, totipotent cells really hold all the power, and could greatly advance scientific knowledge and regenerative medicine.
More information on the pursuit of totipotency can be found in this comprehensive review article by Dr. Malik and his PI Jianlong Wang published in Trends in Genetics.
Reviewed by: Trang Nguyen and Vikas Malik