Over the last two years, the SARS-CoV-2 (Covid-19) pandemic has been at the forefront of media coverage. Hospitals have been overwhelmed, full cities locked down, travel banned, and we are all desperately waiting for a return to the normalcy that immunity promises. However, the development and retention of immunity can be dependent on the individual, and Covid-19 has been particularly daunting to individuals  with weakened immune systems (people who are immunocompromised). These individuals are at an increased risk of succumbing to Covid-19. Overall, it has been easy to identify the individuals that fall into this risk category. However, there has been limited research on the immunity of individuals that  have undergone organ transplants. In a new article by Dr. Mithil Soni, researchers have identified the effects of a solid organ transplant (SOT) on the development and retention of immunity to a plethora of viruses including SARS-CoV-2. SOTs are transplants that  include the kidney, liver, heart, lungs, intestines, and pancreas .
 Dr. Soni and colleagues also focus on the immunity generated by T cells, or cells beyond antibodies that play a role in killing viruses that enter the body. In this study, they focused on the immune response of one patient, a 33-year old male  suffering from erythropoietic protoporphyria, a genetic metabolic disorder that results in excessive liver damage. This subject underwent a SOT and received a liver. When undergoing a SOT, individuals are usually put through a stringent course of immunosuppressants to prevent organ rejection, which places them in the category of immunocompromised.  To their surprise, during a check-up this patient was found to have antibodies for SARS-CoV-2, indicating a previous Covid-19 infection without any serious symptoms. The ability to overcome Covid-19 with minimal symptoms while being classified as immunocompromised intrigued Dr. Soni and colleagues, and the patient agreed to provide his blood for further testing.  
The team went on to test the patient's immune response to many infections that usually impact immunocompromised individuals. They tested the blood's immune response to cytomegalovirus and BK virus, two viral infections that immunocompromised and SOT patients are prone to. They also tested the response to Epstein-Barr virus, which can cause Mononucleosis. From the blood, Dr. Soni and colleagues were able to collect and grow the T cells in their lab, exposed them to viruses, and measured their release of cytokines, proteins that are important for a strong immune response. They found a very strong T cell immune response against both cytomegalovirus and BK virus. They also tested the immune response to SARS CoV-2 and other coronaviruses and found a similar level T cell immune response as seen with cytomegalovirus and BK virus. 
These findings overall indicated that the SOT patient continued to have a robust immune response to multiple viruses despite the immunocompromised status. This study shows that it is possible to have robust immune responses to viruses including SARS CoV-2 in an immunocompromised state such as seen after a SOT. However, this research is based on a single case study. To truly understand T-cell memory and activity in immunocompromised individuals much more research has to be done. This means Dr. Soni and colleagues still have their work cut out for them and are actively expanding the research done here. Their next immediate steps are to repeat this study with blood from a larger group of healthy and immunocompromised individuals in the hopes that they will eventually be able to answer the question of SOT and immunity.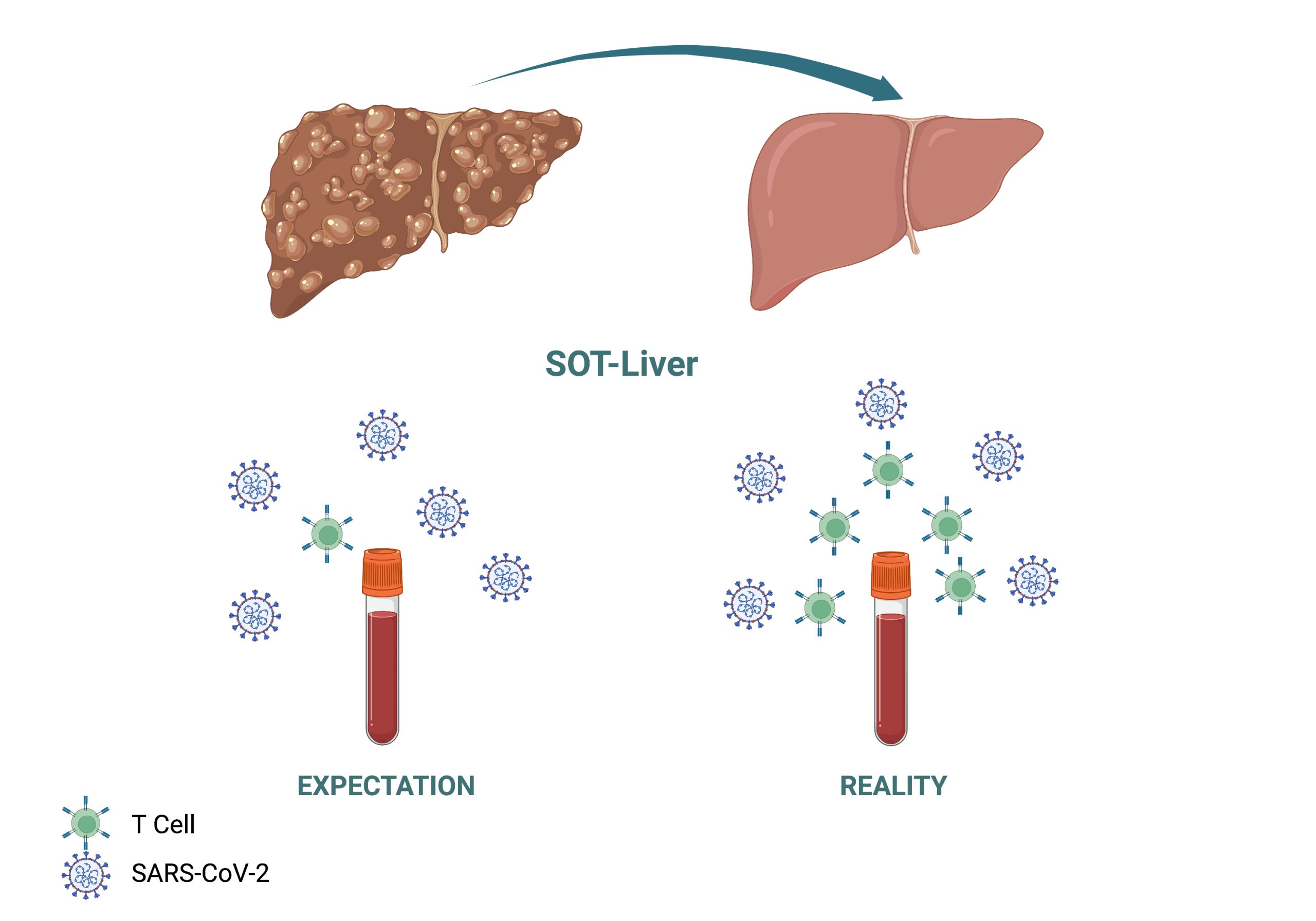 Figure: Depiction of increased immunity after SOT.  Top: Liver transplant. Bottom: Expected T cell activity in response to virus vs actual T cell activity in response to virus. 
Dr. Mithil Soni, is a previous Postdoctoral Research Fellow and current Associate Research Scientist at Columbia University.