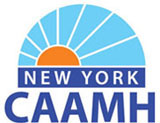 The New York Coalition for Asian American Mental Health's Professional Development Group will be launching a series of FREE workshops around the theme of "What does it mean to be an Asian American Mental Health Professional?"
The awareness of self and others are crucial tools in advancing one's practice with clients, program planning, and community building. Their workshops will offer the safe space of being with other Asian colleagues to learn more about these issues and process them together.
The first two workshops will be held on Friday, October 26 and November 30, 2018, 6:00-7:30 pm at the NYU Silver School of Social Work, 1 Washington Square. The foci will be:
How do our diverse identities and background serve as assets as well as challenges in the workplace/internship?
How does racism impact our Asian and non-Asian clients and professional development?
The presenters will be Johnathan Chang, MSW '19 and Rebeca Chen on October 26, and T. Han Nguyen and Daniel Tanh on November 30.
Light refreshments will be served. As in previous years, peer supervision facilitated by Daniel Tanh will follow after the workshop from 7:30 – 8:00 pm. All are welcome.
Presenters' Bios
Jonathan Chang, MSW '19 currently serves the CSSW student body as a Professional Development and Self-Awareness Coordinator and works with school administration to foster an environment where students feel safe, supported, and accountable within their individual experiences with power, privilege, and oppression. He also is a social work intern with the Undoing Racism Internship Project and works with student organizers and schools of social work to implement anti-racist curriculum in social work practice. Jonathan is also a co-leader of the Asian & Pacific Islander Caucus at CUSSW and works to celebrate, empower, and amplify Asian, Pacific Islander, and/or Desi voices and experiences.
Rebeca Chen Ma, LCSW is a School Mental Health Consultant in Office of School Health. Rebeca is also part of the Race to Justice Co-Lead for Guided Conversations in the Division of Family Child Health. Rebeca is interested in utilizing her understanding of Racial Inequity, Social Injustice, and Trauma to better serve the Asian Community.
Hân Nguyễn (She/Her/Herself), LMSW, is a So-Cal native and moved to NYC to pursue her career in Social Work. She is a recent graduate from NYU and works at the DOHMH. Hân identifies as a Diasporic Vietnamese American, Refugee, woman. She is interested in anti-racist practices and believes that they are necessary to move toward racial equity and justice.
Daniel Tanh is a clinical social worker, a leader in team-based mental health treatment programs, an advocate for hope and recovery, and the nemesis of stigma and oppression. Daniel was also chosen to become one of the leaders of the JB's Confronting Structural Racism (COR) initiative and facilitates its Manhattan People of Color Caucus. Utilizing his interdisciplinary mindset and knowledge of structural oppression, lessons learned from his published research, and his experience as an Asian American who is ambivalently unafraid to bring people to the edge of discomfort, Daniel has been actively building a community to undo racism at his workplace and in the community.