It is well-established that children growing up in economically disadvantaged circumstances can experience a wide variety of challenges to their development. For example, in the domain of language, psychological research shows that even before children reach the age of 3, those from lower socioeconomic (SES) backgrounds hear fewer and less complex words from caregivers compared to their more advantaged peers. This phenomenon places these children at risk of later language learning difficulties. Research groups and other stakeholders around the globe are working tirelessly to craft intervention programs, in a variety of contexts, to target the optimal development of children from under-resourced environments. To target language outcomes, for instance, an initiative called Talk With Me Baby aims to help parents learn about and engage in crucial linguistic interactions with their children from their earliest days.
One prominent intervention in this field is taking a different approach. The Baby's First Years (BFY) project, directed by a team of leaders in the realms of neuroscience, psychology, and economics, provides families living in poverty with cash and is studying how this money might impact developmental outcomes. These scientists recruited 1,000 mothers from around the US just hours after their babies were born. Half of the mothers are assigned to a high-cash gift group ($333 per month) and the other half are assigned to a low-cash gift group ($20 per month). These payments come in the form of a debit card and the moms are allowed to spend these funds however they'd like.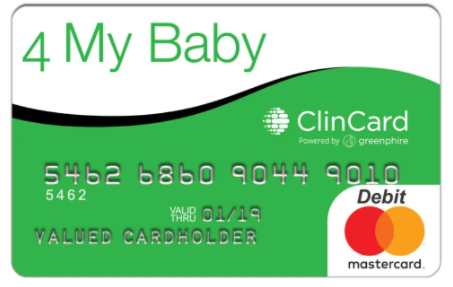 The "4 My Baby" card, the debit card that BFY mothers receive. Courtesy of Baby's First Years.
After one year of these payments, the researchers went into the homes of the families and measured a variety of both maternal and child outcomes. One of these measures was EEG, or electroencephalography, to capture the brain activity of the infants. EEG measures the electrical activity occurring between cells in the brain. The findings, published in a recent paper in PNAS by lead author and Columbia postdoc Dr. Sonya Troller-Renfree, captured global attention. She and her team found that infants whose mothers were assigned to the high-cash gift group displayed more high-frequency brain activity compared to children in the low-cash group. Importantly, previous research links this high-frequency activity to the development of thinking and learning. Although the evidence is not air tight, Dr. Troller-Renfree and her team are the first to show there may be a causal link between poverty reduction and changes in brain activity.
There are many pathways through which the gifted money might be impacting children's brains, which is currently under investigation. It is important to understand that this study is still ongoing and the children in the sample are all currently around 3-years-old. The research team plans to assess the mothers and preschoolers at age 4 on a variety of outcomes. This finding on the potential link between poverty reduction and the brain, along with other work demonstrating that economic support for parents could greatly benefit children's outcomes, has important implications for public policies that support families and children. While the US has a long way to go in supporting its youth, growing evidence indeed supports the idea that relatively minor investments in children can positively impact their trajectory.
Dr. Sonya V. Troller-Renfree is a Goldberg Postdoctoral Fellow in the Neurocognition, Early Experience and Development Lab at Teachers College, Columbia University. Her research focuses on the effects of early adversity and poverty on cognitive and neural development. She intends to continue examining these questions as part of her new, federally-funded Pathway to Independence Award (K99/00). You can stay up-to-date on her research findings on Twitter at @STRscience or on her website: www.sonyatrollerrenfree.com.