Melanoma brain metastasis (MBM) frequently occurs in patients with late stages of melanoma (skin cancer). It is the third leading cause of brain metastases after lung and breast cancers. Cancer cells break away from the primary tumor and travel to the brain through the bloodstream. Despite significant therapeutic advances in the treatment of metastatic cancers, MBM  remains a challenging problem for therapeutic treatment due to the blood brain barrier. The MBM may develop a variety of symptoms that are similar to primary brain tumors such as headache, difficulty walking, or seizures. To provide comprehensive studies of the cells inside melanoma brain metastases, Jana Biermann, a postdoc in Dr. Benjamin Izar's lab at Columbia University, performed single-cell-sequencing, nucleus RNA-sequencing, and CT scans of 22 treatment-naive MBM and 10 extracranial melanoma metastases that could spur the development of a new generation of therapies (Figure 1).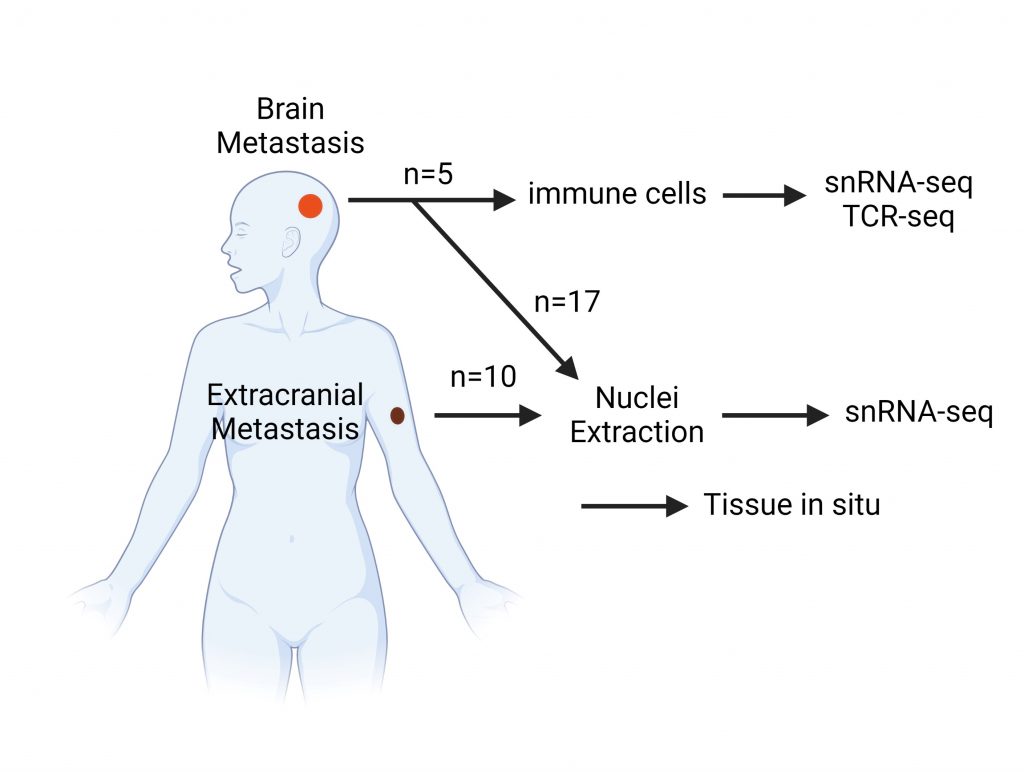 Figure 1: A comprehensive study of melanoma brain metastasis and extracranial melanoma metastases by performing single-cell genetic analyses of frozen brain samples. snRNA-seq: single nuclei RNA sequencing; TCR-seq: T cells sequencing. Image was created from BioRender based on Figure 1A of the original article that was published in CellPress with title "Dissecting the treatment-naive ecosystem of human melanoma brain metastasis".
The authors also analyzed the genes expressed in 17 melanoma brain metastases and 10 extracranial melanoma metastases patients. The data revealed unstable DNA in the melanoma brain metastases compared with extracranial melanoma metastases. The unstable DNA triggers signaling pathways that enable the tumor cells to spread around the body and to suppress the body's natural immune response that normally fights off the tumor cells. The researchers also found that the relocated melanoma cells adopt a neuronal-like state that might help tumor cells adapt and survive after they migrate to the brain. Furthermore, by using CT scans of multiple slices of the tumors, researchers created three-dimensional images of the tumors and uncovered heterogeneity in metabolic and immune pathways within and between tumors. 
The authors also found that the cancer cells in the brain significantly expressed  several genes that are known to promote cancer progression, such as MET and PI3K, while the extracranial melanoma metastases strongly expressed genes related to epithelial cells, which are the cells that cover the inside and outside of the surfaces of your body such as skin and blood vessels. Understanding these pathways will help for the therapeutic targets. 
A limitation of the study is that the authors did not compare melanoma brain metastasis and extracranial melanoma metastases within the same patients, which could have introduced variability in their dataset. Nevertheless, the atlas that they built provides a foundation for further mechanistic studies on how different perturbations could influence brain metastasis ecosystems.
Reviewed by: Pei-Yin Shih, Sam Rossano, Maaike Schilperoort