Meet Our Postdocs: Nandhini Sivakumar, Postdoctoral Research Scientist in Neurodegenerative Diseases at the Motor Neuron Center (Columbia University).
---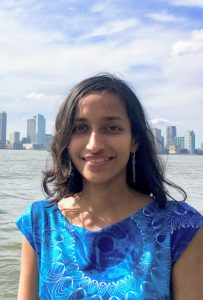 Which department are you in at Columbia and what is your position?
I am a Postdoctoral Research Scientist in the Motor Neuron Center.
Where are you from and how long have you been in NYC? 
I am from India and I have been at CUIMC for one year now.
Where did you go to school? Describe your path to your current position.          
My early education (High school and Bachelors) happened in India. Midway through my high school when I learned the two words – recombinant DNA – I knew I wanted to explore bioscience and I chose to study biotechnology in my Bachelors, encompassing a broad array of subjects. That just opened the gateway to the arena of genetics, which I decided to invest in, move continents and pursue my Masters in the UK in 2008. Little did I know back then, that I was going to intertwine every step of my studies towards my future career. In my Masters, I worked on screening and validating gene targets that alleviated apoptosis in cell-culture models of the neurodegenerative disorder Huntington's disease. My passion for basic research by then had become a major player in my decisions, and so I decided that having gained some expertise in neurodegeneration, it would be apt to get more hands-on experience in hardcore neuroscience research. I got my PhD position in 2011 at the Max-Planck-Institute for Experimental Medicine, in Göttingen, Germany, where I studied the role of SNARE modulatory proteins that synergistically regulate neurotransmission at excitatory synapses in the hippocampus of the mammalian brain. Soon after, I applied for postdoctoral positions without much of a dilemma believing that my career path was already carving itself out. In 2016, I started my first postdoctoral position at the University of Zurich in Switzerland, further investigating another organ of the central nervous system, the spinal cord. I ventured into studying the afferent pathways modulating somatosensations of pain and itch. At a certain point in my first postdoc, I came to the crossroads of wanting to stay in science research versus exploring a career in scientific communications and editorials. Given the experience I had garnered for nearly a decade, and my ambition to become an independent group leader, I decided to stay on and apply for postdoctoral positions in the USA (moving continents again…) that would not only bring me closer to my goal but also my family and friends. That is when Columbia and New York City happened.
What research question are you trying to figure out right now?
My current research focus is on motor neuron degeneration in the spinal cord and its associated synaptic abnormalities observed during the onset and progression of spinal muscular atrophy.
In a nutshell, what tools or approaches are you using to try and figure this out?
With expertise in molecular and cellular biology alongside electrophysiology, I am here and now employing all the skills I have acquired over the decade of my research contributions in Europe.
What is the best part of your job?            
The best part about my job is being able to work in a renowned medical center that not only provides amazing care to patients but also has well-equipped facilities and experts working to propel basic and clinical research forward. We as a team in our lab, each have our own skillset and yet have been more than willingly helping each other with our projects, bringing forth ideas, troubleshooting technical glitches associated with equipment and importantly, morally encouraging each other in our day-to-day experiences.
Because recombinant DNA was my first love! <3
What advice would you give to people interested in a career in science?
I would advise the upcoming scientists to go with the flow of their interests. Only when you know what interests you the most, will you find ways to passionately do it.
Tell us a bit about yourself or your projects that are not related to science.           
I love playing the piano, hiking, swimming and given my urge to jump across continents, I love to travel!
What is your favorite thing about NYC?
Arts and Culture. The best about NYC, which people would rarely find elsewhere, is the love and passion for arts (Metropolitan and history museums), theatre (Broadway shows), classical music (Juilliard, Carnegie Hall), dance (American-Russian BALLET) and much more! I couldn't even fathom the depth of it all until I started experiencing it here!
What do you like the most about CUPS? 
CUPS has organized some amazing professional and social events that got us to meeting so many new people. I find it to be a great resource center that would be useful for all Columbia postdocs.
To follow Nandhini: