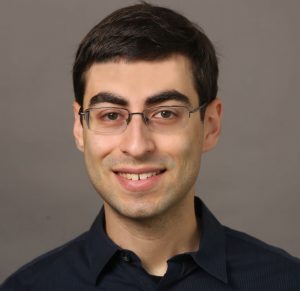 Meet Our Postdocs: Benjamin Rudshteyn, Postdoctoral Research Scientist at the Chemistry Department at Columbia University.
---
Which department are you in at Columbia and what is your position?
Chemistry; Postdoctoral Research Scientist.
Where are you from and how long have you been in NYC? 
I was born and raised in Brooklyn, New York. So I have been in NYC all my life outside of graduate school.
Where did you go to school? Describe your path to your current position.          
I went to Brooklyn College/Macaulay Honors College at CUNY for undergraduate and Yale for my PhD in computational chemistry. I applied for my postdoc straight out of graduate school.
What research question are you trying to figure out right now?
I am applying the Auxiliary Field Quantum Monte Carlo (AFQMC) stochastic method for solving the Schrodinger Equation very accurately to determine the properties of biologically relevant molecules.
In a nutshell, what tools or approaches are you using to try and figure this out?
I use computer simulations to predict the properties of molecules. These typically use black box typical software to generate the geometry of the molecule, which is run in PySCF Python package to generate the inputs for AFQMC. Then these inputs are fed into a GPU code. These steps are all down on high performance supercomputers. The analysis is then done on my local computer with scripts and coding.
What is the best part of your job?            
Getting the experimental prediction for a property right on!
Why do you love science?
The problems are interesting to solve and it's the only way to solve the most-pressing problems facing humanity.
What advice would you give to people interested in a career in science?
Explore their options and take courses in a variety of fields.
Tell us a bit about yourself or your projects that are not related to science.           
Outside of science, I enjoy learning about Russian/Jewish history and culture, reading, skiing, exploring NYC, and Go.
What is your favorite thing about NYC?
The people! The seasons! Also the transit system is relatively functional when you compare to other cities.
When did you join CUPS and what is your current role, if any?        
I joined CUPS shortly after becoming a postdoc in June 2018. I am the VP for Morningside and Lamont as well as the Senator for all postdocs.
What do you like the most about CUPS? 
I like networking and learning new things about how the university operates.
To follow Ben: