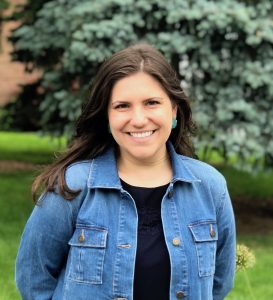 Meet Our Postdocs: Alex Karambelas, Postdoctoral Research Scientist at the Lamont-Doherty Earth Observatory
---
Which department are you in at Columbia and what is your position?
I'm a postdoctoral research scientist at the Lamont-Doherty Earth Observatory. I started at Columbia University as a recipient of The Earth Institute Postdoctoral Fellowship.
Where are you from and how long have you been in NYC?  Hoffman Estates, IL and I've been in NYC for 3 years!
Where did you go to school? Describe your path to your current position.          
I went to the University of Wisconsin–Madison for atmospheric sciences, but I knew my passion was outside the realm of mid-latitude cyclones or the Madden-Julian oscillation. As a senior undergraduate, I worked on projects modeling concentrations of air pollution in the lower atmosphere and comparing with observations, and I quickly found my "happy place" in science. I continued on with my advisor through a Ph.D. in an interdisciplinary environmental science program with a minor in Energy Analysis and Policy, which I applied directly to my work in assessing energy sector contributions to modeled air pollution.
What research question are you trying to figure out right now?
I'm currently investigating the differences in aerosol composition and optical properties between average conditions and peak pollution events in India. Unpacking these differences has implications for assessing the climate implications of aerosols as a whole and specific types that may warm or cool the local environment.
In a nutshell, what tools or approaches are you using to try and figure this out?
For this work, I use a chemical transport community model (it's worked on by researchers all over the world!) called GEOS-Chem. There's a specific module that calculates the optical properties of different aerosol components over a set of size bins. We run the model with this component a few different times to get information over a long period of time (3 years) and at a very high resolution for peak events lasting just 5 days to assess the differences in composition and direct radiative effects induced by the aerosol components.
What is the best part of your job?            
The best part of my job is working with and learning from some really amazing, world-class researchers. Whether at workshops or on calls, it's been really wonderful to move forward in my research alongside some stellar role models.
Why do you love science?
I love science because it encourages curiosity. Long ago I got into an argument with a scientist friend who disagreed with me that science was an art. I still stand by my statement, and I think a lot of others might agree with me too.
What advice would you give to people interested in a career in science?
If you can't find "your people," don't give up and keep your eyes open for new directions. Every few years I start to feel a little jaded by my research, whether it's a specific project I've been hammering at for too long or I feel out of place in the field. I use this as an opportunity to wrap things up and move on. It's been a real blessing to finally be able to read (and listen to) myself.
Tell us a bit about yourself or your projects that are not related to science.           
Outside of CUPS, I am focused on work-life balance (it's a work in progress). I found a workout class I love that I go to weekly (finally! ask me about it and come with!), I've found a way to include time for reading fiction (usually when I'm traveling), and recently I re-kindled my relationship with cooking as I'm discovering all of the neat vegetarian-friendly protein options available in the grocery stores.
What is your favorite thing about NYC?
I have two favorite things: (1) that — for the most part — you don't need a car to get around town, and (2) that in NYC you can feel comfortable to be yourself especially if it means standing out.
When did you join CUPS and what is your current role, if any?        
I joined CUPS in 2018, after finally feeling like I had my footing in my research and my life in NYC. I've been active in all of our committees during my time with CUPS, and currently I'm the outgoing President.
What do you like the most about CUPS? 
First, CUPS has been an incredibly easy way to learn about the diverse array of research ongoing at Columbia. I would have never been exposed to neuroscientists and pathologists and biomedical engineers and more, nor would I have had the opportunity to meet and learn from them as individuals. Second, it has been an honor to serve as the President of CUPS (even for a short time), where I was able to learn more about the inner-workings of Columbia, hear from a variety of postdocs about their struggles and triumphs, and ensure ongoing leadership of an easy-access support network for us as postdocs.
To follow Alex: