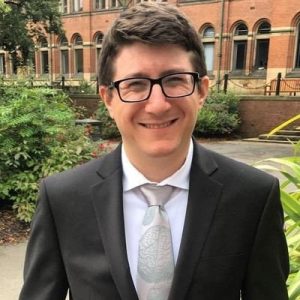 Meet Our Postdocs: Brandon Ashinoff, Postdoctoral Research Fellow in Psychiatry at Columbia University
---
Which department are you in at Columbia and what is your position?
I am a Postdoctoral Research Fellow in the Department of Psychiatry.
Where are you from and how long have you been in NYC?           
I grew up on Long Island, but I have been living in NYC for almost 2 years now.
Where did you go to school? Describe your path to your current position.          
I earned my undergraduate degree from SUNY Binghamton (B.A. in Psychology) with departmental honors. Although I had some research experience when I graduated, I didn't have much and my grades, while not terrible, weren't spectacular either. I spent a year working in a memory lab at Binghamton to get some more research experience. Next, to make up for my grades, I spent two years earning an M.A. in Experimental Psychology at LIU — C.W. Post where I did research focused on how people processed visual information about depth. Next, I joined a new lab as a research assistant where I spent a year working on a project investigating attentional mechanisms in patients with ADHD.
After that, I applied to graduate school and was accepted to the University of Birmingham in England. The plan was to study attention and cognitive control processes in patients with ADHD. However, my first year of experiments did not yield any useable data or findings. This is one of the hardest parts of research that people don't usually talk about. Stuff doesn't always work out. So, I changed topics and instead focused on attention and cognitive control in healthy aging populations. For the next three years, I conducted several experiments which ended up being successful and I got to learn many different research methods.
For example, we did some studies using a method called transcranial magnetic stimulation (TMS), where we would apply a small electrical current to a predetermined part of the brain to see how it affected their performance on a task (Don't worry, it's very safe to do!). As a PhD student I also worked on several side projects related to cognitive training and video games, and even managed to turn my failed ADHD research into a review paper (which is currently under review for publication).
Once I completed my degree, I had a "two-body problem" – I needed to find a job in a location where my partner could also find work. We had spent several years in England while I got my degree so we agreed to move to NYC where she could kick start her career (She's doing great here and is now a writer/producer for a major TV network!). I decided that I wanted to return to studying clinical populations and that I wanted to do so in a more clinically oriented environment.
I focused my job search on research positions in hospitals and psychiatry departments in the NYC area, rather than the psychology and neuroscience departments (although I looked at some of those too — can't be too picky!). I ended up getting my current position by cold e-mailing my current supervisor and talking about my research interests. They aligned with his and we applied together for a psychiatry department fellowship, which I was lucky enough to receive, and I've been at Columbia now for a year!
What research question are you trying to figure out right now?
My research is focused on understanding how patients with schizophrenia process information differently and how that leads to the development and maintenance of delusions. Patients with SZ have problems integrating old and new information, and I am trying to understand how that problem manifests in the brain.
In a nutshell, what tools or approaches are you using to try and figure this out?
My lab uses several methods for research:
1.) Behavioral Experiments — Tasks that are deigned to assess or elicit specific behaviors or mental processes
2.) fMRI – This method allows us to take a picture of your brain and then measure how blood is flowing inside your brain in real time. The logic is that if blood is flowing to a specific part of you brain, then you are probably using that part of the brain. When combined with behavioral experiments, we can determine which parts of the brain are used to do different mental processes.
3.) Computational Modeling – This one is a little tricky to explain but basically, since we don't know how the brain works entirely, sometimes we come up with a guess. A "model" is just a mathematical representation of that guess. You can make a prediction about behavior or brain activity based on that guess: "If my guess is right, then X, Y, and Z should happen." Then you do an experiment and see if your guess matches what actually happened. The reason this is important is because the things in your guess (which usually represent real things that might happen in the brain) may not be directly observable in an experiment (like neurotransmitter levels or neuron firing rates), but by using modeling you can infer that they may be involved. In our lab, we develop models to help explain the results of behavioral tasks and to explain brain activity from fMRI studies.
What is the best part of your job?            
I really enjoy collaborating with colleagues and the variety of projects I get to work on.
Why do you love science?
I love science because there is always something new and interesting to learn about.
What advice would you give to people interested in a career in science?
Be prepared to fail. Research is all about pushing the boundaries of human knowledge and learning something we didn't know before. If you know how an experiment is going to turn out before you do it then it's not really research (unless it's a replication). No matter what you do, things won't always turn out the way you expect it to and for young scientists that can be difficult and make them feel as if they have done something wrong. Just remember that "failure" and the unexpected are an inherent part of a career in science. The most exciting phrase to hear in science, the one that heralds new discoveries, is not "Eureka!" (I found it!) but "That's funny …" — Isaac Asimov
Tell us a bit about yourself or your projects that are not related to science.           
I was president of my college acapella group, The Binghamton Treblemakers (we had the name before Pitch Perfect came out!).
What is your favorite thing about NYC?
Bagels and Pizza!
When did you join CUPS and what is your current role, if any?        
I joined CUPS in December 2018. I am currently a member of the Outreach and Communications Committee.
One of the projects I have been working on is to organize a Science Movie Night at the Alamo Drafthouse in Yonkers. On Thursday, August 7th at 7:00 PM I'll be giving a 10 minute talk about Schizophrenia and the research I do at Columbia, followed by a screening of "The Fisher King." In this film, Robin Williams portrays a character who has the symptoms of Schizophrenia, particularly delusions. It's coming up soon and open to all postdocs & the general public, check the CUPS Evenbrite or buy tickets directly here !
What do you like the most about CUPS? 
I like the people in CUPS the most, because its such a welcoming and supportive group.
To follow Brandon: