Fighting together for science
May 4, 2019 @ Foley Square
May 4th is popularly said to be Star Wars Day (May the Force be with you). However, this May 4th, 2019 people from all around the world gathered with the purpose of celebrating science and advocating for science as the force of our future. Fueled by the great success of the last two Marches, on this Star Wars Day we went out to raise our voices again.  
This year, NYC march was the flagship event for the March for Science Movement and several Columbia Postdocs attended and marched together with other scientists & non-scientists to stand for 1) open access science, 2) use of science for the common good and 3) the protection of human and environmental rights.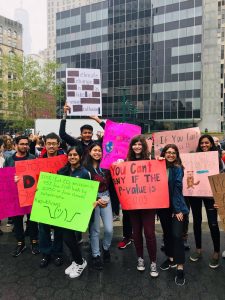 Two topics were central: the fight against climate change and the MeToo STEM Movement. Keynote Speakers were: Dr. Ayana Elizabeth Johnson, an advocate for coastal communities and ocean justice, Dr. BethAnn McLaughlin, an advocate to fight discrimination and sexual misconduct in STEM and founder of MeTooSTEM website, Aracely Jimenez-Hudis, a fighter against climate change and Green new Deal supporter and Alexandria Villaseñor, a 13-year-old climate activist.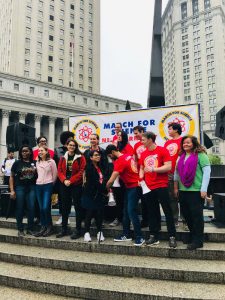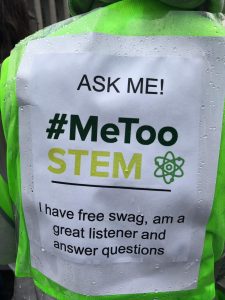 The organizers also hosted a Science Expo at Pace University that welcomed activists, curious minds and concerned citizens. I volunteered by showing how easy it is to extract tons of DNA from strawberries. I engaged in funny and interesting discussions about what is DNA and how the development of DNA sequencing techniques have changed the way we look at certain diseases. Brandon volunteered at the BioBus showing how fun the microscopic life can be!
At the end of the day everyone had fun, learned something new and came back home becoming more aware of the importance of advocating for science.