From Just Societies to just the facts on climate change, these Picks take on the issues and stretch our thinking. Invite, attend, learn, and do.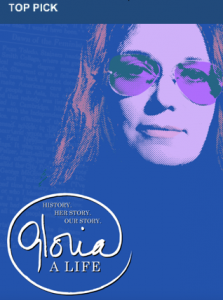 October 11
5:30 – 9 p.m.
CAA Arts Access | School of the Arts
She Opened the Door – Gloria: A Life See the new play written by Emily Mann and featuring Christine Lahti based on the life of Gloria Steinem, a true catalyst for change. With a pre-show reception and talkback with esteemed director Diane Paulus '97SOA. Details and tickets here. Daryl Roth Theatre, 101 East 15th Street. (Arts and Ideas, Just Societies)
REMINDER
September 24: Why the November Elections Matter and How You Can Help AND Celebrating Recent Work by Adam Tooze
September 26: Network Propaganda
September 27: Just Societies Speaker Series: Larry Bartels
PICKS
September 24
6:30 – 8:30 p.m.
See sponsors here
Fighting Back Against Attacks On Climate Science
A kick-off event for Climate Week NYC 2018. Speakers will discuss why and how climate science has become part of the US culture wars and what to do to restore the voice and credibility of science. Featuring Robin E. Bell, professor at Lamont-Doherty; David Biello, science curator at TEDEd; Lisa Garcia, VP of Litigation for Healthy Communities at Earthjustice; Jeff Nesbitt, executive director of Climate Nexus; and moderated by John Schwartz, science reporter at the New York Times. RSVP here. Columbia Law School, Room 103. (Climate Response)
September 25
6:30 p.m.
Miller Theatre | School of the Arts  
Introducing Proving Up: A Conversation with Missy Mazzoli, Royce Vavrek, and Karen Russell
On the eve of the New York premiere of their opera Proving Up, composer Missy Mazzoli and librettist Royce Vavrek join writer Karen Russell '06SOA for a conversation with Melissa Smey, Miller Theatre executive director. RSVP here. Lenfest Center for the Arts, The Lantern. (Arts and Ideas)
September 27
5 p.m.
The Heyman Center | Brown Institute | SIPA
Beyond "I Agree": A Democratic Technology, Without Big Tech
A public lecture with Cory Doctorow, author, moderated by Jad Abumrad, executive producer at WNYC, highlighting the "way of the hacker" as the path forward for digital democracy. RSVP here. Furnald Lawn. (Data and Society)
October 6  
12 – 5 p.m.
The Society of Fellows | Heyman Center for the Humanities | Center for Justice | Justice-in-Education Initiative
What Does Justice Look Like? A Celebration of the Arts and Social Justice
Commemorating the work of the inaugural cohort of the June Jordan Fellowship and celebrating arts organizations from around the city who are engaged in social justice work. The event will highlight art by the fellows and participants of their workshops, in addition to visual art, music, literature, and spoken word from local activist artists. Gavin Brown's Enterprise. (Just Societies, Arts and Ideas)
For RSVP, ticket availability, and other details, follow the links. We always appreciate hearing from you about future events.