News, politics, finance, race, and genomics–this week's Picks catch up with a changing world.  If you attend an event and are inspired to share your story in pictures, email Carolina at [email protected].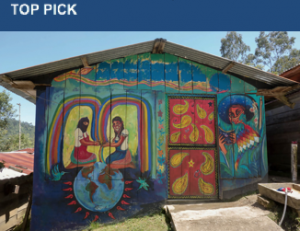 September 28
9:30 a.m. – 7:30 p.m.
Center for the Study of Social Difference
What We Can Do When There's Nothing To Be Done: Strategies For Change
How can we imagine justice, practice solidarity, and create change across barriers of social difference in today's political landscape? An all-day symposium to celebrate 10 years of the Center for the Study of Social Difference and 5 years of Women Creating Change. Speakers include Carol Becker, arts dean; Farah Jasmine Griffin, William B. Ransford Professor of English and Comparative Literature and African-American Studies; and Bernard Harcourt, director of the Center for Contemporary Critical Thought. RSVP here. Manhattanville, The Forum. (Just Societies)

REMINDER

September 20: Artist Talk and Reception with Joiri Minaya
September 22: Saturday Science: Hello Brain
September 28: What We Can Do When There's Nothing To Be Done: Strategies For Change
PICKS
September 18
12 – 1 p.m.
Columbia School of Nursing
Data for Good in Nursing and Healthcare
Data collection and analysis are becoming increasingly important in nursing. A lunch time discussion with Jeannette M. Wing, Avanessians Director of the Data Science Institute. RSVP here. School of Nursing, 560 West 168th Street, 7th Floor, Event Space. (Data and Society)
September 24
6 – 7:30 p.m.
SIPA's Technology, Media and Communications specialization | Columbia College Democrats
Why the November Elections Matter and How You Can Help
Anya Schiffrin, director of the TMaC specialization, in conversation with Alexandria Ocasio-Cortez; and Joseph Stiglitz, Nobel laureate economist and University Professor, will discuss. RSVP here. International Affairs Building, Room 1501. (Just Societies)
September 24
6:15 p.m.
The Heyman Center | New Books in the Arts & Sciences
Celebrating Recent Work by Adam Tooze
A discussion on Adam Tooze's recent book Crashed: How a Decade of Financial Crises Changed the World. Speakers include Tooze; Katharina Pistor, Michael I. Sovern Professor of Law; Charles F. Sabel, Maurice T. Moore Professor of Law; and Tano Santos, David L. and Elsie M. Dodd Professor of Finance. The Heyman Center, Common Room, Second Floor. (Global Solutions)
September 26
5 – 6 p.m.
Tow Center for Digital Journalism
Network Propaganda
A book launch of Network Propaganda and a discussion on how to think about technology, politics, and media in the post-truth moment with Craig Silverman, Buzzfeed News media editor; Emily Bell, founding Director of the Tow Center for Digital Journalism; and Yochai Benkler, co-director of the Berkman Klein Center for Internet and Society at Harvard University. RSVP here. Brown Institute for Media Innovation. (Data and Society)
September 27
4 – 5:30 p.m.
Division of Social Science in the Faculty of Arts & Sciences
Just Societies Speaker Series: Larry Bartels
The first JSSS event of the Fall features a talk from Larry Bartels, May Werthan Shayne Chair of Public Policy and Social Science at Vanderbilt University. Bartel's lecture is entitled Unequal Democracy: The Political Economy of the New Gilded Age. RSVP here. Maison Française, East Gallery. (Just Societies)
September 28
6 – 8 p.m.
Institute for Research in African-American Studies | Center on African-American Religion, Sexual Politics and Social Justice
No Ashes in the Fire: Coming of Age Black and Free in America
A celebration of IRAAS' 25th year anniversary celebration of African American Studies at Columbia and a roundtable discussion of Darnell L. Moore's new book No Ashes in the Fire. The event begins with music by Marcelle Davies Lashley. Speakers include Kim Ford, community organizer and interim executive director of the Audre Lorde Project, and Kendall Thomas, director of the Center for the Study of Law and Culture. Pulitzer Hall, Joseph Pulitzer, World Room, Level 3. (Just Societies)

October 4
4:30 – 6:30 p.m.
CUMC
Distinguished Lecture in Precision Medicine: Alondra Nelson
Alondra Nelson, president of the Social Science Research Council and professor of sociology at Columbia University, will give a lecture on her book The Social Life of DNA:  Race, Reparations, and Reconciliation After the Genome. She is currently at work on a book about science policy in the Obama administration. Networking reception to follow. RSVP here. P&S, Faculty Club, 4th Floor.  Just Societies, Precision Medicine)
For RSVP, ticket availability, and other details, follow the links. We always appreciate hearing from you about future events.