From one-planet commitments to global food systems, the spectre of racism to the revival of nationalism, Columbians grapple!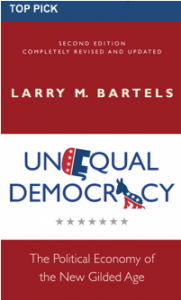 September 27
4 – 5:30 p.m.
Division of Social Science in the Faculty of Arts & Sciences
Unequal Democracy: The Political Economy of the New Gilded Age
The first Just Societies Speaker Series with Larry Bartels, May Werthan Shayne Chair of Public Policy and Social Science at Vanderbilt University. RSVP here. Maison Française, East Gallery. (Just Societies)
SNEAK PEAK
October 16
6:30 – 8 p.m.
The Zuckerman Institute
Decision Making in a Creative Business
Daphna Shohamy, professor of psychology and principal investigator at the Zuckerman Institute, and Michele Ganeless, producer and former president of Comedy Central, will explore various perspectives around how decisions are both made and implemented. RSVP required here. Lenfest Center for the Arts, Katharina Otto-Bernstein Screening Room. (Future of Neuroscience)
REMINDER
September 24: Fighting Back Against Attacks On Climate Science
September 25: Introducing Proving Up: A Conversation with Missy Mazzoli, Royce Vavrek, and Karen Russell
September 27: Beyond "I Agree": A Democratic Technology, Without Big Tech
October 4: Distinguished Lecture in Precision Medicine: Alondra Nelson
October 6: What Does Justice Look Like? A Celebration of the Arts and Social Justice
PICKS
September 26
6 – 7:30 p.m.
Center on Global Economic Governance
One Planet Commitments: Putting the Paris Agreement into Action
Panel featuring University Professor Joseph Stiglitz; Scott Barrett, Lenfest-Earth Institute Professor of Natural Resource Economics; Jan Svejnar, director of the Center on Global Economic Governance; and Dean Merit E. Janow; and others. RSVP required here. This event will be livestreamed here. International Affairs Building, Room 1501. (Global Solutions, Climate Response)
October 3
1:30 – 7 p.m.
International Research Institute for Climate & Society | Institute of Human Nutrition | Mailman | ACToday, Columbia World Projects
Panel and Book Launch: Climate, Food Systems, and Nutrition
The launch of the book Climate Information for Public Health Action and a panel on the role of climate as both a threat and a resource. Followed by a reception. Allan Rosenfield Building, 8th Floor Auditorium. (Climate Response)
October 5
1 – 2:30 p.m.
Data Science Institute
Data for Good
A series of talks in which distinguished speakers grapple with the challenge of ensuring data science serves the public good. This talk features Hila Lifshitz-Assaf, assistant professor of Information at Operations and Management Sciences at NYU Stern School of Business. Pupin Hall. (Data and Society)
October 10
11:45 a.m. – 12:45 p.m.
Mailman | Department of Sociomedical Sciences
Using Mass Media to Reduce Use Among Youth and Young Adults: Evidence from the Truth Campaign with Donna Vallone, chief research officer of the Truth Initiative Schroeder Institute, as part of the Food for Thought series. Vallone's research interests focus on examining the influence of media messages to reduce tobacco use, particularly among lower socioeconomic status populations and minority groups. Allan Rosenfield Building, 722 West 168th St., Room 532.
6 p.m.
Augustus C. Long Health Sciences Library | The Knowledge Center
History of Health Sciences Lecture: The Brooklyn Hazing Episodes of 1916 and 1927
Though anti-semitism in early 20th century U.S. medical education was pervasive, it rarely resulted in acts of violence. The exception was in Brooklyn where Jewish interns were twice assaulted at Kings County Hospital in 1916 and 1927. Edward Halperin, chancellor and CEO of New York Medical College, will discuss the implications of the assaults in light of the current debate on immigration and higher education. RSVP here. Hammer Health Sciences Building, The Knowledge Center. (Just Societies)
6 – 7 p.m.
Columbia Global Reports
The Nationalist Revival: John B. Judis in conversation with Joan Walsh
The launch of The Nationalist Revival with author John B. Judis. Judis will be joined in conversation by The Nation's National Affairs Correspondent and a CNN political contributor Joan Walsh. Followed by a Q&A and book signing. RSVP here. Graduate School of Journalism, Pulitzer Hall, The World Room. (Global Solutions)
October 13
10 a.m. – 4 p.m.
Lamont-Doherty Earth Observatory
LDEO Open House
Tour a lab, participate in hands-on earth science demonstrations, and learn from world-renowned researchers about their latest discoveries. This event is free (suggested donation here) and open to the public. Register here. 61 Route 9W, Palisades. (Climate Response)
For RSVP, ticket availability, and other details, follow the links. We always appreciate hearing from you about future events.