Or treat it as journalists, scholars, podcasters, artists, data scientists, and neuroscientists, and explore how to make a better world.
In addition, be sure to check out the talks below regarding the Columbia Protests of 1968.
April 27: May 68 Fifty Years Later: When? Where? What? And does it even matter?
April 27 – 28: Conference: New Perspectives on 1968: 50 Years After "The Revolution"
April 29: A Documentary Film on the Columbia Protests of 1968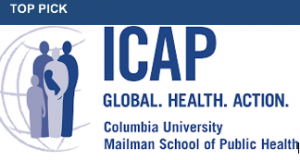 April 24
6:30 – 9 p.m.
Mailman | ICAP
Person Place Thing with ICAP's Wafaa El-Sadr
A live recording of Randy Cohen's acclaimed podcast with special guest Wafaa El-Sadr, founder and director of ICAP. The event is part of ICAP's year-long celebration of 15 years of empowering health around the world. Vagelos Education Center, Room 201. (Global Solutions)
REMINDER

April 18: Forced Migration and Justice
April 19: Can You Hear Me? A Conversation with Zoe Chace and Michael Barbaro AND 2018 Columbia Global Energy Summit
PICKS
April 19 – 20
The Center of Study for Social Difference
Frontiers of Debt in the Caribbean and Afro-American
Brings together scholars, journalists, activists, and artists from across these two regions in order to interrogate their contemporary re-emergence as sites of new forms of capital extraction and opposition to debt regimes. The conference includes panels entitled Indebted Bodies, Debts' Toxins, and Beyond Life and Debt: Education at the Crossroads. April 19 opening reception for Puerto Rico Underwater: Five Artist Perspectives on Debt. (Arts and Ideas, Just Societies)

April 20
6 – 7 p.m.
Graduate School of Journalism
Investigating The Internet
Social platforms and big tech are powerful forces shaping the economy and society on a global scale. A Hearst Digital Media Lecture with Craig Silverman, Hearst Professional-in Residence and media editor of BuzzFeed News, about how journalists can bring accountability to the digital world. Pulitzer Hall, Jamail Lecture Hall, 3rd Floor. (Data and Society)
April 21
1 – 4 p.m.
Zuckerman Institute | BioBus | Columbia Neuroscience Outreach and Neuroscience Society
Saturday Science: Trick Your Brain
Students, families, and community groups explore the workings of the brain through hands-on activities and demonstrations with scientists. RSVP here. 605 West 129th Street, Greene Science Center, Education Lab. (The Future of Neuroscience)
April 24
4 – 5 p.m.
Precision Medicine Initiative
Data for Good: Data Science at Columbia
Distinguished Lecture in Precision Medicine with Jeannette Wing, Avanessians Director of the Data Science Institute and professor of computer science. (Off campus event) William Black Medical Research Building, 650 W. 168 St., Alumni Auditorium. (Data and Society)
April 25
4 – 5:15 p.m.
Mailman | Office of the Dean | Data Science Institute
Data Science and Public Health
A Grand Rounds on the Future of Public Health with F. DuBois Bowman, chair and Cynthia and Robert Citrone-Roslyn and Leslie Goldstein Professor of Biostatistics, and Jeannette M. Wing, Avanessians Director of the Data Science Institute and professor of computer science. Allan Rosenfield Building, 8th Floor, Auditorium. (Data and Society)

April 26
1 – 2 p.m.
A World Leaders Forum with the President of Ireland Michael D. Higgins
Program moderated by David Madigan, executive vice president for Arts and Sciences and the dean of the Faculty of Arts and Sciences. Followed by a Q&A with the audience. Registration will open Tuesday, April 17 at 10 a.m. here. Low Library, Rotunda. (Global Solutions)                  
For RSVP, ticket availability, and other details, follow the links. We always appreciate hearing from you about future events.