From genomics to global energy, free press to migration – conversations about justice touch every sphere. We have so much to learn!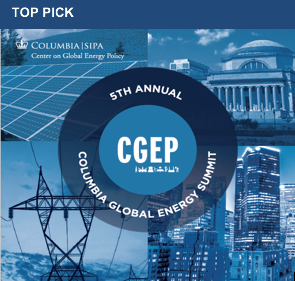 April 19
12:30 – 5:30 p.m.
Center on Global Energy Policy
2018 Columbia Global Energy Summit
CGEP celebrates its 5th anniversary with its annual half-day forum. Panelists discuss key issues at the intersection of energy policy, financial markets, the environment and geopolitics. Includes Jeannette Wing, Avanessians Director of the Data Science Institute; Ruth DeFries, Denning University Professor of Sustainable Development; Avril Haines, senior researcher for Columbia World Projects; Jason Bordoff, founding director of CGEP among others. RSVP required here. This event will be livestreamed here. Low Library, Rotunda. (Climate Response)
VIP PICK
April 24
6 – 8 p.m.
School of the Arts
MFA Visual Arts 2018 Thesis Exhibition
A viewing and reception with Dean Carol Becker. The exhibition will run from April 22 through May 20. This event is invitation only. Please email Maggie Ress at [email protected] to invite prospects or donors. Lenfest Center for the Arts.  (Arts and Ideas)
REMINDER
April 10 – 11: Migration and Mobility in a Digital Age: Paradoxes of Connectivity and Belonging Conference
April 10: Columbia Revolt at 50: Remembering the Radical Film and its Moment
April 11: Climate Justice: From Brooklyn to Puerto Rico AND Hip-Hop Education: Propelling and Preserving the Movement
April 12: The Mysterious Case of Matter
PICKS
April 12
6 p.m.
Center for American Studies | Jack Miller Center
From "Inferno" To "Metamorphosis": Building a Movement to End Mass Punishment
James Forman Jr., professor of Law at Yale, will deliver the first Robert A. Ferguson Memorial Lecture. Forman is the author of Locking up Our Own: Crime and Punishment in Black America and a leading critic of mass incarceration. Columbia Law School, Room 103. (Just Societies)
5 – 8 p.m.
Oral History Master of Arts
Hear and Now: An Interactive Oral History Exhibit
This program presents work aimed at recuperating silenced narratives and changing what capital-H History remembers. This multimedia and interactive exhibit is curated by the students, faculty, and activists of the Oral History MA program. Attendees are invited to bring their headphones and smartphones to engage with web-based exhibits. RSVP here. Union Theological Seminary, Social Hall. (Arts and Ideas)

April 13
6:30 – 9 p.m.
duPont-Columbia Awards | Columbia Journalism School Documentary Program
Film Fridays: The Post
A screening of Steven Spielberg's The Post, followed by a Q&A with the screenwriters Josh Singer and Liz Hannah. Moderated by Lisa R. Cohen, director of the duPont-Columbia Awards. The Post follows the thrilling story behind the Washington Post's publication of the Pentagon Papers, and it pulls the curtain back on the Washington Post's ongoing race with the New York Times to publish. Pulitzer Hall, Joseph D. Jamail Lecture Hall, 3rd Floor. (Arts and Ideas)
April 16
12  – 1 p.m.
See co-sponsors here
Social Justice and Genome Editing: Voices of the Sickle Cell Disease Community
Vence L. Bonham, senior advisor to the National Human Genome Research Institute director on Genomics and Health Disparities, will discuss a recent study that investigates the knowledge, values and opinions of the US sickle cell disease community about participation in genome-editing clinical trials and the future use of this technology in clinical care. (Precision Medicine, Just Societies)

April 18
4  – 5:15 p.m.
Mailman | Office of the Dean
Forced Migration and Justice
A Grand Rounds on the Future of Public Health with Terry McGovern, chair of population and family health at CUMC and founder of the HIV Law Project; Michael Wessells, professor of clinical and population and family health; and Monette Zard, professor in the Heilbrunn Department of Population and Family Health. Allan Rosenfield Building, 8th Floor, Auditorium. (Just Societies)

April 19
10:30 a.m.  – 12 p.m.
Graduate School of Journalism
Can You Hear Me? A Conversation with Zoe Chace and Michael Barbaro
This American Life producer and reporter, Zoe Chace, and The Daily host and managing editor, Michael Barbaro, will be in conversation. Moderated by Daniel Alarcòn, executive producer of the podcast Radio Ambulante and assistant professor at the Columbia Journalism School. Pulitzer Hall, World Room. (Arts and Ideas)
For RSVP, ticket availability, and other details, follow the links. We always appreciate hearing from you about future events.