On-Campus, Off-Campus, Out in the World. From Turkish studies to Chinese expansion, our immigrant Founding Father to genomic medicine for all,  Columbians take on the biggest pictures.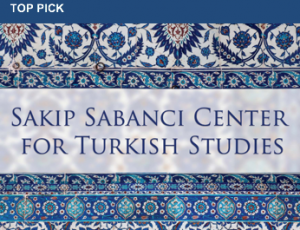 May 4
10:30 a.m. – 1:30 p.m.
The Sakıp Sabancı Center for Turkish Studies
İnaugural Event: Sakıp Sabancı Center for Turkish Studies
Remarks by President Lee C. Bollinger and Güler Sabancı, founding chairman of the Board of Trustees. Followed by a panel discussion on Human Rights and Hybrid Regimes and then a reception. RSVP here. The Italian Academy. (Global Solutions, Just Societies)
REMINDER
April 30: Where Next on Climate? Conservative Prescriptions on Climate Change AND Building and Dwelling: Ethics for the City
May 2: From Ebola to Dinosaurs to 23andMe: Writing About the Science of Life
May 3: AI and Big Data in Government Policy
May 7: What Can Neuroscience Contribute to Economics?
PICKS
May 1 – 2
Sustainable Columbia
International Conference on Sustainable Cities
What is a sustainable city? What is the role of climate change in sustainable cities? Three universities —Fordham, Columbia, and NYU —are collaborating to answer such questions. Includes scholars, policymakers, business leaders, and advocates. Fordham University, Lincoln Center Campus, McNally Amphitheatre. (Climate Response)

May 2
6:30 – 8 p.m.
Columbia Global Reports
High-Speed Empire Book Launch
The launch of journalist Will Doig's new book High-Speed Empire: Chinese Expansion and the Future of Southeast Asia. RSVP here. Shakespeare & Co, 939 Lexington Avenue. (Global Solutions)
May 4
12 – 1:30 p.m.
Journalism School | Tow Center for Digital Journalism | Knight First Amendment Institute
What Does Journalistic Autonomy Mean Anymore?
What does press freedom mean in an era of digital journalism? Mike Ananny, assistant professor at the University of Southern California, will give a talk based on his new book Networked Press Freedom. Followed by a response from Jameel Jaffer, founding director of the Knight First Amendment Institute, and a Q&A. RSVP here. Pulitzer Hall, The Brown Institute. (Data and Society)
May 6
3:30 – 5 p.m.
NYC Consortium | CUMC | Weill Cornell Medicine | NYC Health + Hospitals Harlem | New York-Presbyterian
Launch: All of Us Research Program
All of Us is a new research program from the National Institutes of Health and a key element of the Precision Medicine Initiative at Columbia. Francis Collins, director of the National Institutes of Health, will kick off the program. Abyssinian Baptist Church. RSVP here. (Precision Medicine, Just Societies)
May 9
11:30 a.m. – 1:30 p.m.
Columbia Alumni Association
CAA Lunch and Learn: Public Health
With Julie Kornfeld, vice dean for education and associate professor of epidemiology at Mailman, who is responsible for integrating topics like climate change and the opioid epidemic into Columbia's award-winning public health curricula. A talk followed by a Q&A. Purchase tickets here. Columbia University Club of New York, 30 W 44th Street, Spruce Suite, New York. (Global Solutions, Climate Response)
May 10
1 – 2 p.m.
Columbia Journalism School
Conversation with Award-Winning Author Isabel Wilkerson
Pulitzer Prize winner and author Isabel Wilkerson will be joined in conversation by Dean Steve Coll to discuss nonfiction writing. RSVP here. Pulitzer Hall, Stabile Student Center. (Just Societies, Arts and Ideas)
7 p.m.
Nevis Science Center
Alexander Hamilton: The Founding Father for the Rest of Us
Bob McCaughey, professor of history and Janet H. Robb Chair in the Social Science at Barnard, will explore why Hamilton has so much more resonance for Americans today than all the other Founding Fathers. RSVP here. Reception to follow at the Hamilton House at Nevis. Science Center at Columbia's Nevis Laboratories, Irvington, New York, 136 S. Broadway. (Arts and Ideas)                        
For RSVP, ticket availability, and other details, follow the links. We always appreciate hearing from you about future events.