Failure and success, coal and the future, choro on campus, right-scaling everything from organisms to organizations – hold onto your hat and feed your head!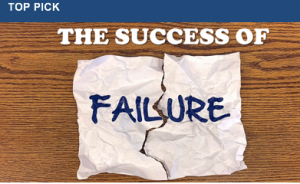 December 7– 8
The Center for Science and Society | Heyman Center for the Humanities | Teachers College
The Success of Failure: Perspectives from the Arts, Sciences, Humanities, Education, and Law
Scholars and practitioners in the arts, sciences (natural and social), humanities, economics, business, law, and education gather to examine the value of failure in making progress. Speakers include Carl Hart, Dirk Ziff Professor of Psychology; Alondra Nelson, professor of sociology and president of the Social Science Research Council; Chris Washburne, associate professor of music. RSVP here. Cowin Auditorium, 147 Horace Mann Hall, Teachers College. (Arts and Ideas)
REMINDERS

November 14: The State of Human Rights in the World Today
November 16: Risk with Laura Poitras
November 18: Saturday Science: Ready, Set, Go!
November 20: A. What Does the Food Justice Movement Mean for Public Health? B. Metaphors and Models: The Neuroscience of Comparison
PICKS
November 15
6 – 8 p.m.
Earth Institute | Energy and Environment Concentration | Urban and Social Policy Concentration | Environmental Science and Policy Program
Screening of Documentary From the Ashes
The film captures Americans in communities across the country as they wrestle with the legacy of the coal industry and  its future under the Trump Administration. Discussion features Michael Gerrard, faculty chair of the Earth Institute and Sabin Professor of Professional Practice at Columbia Law School; Patricia Culligan, co-director of the Urban Design Lab; and Adam Freed, sustainability principal at Bloomberg Associates and lecturer. Moderated by Ester R. Fuchs, director of the Urban and Social Policy Program. International Affairs Building, Room 1501. (Climate Response)
November 15
6 – 7:30 p.m.
Data Institute | Bernstein Center
Scale: The Universal Laws of Growth, Innovation, Sustainability and the Pace of Life in Organisms, Cities, Economies, and Companies
An author presentation by Geoffrey West, theoretical physicist and former president of the Santa Fe Institute. West's more recent work focuses on developing a quantitative science of cities and companies for understanding their organization, growth, and dynamics, including implications for the accelerating pace of life and long-term global sustainability. Followed by an audience Q&A, reception, and book signing. RSVP here. Warren Hall, Room 309. (Data and Society)

November 16
6 – 7:30 p.m.
Donald Keene Center of Japanese Culture
From Cold-War Coeds to Pioneering Professors: The Forgotten Story of Japanese Women Who Studied in the United States, 1949-1966
A lecture by Alisa Freedman, associate professor of Japanese literature and film at the University of Oregon. Kent Hall, Room 403. (Global Solutions)

November 21
6 p.m.
Miller Theatre
Pop-up Concerts
Regional de NY
Pop-Up Concerts are free campus concerts that provide the opportunity to get up close and personal with musicians. Sit onstage and enjoy a free drink. Enjoy the evening with Regional de NY, a group of five musicians based in Brooklyn devoted to choro, one of Brazil's oldest forms of popular music. Onstage seating is first-come, first-served. Miller Theatre. (Arts and Ideas)
November 29
4 – 5:30 p.m.
Mailman School of Public Health
Dean's Grand Round Series
The Science of Epidemics
Lecture featuring Barun Mathema, assistant professor of epidemiology; Micaela Bakker-Martinez, assistant professor of environmental health sciences; Ron Bayer, professor of sociomedical sciences; Wafaa El-Sadr, University Professor of epidemiology and medicine; and Kerry Keyes, associate professor of epidemiology. Allan Rosenfield Building, 8th Floor, Auditorium.
December 2
12:30 p.m.
School of the Arts
Young Writers Present
Presenting creative writing by the students of Columbia Artist/Teachers (CA/T) from New York City high schools. Organized by writing professors Dorothea Lasky and Alan Zeigler, and student Lukas Novak '18SoA. The Lantern, Lenfest Center for the Arts. (Arts and Ideas)
December 6
5 – 7 p.m.
School of Professional Studies
Narrative Medicine Rounds
Celebrating the Book Narrative in Social Work Practice
Narrative in Social Work Practice features first-person accounts by social workers who have integrated narrative theory and approaches into their practice. Speakers include the book's editors Ann Burack-Weiss, associate faculty of Narrative Medicine Program; Lynn Sara Lawrence, psychotherapist; and Lynne Bamat Mijangos, practicum supervisor at the Narrative Medicine Program. 630 W. 168th St., Faculty Club of CUMC, P&S Building, 4th Floor. (Arts and Ideas)
For RSVP, ticket availability, and other details, follow the links. We always appreciate hearing from you about future events.