Check out tomorrow's climate and medical center CAA events, and then there's so much more. From real statistics to Trump-era news, climate facts to simulated healthcare, Laura Poitras to Jane Austen, challenging facts and fictions are on our syllabus.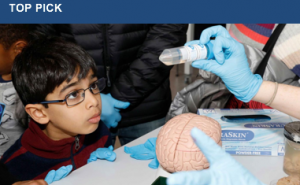 November 18
1 – 4 p.m.
Zuckerman Institute | BioBus | Neuroscience Outreach | Columbia Neuroscience Society
Saturday Science: Ready, Set, Go!
Students, families, and community groups are invited to explore the workings of the brain through hands-on activities and demonstrations with scientists. RSVP here. Jerome L. Greene Science Center, Education Lab. (Future of Neuroscience)
REMINDERS
November 8: Nollywood: The Making of a Film Empire
November 9: Professional Journalism, Polarization, Post-Truth, and Post-Trump
November 10: Politics of the Present: Factions, Fears, and Fake News
November 13: A. What Will 21st-Century Fiction Look Like? B. University Lecture Featuring Professor Andrew Gelman C. Book Talk: The Sustainable City
PICKS
November 9
8 – 10 a.m.
CAA Alumni Relations | Columbia Connects
The Climate Change Threat to Water, Food, and Shelter
Kicking off Columbia Connects in New York, Lamont researcher Richard Seagar '90GSAS will discuss the importance of climate change and its effects on us as individuals and as a society. Purchase tickets here. 30 West 44th Street, Columbia University Club of New York. (Climate Response)
1 –  2 p.m.
CAA Alumni Relations
Columbia Connects: Mary and Michael Jaharis Simulation Center Tour
Continuing the celebration of Columbia Connects, an exclusive tour of the 20,000 square foot state-of-the art facility housed within the recently opened Vagelos Education Center on the CUMC campus. RSVP here. 104 Haven Avenue, Mary and Michael Jaharis Simulation Center, Suite C-01.

November 14
6 – 7 p.m.
Graduate School of Journalism
Thought Leaders Series | Delacorte Lecture
TV, Criticism, and Politics: A Delacorte Conversation with Emily Nussbaum
The Pulitzer Prize-winner and television critic for the New Yorker will discuss her career, the golden age of television (and its dark side), and continuing to write about culture in the age of Trump. Keith Gessen, Delacorte Professor, will join the conversation. Pulitzer Hall, Jamail Lecture Hall. Participate on Twitter using #CJSLeaders. (Arts and Ideas)

November 16
6:30 p.m.  
Columbia University School of the Arts | Knight First Amendment Institute
Risk with Laura Poitras
A screening of Risk, a documentary about Julian Assange. Followed by a conversation with Oscar-winning director Laura Poitras; Alex Abdo, senior staff attorney at the Knight First Amendment Institute; and Maureen A. Ryan, associate professor of professional practice of film in the Faculty of the Arts. Lenfest Center for the Arts, Katharina Otto-Bernstein Screening Room. (Data and Society)

November 17
1 – 2 p.m.
Society of Fellows | The Heyman Center for the Humanities | Office of the Dean of Arts and Sciences in the Humanities
New Books in the Arts and Sciences: Jane Austen and Women Writers
A panel discussion celebrating recent work by Columbia Faculty. This lectures includes At Home in the World by Maria DiBattista and Deborah Nord (Princeton professors), and Reading Jane Austen by Jenny Davidson, associate professor of English and comparative literature. Heyman Center, Second Floor, Common Room.

November 20
6 – 7:30 p.m.
Mailman School of Public Health
What Does the Food Justice Movement Mean for Public Health?
To connect the dots between the food system, public health, and health policy, Mark Bittman, former New York Times columnist and lecturer, hosts a weekly lecture series on the food justice movement. Featuring Tom Colicchio, co-founder and board member of Food Policy Action, founder of Crafted Hospitality, and celebrity chef; Top Chef judge Paula Daniels, founder of the Los Angeles Food Policy Council; and Kathleen Finlay, president of Glynwood. Vagelos Education Center, Room 201.
November 28
6 – 7 p.m.
Graduate School of Journalism
Thought Leader Series | Lorana Sullivan Lecture
Reporting, Facts, and the Media in the Trump Era  
With Tim L. O'Brien, executive editor of Bloomberg View and Bloomberg Gadfly. O'Brien's Trump columns have won awards, including honors from the Society of American Business Editors and Writers and the Deadline Club. Pulitzer Hall, Jamail Lecture Hall. Participate on Twitter using #CJSSullivan. (Just Societies)

November 30
7– 8:30 p.m.
Institute for the Study of Human Rights | Columbia's Armenian Center | Research Institute on Turkey
Impossible Harms
A conversation with Henry Theriault, president of the International Association of Genocide Scholars, on human rights violations around the world, the state of genocide studies today, genocide prevention, reparations, denial, and more. Pupin Hall, Room 301. (Global Solutions, Just Societies)
For RSVP, ticket availability, and other details, follow the links. We always appreciate hearing from you about future events.