Jeannette Wing, Safwan Masri, digital storytellers, and other Columbia thought leaders, along with this year's World Leaders Forum: it's harvest time at Columbia! Enjoy and share your story.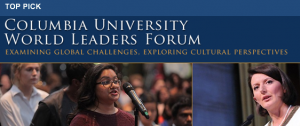 September 19
4:30 – 6:30 p.m.
CUMC | SIPA | International Research Institute for Climate and Society
Compelling Priorities for Global Health
A World Leaders Forum program with University Professor Jeffrey D. Sachs; Elizabeth Cameron, senior director for global biological policy and programs at the Nuclear Threat Initiative; and Gavin Schmidt, director of the NASA/Goddard Institute for Space Studies. Moderated by Wilmot James, former shadow minister of health in South Africa. Keynote by Tedros Adhanom, director general of the World Health Organization. Casa Italiana. Registration required here to join the waitlist. This event will also be livestreamed here. (Global)
As it has been since 2003, Columbia is hosting heads of state and other leaders during the UN General Assembly through the World Leaders Forum. Check out the full program here.
REMINDERS
September 18: Writing a New Story Together: Confronting Mental Health Disparities with Community Partnerships
September 18 – 19: International Conference on Sustainable Development
September 19 (3): 1. The Vietnam War: A Film by Ken Burns and Lynn Novick 2. Understanding Charlottesville: White Nationalism and American Society Past, Present, and Future 3. Windows on Death Row Exhibit: Opening Event
September 26: Complex Issues: South of Pico: African American Artists in Los Angeles in the 1960s and 1970s
PICKS
September 20
4:30 – 6 p.m.
Institute for Social and Economic Research and Policy | Data Science Institute | Columbia Business School
Using Data for Good: What Does It Mean?
For this Data, Ethics, and Decision-making speaker series, Jeannette M. Wing, Avanessians Director of the Data Science Institute, will discuss her vision for the Institute and the definition and practice of using data for good. RSVP here. Uris Hall, Room 301. (Data and Society)
September 21
1 – 2 p.m.
Maison Française | Columbia European Institute
Transforming the Eurozone?
Pierre Moscovici, EU commissioner for economic and financial affairs, taxation, and customs, will discuss the EU economic outlook. Joined by Adam Tooze, director of the Columbia European Institute. RSVP here. Buell Hall, East Gallery. (Global)
September 23
10 a.m.
Columbia Digital Storytelling Lab
Story I/O (Input/Output)
An interactive symposium exploring new forms and functions of storytelling. Participants will help design and prototype immersive storytelling simulations for understanding and care. Featuring Maggie Breslin, co-director of the Patient Revolution; Rita Charon, founder and executive director of the program in Narrative Medicine; Nicholas Fortugno, Chief Creative Officer of Playmatics; Desmond Patton, assistant professor at the School of Social Work; and Lance Weiler, founding member and director of the Digital Storytelling Lab. There is a short application required to participate. Lenfest Center for the Arts, The Lantern. (Arts and Ideas, Data and Society)                 
September 27
6 –  9 p.m.
Cartoons for a New Gilded Age
During the original Gilded Age, political cartoonists such as Thomas Nast and Joseph Keppler held up a mirror to the foibles, if not corruption, of the political class. In this new Gilded Age of Trump, cartoonists Tom Toro, R. Sikoryak, and Emily Flake join New Yorker cartoon editor Emma Allen for a discussion of contemporary cartoon satire. RSVP here. Butler Library, Room 523. (Arts and Ideas, Just Societies)
October 3
6 – 7:30 p.m.
Maison Française
Tunisia: An Arab Anomaly
In his new book, Safwan M. Masri, executive vice president for Global Centers and Global Development, traces Tunisia's history of reform in the realms of education, religion, and women's rights. Masri will be joined in conversation by Steve Coll, dean of the Graduate School of Journalism. Buell Hall, East Gallery. (Global)
For RSVP, ticket availability, and other details, follow the links. We always appreciate hearing from you about future events.