Fall is in full-swing! Check out what's happening University-wide and our featured top Pick.
Enjoy and share your story.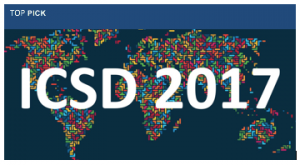 September 18 – 19
Earth Institute | Center for Sustainable Development
International Conference on Sustainable Development
This years theme is The World in 2050: Looking Ahead for Sustainable Development. Moderated by journalist Femi Oke. Speakers include Nana Addo Dankwa Akufo-Addo, president of Ghana; Juan Manuel Santos, president of Colombia; Jeffrey Sachs, director of the Sustainable Development Solutions Network; Chandrika Bahadur, president of the SDSN association; Kathy Calvin, president and CEO of the United Nations Foundation; among others. Register here. Columbia Law School. (Climate Response)
REMINDERS
September 13:Oral Histories: November 13 Terrorist Attacks in Paris and of September 11 in the US
September 18: Christiane Amanpour on Fake News and the Free Press and Writing a New Story Together: Confronting Mental Health Disparities with Community Partnerships
September 19: Jazzmobile, Community, and the Harlem Soundscape
PICKS
September 13
4 – 5:30 p.m.
Mailman
Public Health as a Public Good
A Grand Rounds with Dean Linda P. Fried; Marianthi-Anna Kioumourtzoglou, assistant professor of environmental health sciences; David Rosner, Ronald H. Lauterstein Professor of Sociomedical Sciences; and Bhaven Sampat, associate professor of health policy and management. Participate using #DisruptiveThinking on Twitter. Allan Rosenfield Building, 8th Floor, Auditorium. (Just Societies)
September 19
2 – 3:30 p.m.
University Programs and Events | Center for Veteran Transition and Integration | GS
The Vietnam War: A Film by Ken Burns and Lynn Novick
Filmmakers Ken Burns and Lynn Novick will join in conversation with Columbia alumnus, Michael K. Heaney, a Vietnam veteran who appears in the film The Vietnam War, and current undergraduate Mark Franklin, an Iraq/Afghanistan veteran who is President of Columbia's Student Military Veterans organization. They will discuss the military-civilian divide that grew on American college campuses during the Vietnam War and what has changed today because of efforts to heal that rift. Introduction by President Lee C. Bollinger. Moderated by Dean of General Studies Peter Awn. Low Library, Rotunda. RSVP here.  (Just Societies)

5:30 – 7 p.m.
Office of University Life
Understanding Charlottesville: White Nationalism and American Society Past, Present, and Future
A conversation on what happened in Charlottesville, the conditions that gave rise to it, and the challenges for our communities in its wake. Featuring Jelani Cobb, Ira A. Lipman Professor of Journalism and New Yorker contributor; Fred Harris, dean for social sciences and director of the Center on African-American Politics and Society; Jeremy Kessler, associate professor at the Law School; Stephanie McCurry, R. Gordon Hoxie Professor of American History; and Van Tran, assistant professor of sociology; and moderated by Suzanne Goldberg, executive vice president for University Life. RSVP here. Lerner Hall, Roone Arledge Cinema. (Just Societies)
6:30 – 8:30 p.m.
Columbia Law
Windows on Death Row Exhibition: Opening Event
The exhibit's founders—editorial cartoonist Patrick Chappatte and filmmaker Anne-Frédérique Widmann—will take you behind the scenes on the exhibition and into death row through a 40-minute on-stage multimedia presentation. Includes a roundtable discussion with George Kendall (Law); Carine Williams (Law); Artist Ndume Olatushani, who spent 20 years on death row for a crime he did not commit; and David Herrington, one of Ndume Olatushani's lawyers. Moderated by Bill Keller, editor-in-chief of The Marshall Project. RSVP here. Jerome Greene Hall, Room 104. (Just Societies)
September 26
6:30 – 8 p.m.
Department of Art History and Archaeology | Center for Jazz Studies | Lenfest Center for the Arts | SoA | IRAAS | Wallach Art Gallery
Complex Issues: South of Pico: African American Artists in Los Angeles in the 1960s and 1970s
Kellie Jones (art history and archaeology), will discuss her new book South of Pico: African American Artists in Los Angeles in the 1960s and 1970s. Farah Jasmine Griffin (English and comparative literature) will join in conversation. Introduction by Deborah Cullen, director and chief curator at the Wallach Art Gallery. Preceded by a special viewing of the Living in America: Frank Lloyd Wright, Harlem, and Modern Housing exhibition. Manhattanville, Lenfest Center for the Arts, The Lantern Room. (Arts and Ideas)
For RSVP, ticket availability, and other details, follow the links. We always appreciate hearing from you about future events.