Time: 4:00–6:00pm
Location: Fayerweather Room 513 on Columbia's Morningside Campus
We are pleased to welcome Prof. Chris Aiken.
Attention, Intention and Action: An Eco-Poetic Model of Improvisation
In this discussion, we will consider the role of perceptual acuity in the intentional and automated acts of an improviser.  By automated I mean learned movements that can be self-corrected without conscious attention (think of how we automatically correct for balance when we are riding a bicycle). Intentional acts in this context reflect the creative choice making about what to do and what to attend to. It often involves the generation and solving of problems or situations.
My eco-poetic model of improvisation is based on the idea that every gesture takes place within a web of nested contexts, from the individual, the ensemble, the audience, to the performance space, the city, the country, the world and so forth.  The success of our actions depends on our ability to use our poetic skills to shape our attunement to our surroundings, what is happening around us and the ongoing consequences of our actions. Our attention shapes the overall composition as much as the series of gestures we enact.
Through our discussion we will consider how one might think about how one trains to improvise.  Are the dynamics of learning to improvise similar across different disciplines?  How should we prepare for the integrated interplay between technique, composition, and perception?  What are the dynamics between past experience, present awareness and our capacity to anticipate and coordinate with what is emerging?
My thinking has been greatly influenced through my research into Ecological Psychology, the work of neurophysiologist Nikolai Bernstein, Hubert Godard and Steve Paxton.
---
Readings:
1. Monson, I. (2008). Hearing, Seeing, and Perceptual Agency. Critical Inquiry, 34, S36-S58.
(please contact ajg2232 at columbia dot edu if you have any trouble accessing the readings)
---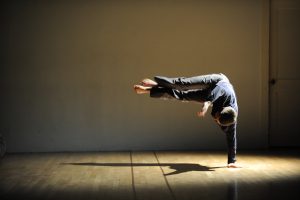 Chris Aiken is an internationally recognized teacher and performer of dance improvisation and contact improvisation. He has received numerous awards for his artistic work, including a Guggenheim Fellowship, a Bush Foundation Fellowship, funding from the Jerome Foundation and commissions from the Walker Art Center, Jacob's Pillow Dance Festival, Dance Theater Workshop, Bates Dance Festival and the National Performance Network. He teaches and performs internationally on his own and with his collaborator, Angie Hauser. Aiken teaches improvisation, contact improvisation, contemporary dance technique and theory as well as the science of dance, somatics and choreography.